After the TON Blockchain achieved the world record for being the fastest and most scalable blockchain, Toncoin has now gained recognition from the DFSA as a crypto token.
Toncoin has experienced numerous fluctuations since its launch, marked by significant price volatility. Nevertheless, recent developments within the Toncoin ecosystem have positioned it for a remarkable surge of over 10% in its price during the past week.
This article will delve into the Toncoin developments and $TON price forecast for the remainder of 2023 and assess its investment potential for 2024.
Toncoin – Staying Ahead of the Curve with Recent Developments
In mid-September, the messaging app Telegram embraced the $TON network as its preferred blockchain for Web3 infrastructure, with the intention of seamlessly integrating it into the app's user interface.
Following this announcement, Toncoin, the native token of the blockchain, witnessed a rapid 6.5% increase in value within just 30 minutes.
The TON-built Web3 wallet, which is already accessible as a standalone bot within Telegram and boasts 3 million registered users, is being integrated into the app, making it accessible to all 800 million users through their settings.
Additionally, a significant investment by MEXC Ventures, in collaboration with the Toncoin Foundation, stands out as a noteworthy advancement.
On October 31, 2023, $TON set a new world record for the most transactions per second (TPS) and claimed the title of the world's fastest blockchain. During a live event hosted by the $TON Foundation and independently audited by Certik, the $TON blockchain achieved a groundbreaking transaction rate of 104,715 per second.
Toncoin, known for its unique architecture enabling limitless scalability, can process millions of TPS to serve billions of users, setting the standard for the ultimate Web3 infrastructure. This remarkable performance surpasses not only well-known blockchains but also traditional bank payment networks.
The primary goal of the $TON project is to drive widespread adoption of cryptocurrencies and decentralized technologies, and they are making systematic progress toward this objective.
The most recent development is the Dubai Financial Services Authority officially recognizing XRP and Toncoin, allowing financial institutions in the DIFC to engage in trading activities involving these tokens.
🔈 Toncoin (TON) is now a DFSA-recognised Crypto Token!

This means that authorised firms can carry out financial services and activities in relation to #TON in the @DIFC.

Read more👇 https://t.co/URmD4U897q

— TON 💎 (@ton_blockchain) November 2, 2023
This move positions XRP and Toncoin alongside Bitcoin, Ether, and Litecoin in the list of cryptocurrencies authorized for financial services and activities within the DIFC.
TON Crypto Price Prediction
The current Toncoin price stands at $2.26, with a 24-hour trading volume of $13.01 million. Over the past 24 hours, $TON has seen a 0.65% increase in its price. Toncoin currently holds the 11th position in terms of market capitalization on CoinMarketCap.
If the bullish trend persists, $TON's price could potentially reach resistance levels at $2.27 and $2.33. Conversely, if the trend reverses, the price of $TON might decline to support levels of $2.11 and $2.14. The Relative Strength Index (RSI) momentum oscillator is currently at a value of 63.59, indicating a neutral position in the $TON market.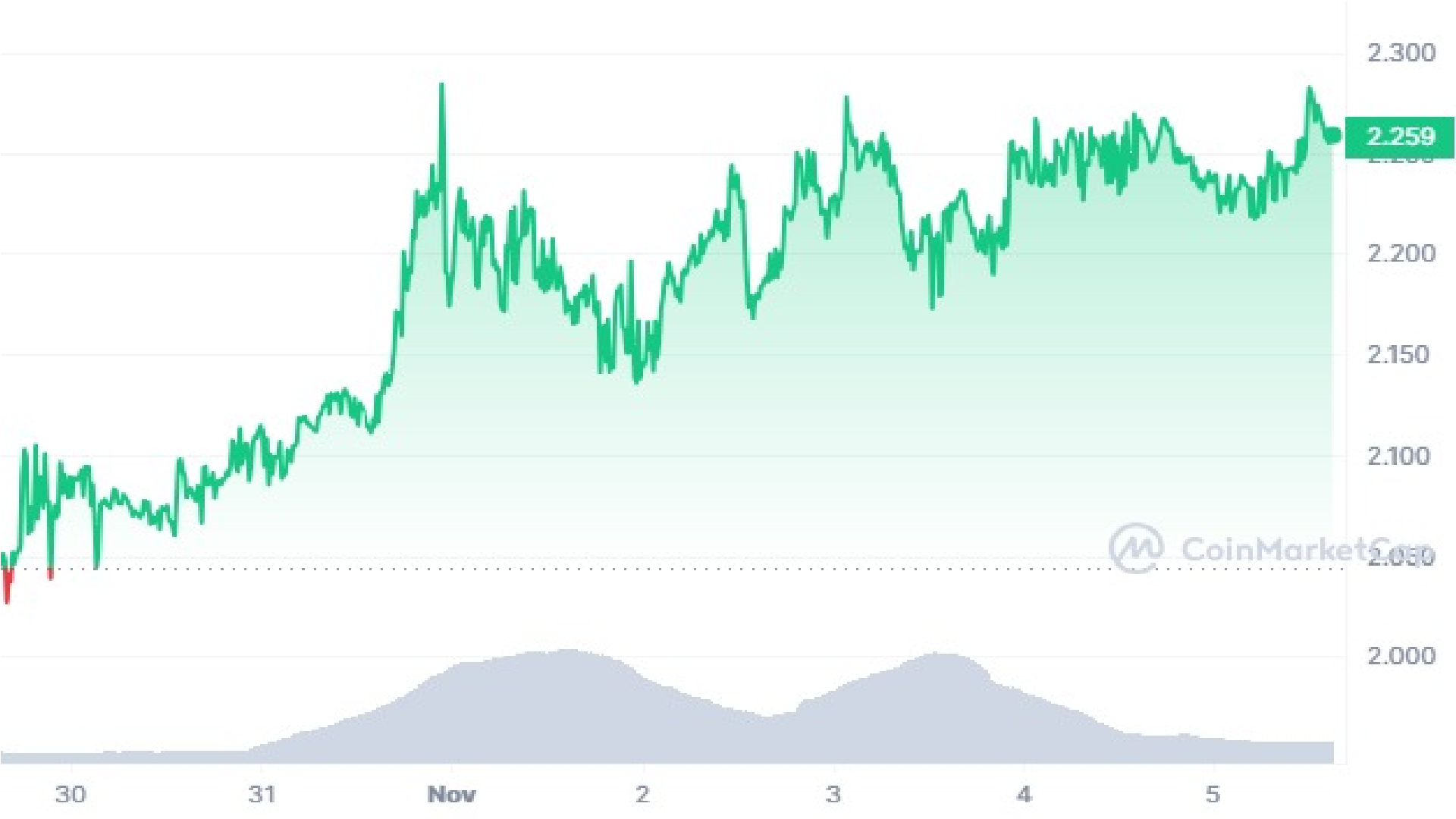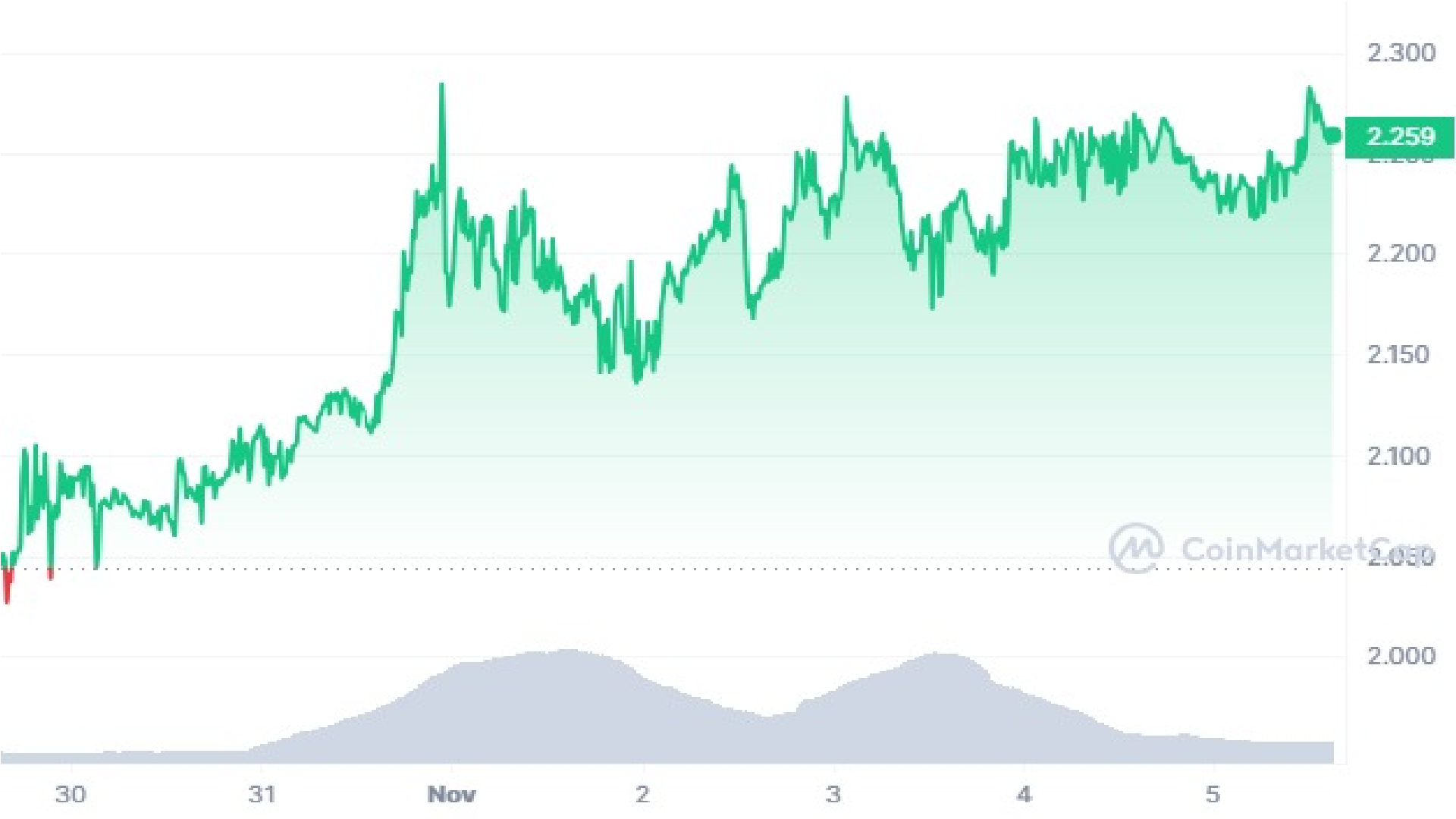 Based on historical price patterns of Toncoin and BTC halving cycles, the projected low price for Toncoin in 2024 is around $2.02. Additionally, the price of Toncoin is expected to reach as high as $3.65 in the coming year.
View the video above for the complete $TON price prediction analysis, and subscribe to his YouTube channel for more crypto-related videos. Jacob Crypto Bury also manages a Discord community with 17,000 members, offering trading tips and insights into upcoming crypto presales.
Conclusion
The ambitious aim to become one of the world's speediest blockchains has the potential to significantly elevate Toncoin's reputation, drawing in more users and investors. Increasing trust in Toncoin's potential and its capacity to incorporate cryptocurrencies into social media platforms could pave the way for wider adoption.
Recent advancements serve as positive indicators for Toncoin's prospects, with the potential to improve the blockchain's performance, scalability, and user-friendliness, rendering it more attractive to users and developers.
For more highly profitable new projects with greater potential, see our articles on the top crypto presales for current investment opportunities.
Related
New Crypto Mining Platform – Bitcoin Minetrix
Audited By Coinsult
Decentralized, Secure Cloud Mining
Earn Free Bitcoin Daily
Native Token On Presale Now – BTCMTX
Staking Rewards – Over 100% APY