As we enter the last quarter of 2023, the price projection for THORChain remains optimistic, with $RUNE surging to $3.32, reflecting a remarkable 31% gain in the past week.
THORChain has performed exceptionally well since October 24, when it was trading at around $2.18.  The introduction of Streaming Loans by THORChain-powered lending platform Lends on October 30 has been a catalyst for this positive momentum.
This new lending feature, known for its low fees, has attracted a growing number of traders looking to secure loans on Lends. Consequently, THORChain reached as high as $2.90 on October 31. This surge has led to considerations of whether THORChain might be a top crypto to consider for investment.
THORChain Brief Overview
THORChain is a pioneering blockchain technology platform that revolutionizes trustless and decentralized asset exchange. Founded to address the limitations and vulnerabilities of centralized exchanges, THORChain provides a secure, permissionless, and decentralized environment for users to trade digital assets at fair market prices.
THORChain's innovation is driven by the need to eliminate centralization and trust concerns associated with traditional exchanges. To achieve this goal, THORChain leverages a network of anonymous nodes to secure and operate the network while preserving the anonymity of node operators.
Through continuous node rotation, THORChain remains resilient and resistant to capture or stagnation. THORChain's design prioritizes security, scalability, liquidity, and decentralization, making it an ideal solution for the unpredictable crypto trading landscape.
The $RUNE token, THORChain's native digital asset, plays a crucial role in the platform's liquidity pools, serving as a fundamental element for cross-chain asset exchanges. Individuals who contribute liquidity or participate in network activities have the opportunity to receive rewards in the form of $RUNE tokens.
$RUNE Crypto Price Prediction
Currently, THORChain is valued at $3.32, exhibiting a 24-hour trading volume of $408.59 million and boasting a market capitalization of $1.14 billion. Over the past day, the $RUNE price has surged by 10.69%. THORChain achieved its all-time high of $20.98 on May 19, 2021.
The Relative Strength Index (RSI), a momentum indicator, stands at 73.63, indicating an overbought position in the $RUNE market.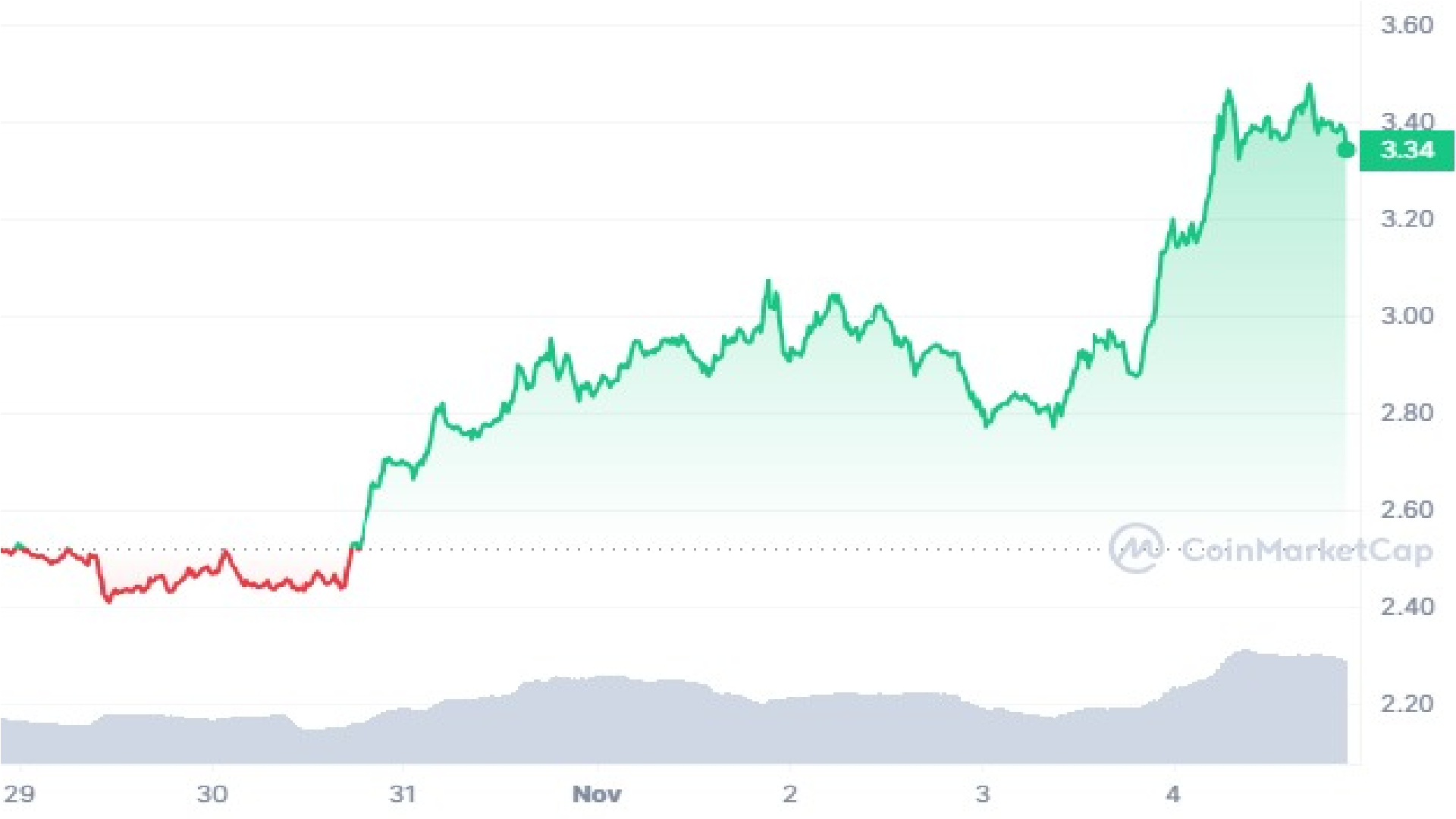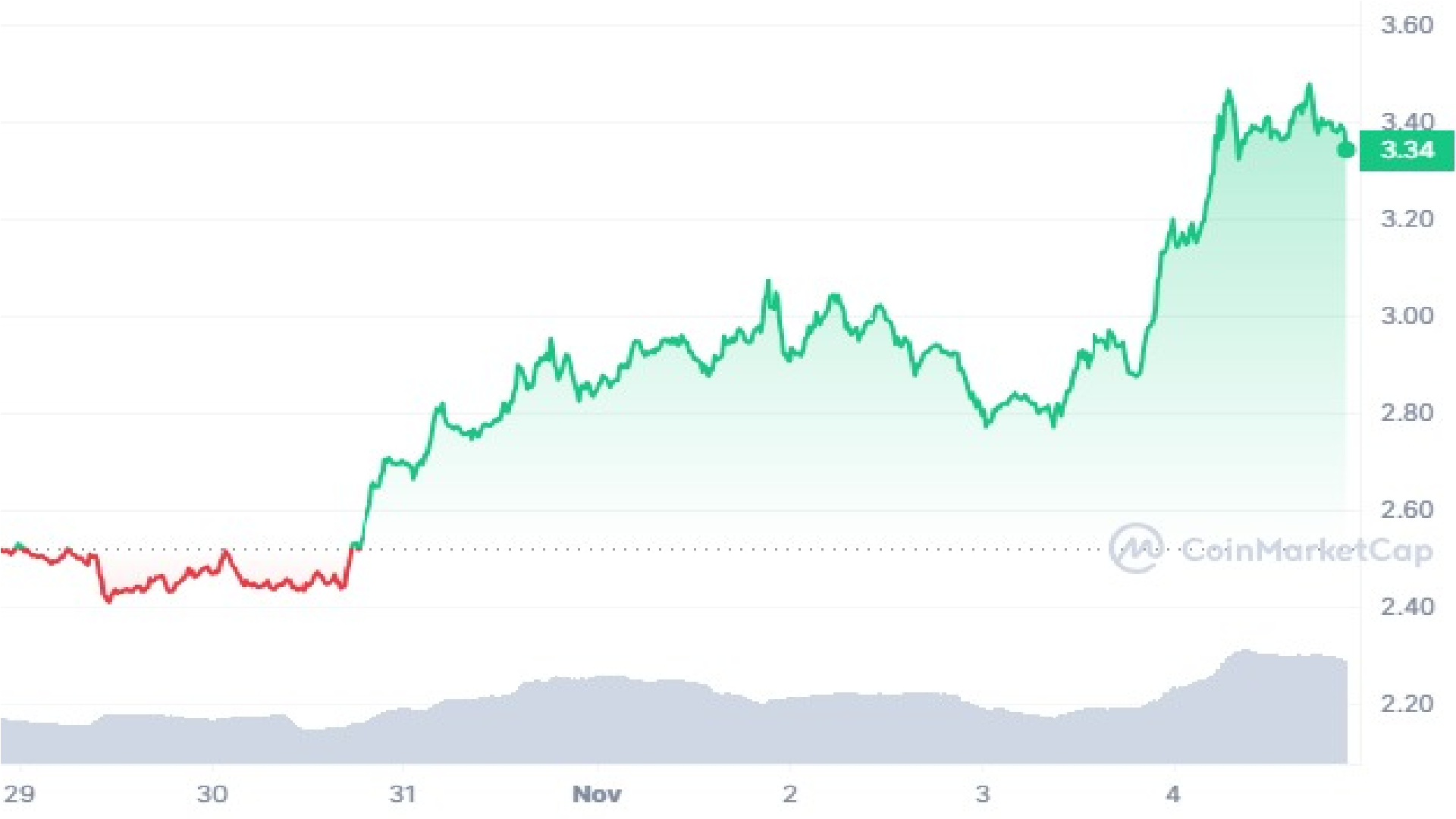 November is expected to bring an upward trend, with a projected high of $3.90 and a low of $2.51.  As the year draws to a close in December, there is a possibility of a more significant drop, with a high of $4.35 and a low of $2.95.
For a comprehensive $RUNE price prediction, view the video above and subscribe to his YouTube channel for additional crypto-related content. Jacob Crypto Bury also manages a Discord server with 17,000 members, providing trading insights and information on upcoming crypto presales.
THORChain Alternative – New Challenger Emerges in the Race for Passive Income and Bitcoin Mining
$RUNE serves as a vital component in enabling secure and efficient asset swaps, bolstering network security and governance, thereby adding value for token holders. Analyzing $RUNE price forecasts, investing in $RUNE during November 2023 might yield short-term gains.
RUNE's performance is closely linked to the prosperity and acceptance of the THORChain system, making it susceptible to variations in its ecosystem.
While $RUNE offers unique benefits, including rewards for providing liquidity, participating in governance, being part of a decentralized ecosystem, and may present opportunities for growth it's worth exploring the potential of new crypto, such as Bitcoin Minetrix currently in its presale phase, which may offer attractive profitability prospects.
Bitcoin Minetrix is a fresh 'Stake-to-Mine' platform that seeks to decentralize Bitcoin mining, making it accessible to users without the need for hardware, expertise, or additional costs. The presale commenced a month ago and has already garnered over $3.2 million in investments.
With $BTCMTX tokens still available at the attractive price of just $0.0114, both newcomers and seasoned investors are eyeing this token as a potential standout for 2024. As the upcoming Bitcoin halving event approaches in April 2024, Bitcoin Minetrix's 'Stake-to-Mine' feature introduces a well-timed innovation.
Educate yourself on the dangers of #CloudMining fraud! ⚠️

Certain prominent entities like #FancyCrypto & #IDMining have raised concerns with their dubious activities.

Gaining insight into the potential risks is crucial for making safe choices in the #BitcoinMining sphere. 🔒 pic.twitter.com/P4IyAVDTam

— Bitcoinminetrix (@bitcoinminetrix) November 4, 2023
This feature empowers users to stake their $BTCMTX tokens in exchange for cloud mining power, effectively lowering the barriers to entry for Bitcoin mining. This approach holds promise, especially considering that the halving event will reduce block rewards, potentially offering miners a means to offset the reduction in mining profitability.
Consequently, Bitcoin Minetrix's innovative strategy could be a prudent move for miners seeking to adapt and sustain their operations over the long term. Much of the enthusiasm surrounding $BTCMTX stems from its potential to deliver effortless passive income.
Currently, by staking their tokens, $BTCMTX holders can earn an impressive 179% APY. This dual-earning model, combining staking rewards with mining payouts, offers a way for crypto enthusiasts to significantly enhance their earnings potential. To take part in the $BTCMTX presale visit bitcoinminetrix.com.
Related
New Crypto Mining Platform – Bitcoin Minetrix
Audited By Coinsult
Decentralized, Secure Cloud Mining
Earn Free Bitcoin Daily
Native Token On Presale Now – BTCMTX
Staking Rewards – Over 100% APY