Vladislav Sopov
Despite regulatory hostility, largest stablecoin yet again increased its market capitalization
U.S. Dollar Tether (USDT) by Tether Limited, the largest stablecoin in the crypto segment, increased its capitalization to previously unseen highs. Its main competitor, USDC by Circle, keeps shrinking to multiyear lows.
Tether (USDT) market cap jumps above $86 million, adds 23% in one year
Today, on Nov. 8, 2023, Tether Limited increased the capitalization of its flagship stablecoin USDT by over $300 million in equivalent. It printed a new all-time high over $86.12 in equivalent, per CoinMarketCap's data.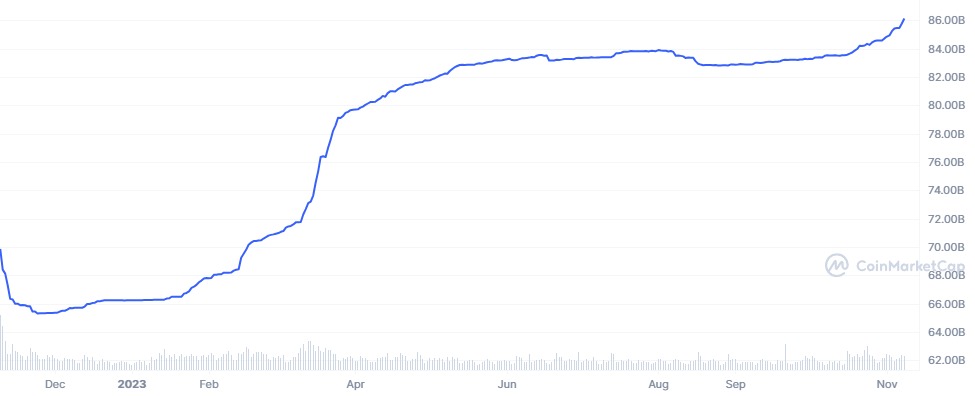 Since the reduction registered in late Q4, 2022, USDT market cap is growing. In the last 12 months, this metric added almost 23%.
In June 2023, it recovered to values unseen since the 2022 crypto markets collapse. Since mid-October 2023, it started surging at an increased pace. 
USDT dominance in the stablecoins segment has never been that obvious: it surpassed USDC, the second-largest stablecoin, by 153%.
USDC capitalization totals $24 billion, being nearly 56.3% down compared to the all-time high registered in Q2, 2022.
The third largest asset, Dai (DAI), the most capitalized alogorithmic (decentralized) stablecoin, sees its supply at $5.34 billion in equivalent.
Tether (USDT) becomes larger U.S. debt holder than UAE, Netherlands
As a centralized stablecoin, USDT is backed by a diversified portfolio of assets. According to its Q3, 2023, attestation document, U.S. T-bills are responsible for the lion's share of its portfolio.
Currently, Tether holds $72.6 billion in T-bills. As such, its exposure to U.S. debt seems more impressive than that of the majority of countries, including the Netherlands ($72.3 billion) and United Arab Emirates ($64.9 billion).
As covered by U.Today previously, Tether (USDT) is focused on Bitcoin (BTC) mining software in 2023.
In October, its CEO, Paolo Ardoino demonstrated Moria, a new-gen Bitcoin (BTC) mining orchestration tool.
Source link