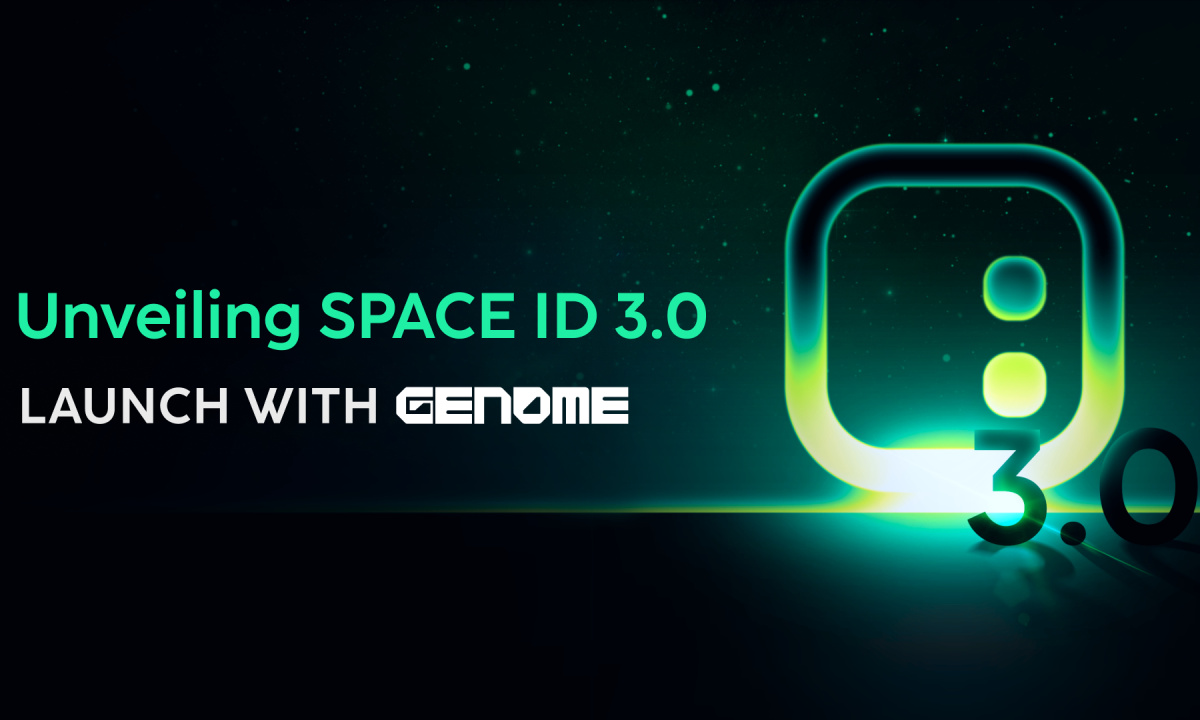 November 3, 2023 – New York, United States
---
SPACE ID, a pioneering name service protocol in the Web 3.0 ecosystem, is proud to announce the launch of SPACE ID 3.0 a revolutionary upgrade that promises to empower every Web 3.0 community to create their own TLDs (top-level domains).
This visionary initiative has sent ripples of anticipation throughout the Web 3.0 community, with industry leaders and communities like PancakeSwap, Injective, Manta Network and Genome announcing their plans to leverage this infrastructure for their Web 3.0 domain services.
SPACE ID 3.0 represents a quantum leap in the world of Web 3.0 domains, offering a host of innovative features and tools that are set to redefine the way communities and developers interact with Web 3.0 domains.
In this press release, we highlight some of the key features of SPACE ID 3.0.
Easier Web 3.0 domain creation
Creating a Web 3.0 domain has historically been a complex and time-consuming process.
SPACE ID 3.0 introduces the one-stop domain issuance toolkit, streamlining domain creation and making it accessible to all.
Users can provide essential details, parameters and media files through a user-friendly form, allowing SPACE ID 3.0 to simplify the domain creation process.
Built-in NFT marketplace
SPACE ID 3.0 deploys an infrastructure that grants all TLDs access to a dedicated domain NFT marketplace, enabling seamless domain name trading.
This platform consolidates domains from various sources, including OpenSea, Element, ENSVision and more, offering a one-stop hub for discovery, acquisition and listing.
Enhanced domain management
With the SPACE ID 3.0 upgrades, a more robust domain management system is introduced, giving users control over their domains.
This newfound flexibility allows users to set up a variety of records, including avatars, social information and multi-chain addresses, simplifying domain management across different chains and TLDs.
Web 3.0 name SDK and API
SPACE ID introduces a comprehensive Web 3.0 name SDK with features designed to facilitate domain name resolution and reverse resolution, empowering developers to harness the full potential of SPACE ID 3.0 for their applications.
The SDK supports various TLDs and dynamically accommodates new TLDs as they are verified, ensuring seamless integration for domain name resolution and reverse resolution.
Genome .GNO domains connecting Gnosis
Genome, one of SPACE ID 3.0's launch partners, is focused on creating a digital ID product centered around .GNO domains on Gnosis Chain.
This partnership seamlessly integrates communities, DApps and utilities native to Gnosis Chain while linking .GNO domains with ENS.
The testnet for Genome is now live, providing users with an early opportunity to experience Testnet .GNO domains.
SPACE ID 3.0 introduces an opportunity for users to launch their own TLDs.
To express interest and receive guidance on the domain launch process, the SPACE ID team welcomes community members to reach out on Discord.
Please note that initiating the domain launch process requires a stake of 10,000 ID tokens, which play a crucial role in the domain ecosystem.
About SPACE ID
SPACE ID is building a universal name service network with a one-stop identity platform to discover, register, trade and manage Web 3.0 domains.
It also includes a Web 3.0 name SDK and API for developers across blockchains and provides a multi-chain name service for everyone to easily build and create a Web 3.0 identity.
Join the SPACE ID community
Website | Twitter | Blog | Discord | Telegram
Contact
Aco, Space ID
This content is sponsored and should be regarded as promotional material. Opinions and statements expressed herein are those of the author and do not reflect the opinions of The Daily Hodl. The Daily Hodl is not a subsidiary of or owned by any ICOs, blockchain startups or companies that advertise on our platform. Investors should do their due diligence before making any high-risk investments in any ICOs, blockchain startups or cryptocurrencies. Please be advised that your investments are at your own risk, and any losses you may incur are your responsibility.
Follow Us on Twitter Facebook Telegram
Check out the Latest Industry Announcements