The Solana price is down almost 10% to exchange hands at $38.91 as of Friday, November 3:19 AM. At the same time, trading volume has dwindled 30%, potentially following the lull in Bitcoin (BTC), which has been unable to breach the $35,000 market decisively.
Nevertheless, despite the slump in Solana Price, former BitMEX CEO Arthur Hayes has expressed optimism for the purported Ethereum (ETH) killer, buying SOL after its 500% rally in 11 months.
Fam I have something embarrassing I must admit.

I just bot $SOL, I know its a Sam-coin piece of dogshit L1 that at this point is just a meme. But it is going up, and I'm a degen.

Let's Fucking Go!

— Arthur Hayes (@CryptoHayes) November 2, 2023
Hayes' purchase comes after VanEck, one of the first money managers in the US, made an optimistic forecast of a 10,600% price surge for SOL by 2030. With his buy, Hayes has also expressed optimism for the king of crypto, BTC, anticipating a market value of between $750,000 to $1 million for Bitcoin by 2026.
The investment in Solana has sparked conversation on Crypto X, with some saying the move could be malicious as Hayes tries to create higher liquidity before exiting.
Arthur Hayes buying SOL top?

Or hyping it for the exit liquidity 🤔 pic.twitter.com/fOIdyUgpKX

— Whale (@WhaleChart) November 2, 2023
While speculation continues to brew, most comments incline toward an anticipated dump. Specifically, one user has described the move as a "sell signal" as sharks, look to catch unsuspecting longs off guard in exit liquidity.
Why do I feel like this is a sell signal on $SOL?

If Arthur Hayes is saying he just bought…. then I'm keen to believe he's looking to sell.

Sharks gotta eat. https://t.co/V701JBs9Hn

— TWP Finance (@WolfOfPoloniex) November 2, 2023
Some analysts have stood with Hayes, saying he could "face short-term losses on his Solana buy-in, but the long-term upside looks promising as the cryptocurrency market recovers."
Nevertheless, the announcement of the former CEO of the crypto derivatives exchange buying SOL token at its local top is bullish from an onlooker's perspective, speculation aside, as Hayes expresses bullishness for the Layer-1 (L1) blockchain and expects a continuation of the uptrend.
His sarcasm in the announcement continues to make headlines, however, calling Solana a "Sam-coin piece of dogshit L1".
Solana Price Prognosis As Bitcoin Struggles With $35,000 Supply Barrier
Solana price broke out in mid-September, rallying almost 175% towards the stiff barrier at $48.55. However, selling pressure from this supplier congestion level sent SOL south, 12% to the current price of $38.91.
The odds still favor the upside, with SOL still bullish on a big-picture perspective. To start with, the Relative Strength Index (RSI) is above 50, showing strong price strength, supported by the Awesome Oscillator (AO) in the positive territory. Its histogram bars are also flashing green as the bulls maintain the upper hand in the SOL market.
Still on a big picture perspective, Solana still holds above a critical support while soaring high above the ascending trendline.
Increased buying pressure with this outlook still intact could see Solana price breach the $48.55 resistance level, before a foray above the $50.00 psychological level. In a highly bullish case, the gains could extrapolate for SOL to test the $60.00 psychological level, last tested on May 11 when Do Kwon's Terra (UST) ecosystem fell to a cliff. This would denote a 55% climb above current prices.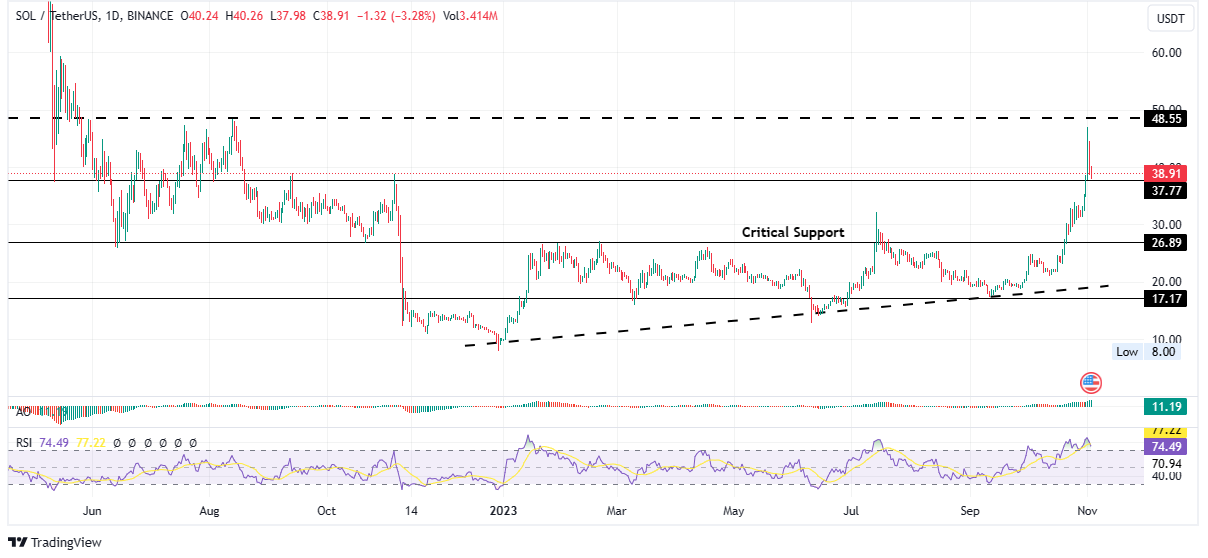 Converse Case
However, the RSI reading at 74 shows SOL is already overbought, suggesting a correction may be underway. Its deviation to the south shows momentum has already started falling. Unless the bulls find a turnaround point, Solana price could head lower.
With buying pressure waning relative to seller momentum, Solana price could soon flip the $38.91 support floor back to a resistance, paving the way for an extension south towards the critical support at $26.89. A decisive daily candlestick close below this level would invalidate the bullish thesis.
In the dire case, Solana price could extend south, breaking below the support offered by the ascending trendline at the $20.00 psychological level. The next logical target for SOL in such a directional bias would be the $17.17 support floor, or in the worst-case scenario, an extended leg to the $10.00 psychological level.
While Hayes refers to SOL as a meme, investors and analysts are serious about an actual meme coin, MK, taking over the space as Dogecoin, (DOGE), Shiba Inu (SHIB), and Floki Inu (FLOKI) lag.
The world of #memecoins can be a rough place, but #MemeKombat is coming in hot 👊 pic.twitter.com/EotbPRQMyh

— Meme Kombat (@Meme_Kombat) October 4, 2023
Promising Alternative To Solana
MK is the first in mind when looking at promising alternatives to Solana, offering token holders entry into a stake-to-earn ecosystem christened Meme Kombat.
Let's get some love from all the memebers down below👇 pic.twitter.com/1nHBZdWPOp

— Meme Kombat (@Meme_Kombat) November 2, 2023
Meme Kombat is the fastest growing stake-to-earn meme coin presale, recording $1.132 million in sales so far, out of the $1.5 million target. Traders can buy MK in the current stage for $0.183, using ETH or USDT on the Binance Chain (BSC) network, with the price due to increase in less than a week.
MK Presale price is now $0.183!

Learn more about our staged approach to presale in this brilliant breakdown from @BuryCrypto 👏

Full video here👉 https://t.co/onldqUtDsD pic.twitter.com/kGBwBC16VN

— Meme Kombat (@Meme_Kombat) November 2, 2023
The cryptocurrency features among the top three cryptocurrency presales that could explode, alongside Bitcoin Minetrix and TG.Casino. It is set to launch soon.
Touting itself as an innovative new gaming platform designed for gaming enthusiasts, Meme Kombat offers players a wide range of entries from active betting to passive staking, with a wide range of rewards for all participants.
After buying MK tokens, do not sit on them until the presale ends. Let your holdings work for you and earn passive returns through the staking function, with annual percentage yields (APY) as high as 112%.
Visit Meme Kombat to buy MK here.
Also Read:
New Crypto Mining Platform – Bitcoin Minetrix
Audited By Coinsult
Decentralized, Secure Cloud Mining
Earn Free Bitcoin Daily
Native Token On Presale Now – BTCMTX
Staking Rewards – Over 100% APY