The Solana price is up 7% in the past 24 hours and traded at $46.46 as of 6:30 am EST. It's rocketed almost 113% in a month.
SOL's benefitting from bullish sentiment that surrounds speculation that spot Bitcoin ETFs will be approved soon.
Bloomberg Intelligence ETF analyst James Seyffart said on Nov. 8 that there's a brief eight-day window, beginning today, for the US Securities and Exchange Commission (SEC) to approve a spot BTC ETF.
JUST IN: 🇺🇸 Bloomberg analysts say a "brief window" opens tomorrow for SEC to potentially approve spot #Bitcoin ETFs, and it will be open for at least 8 days. pic.twitter.com/CfDXylvd8v

— Bitcoin Magazine (@BitcoinMagazine) November 8, 2023
The news sparked activity from traders, sending Bitcoin price past the $36,000 level. It is trading for $36,618 at the time of writing. Notwithstanding, the anticipated correction could still manifest despite the bullish news. BTC is testing a key barrier at $36,579 on the weekly timeframe.
Meanwhile, two themes speculate expected volatility for Solana's price in the coming days. The odds point to SOL's upside potential.
Solana Price To Benefit From November Conferences and Events
One analyst anticipates volatility in Solana price because altcoins have proven to be highly reactive to conferences and events. He says, "FTX continues to send tokens to exchanges, and price continues not to be affected. Either the market is telling you the "bearish overhang" thesis is invalidated, or there is enough buying pressure to outweigh the supply (the latter – in my opinion). Either way, SOL has proven a point here, and if we get any major dips, I will be adding."
Weekly Token + Narrative Watchlist 🔎

With TOTAL3 breaking out, there are lots of interesting altcoin setups to discuss!

(it's a big watchlist this week).

Starting with crypto gaming:$YGG: Yield Guild Games is set to host a summit from November 17th to 25th. Recently the… pic.twitter.com/r5Rbdts4P6

— Miles Deutscher (@milesdeutscher) November 6, 2023
It comes after the Solana Breakpoint Conference in Amsterdam in the Netherlands, with the meet-up delivering 20% gains for investors.
Thanks to you, we had an absolutely electric week at Solana #Breakpoint2023.

Safe travels home and we'll see you next year! ☀️ https://t.co/Rt5JZMJvP7

— Solana Breakpoint ☀️ AMSTERDAM Oct. 30-Nov.3 (@SolanaConf) November 4, 2023
The second theme for anticipated bullishness in Solana price is related to the South Korean exchange, Upbit. In a recent post on Crypto X, web3 data analysis tool Lookonchain indicated that Solana's price could rise before or during the Upbit D Conference (UDC) at the Grand Walkerhill in Seoul, Korea.
2/ We analyzed the participants in #UDC(Upbit D Conference) and compiled 20 tokens related to the #UDC.

These 20 tokens will most likely rise before $UDC or during $UDC.https://t.co/Yu8xWraTnD pic.twitter.com/hZL6AmscGG

— Lookonchain (@lookonchain) November 8, 2023
The exchange is typically renowned for pump-and-dump schemes. This attribute is not because of the platform itself but because of the Korean traders who opt for pumping and dumping trading strategies.
CryptoQuant CEO Ki Young Ju attributed this tendency to the region's "very strict capital controls, blocking arbitrage opportunities between global exchanges."
Fun Fact 3.

Korean crypto traders love pumping & dumping altcoins, ironically. Got this clip from my Korean friend. pic.twitter.com/63Ewssu5VO

— Ki Young Ju (@ki_young_ju) March 30, 2023
Lookonchain analyzed the participants in UDC, compiling a list of 20 tokens that will be involved in the conference, and SOL was one of them. Solana Foundation head of technology Matt Sorg is among the speakers. He will address AI as an emerging trend and its implications for blockchain.
Solana Price Tests A Three-Day Supply Barrier
Solana's price is trading with a bullish bias, recording a 106% rise since the bull market commenced on October 18.  With strong momentum indicators, SOL gains could extend past the supply zone from $42.16 to $46.60. For a confirmed uptrend, the price must record a three-day candlestick close above the mean threshold of this order block at $44.37.
Such a move would clear the path for continuing the trend, with Solana's price likely to clear equal highs at $47.25.
The Relative Strength Index (RSI) indicator remains in an overall uptrend despite its position above 70. While this position is concerning, showing SOL is massively overbought at 87, it does not warrant selling but only cautions longs to open new positions.
The Awesome Oscillator (AO) and Moving Average Convergence Divergence (MACD) indicators also support the case to the upside, showing bulls are leading the market.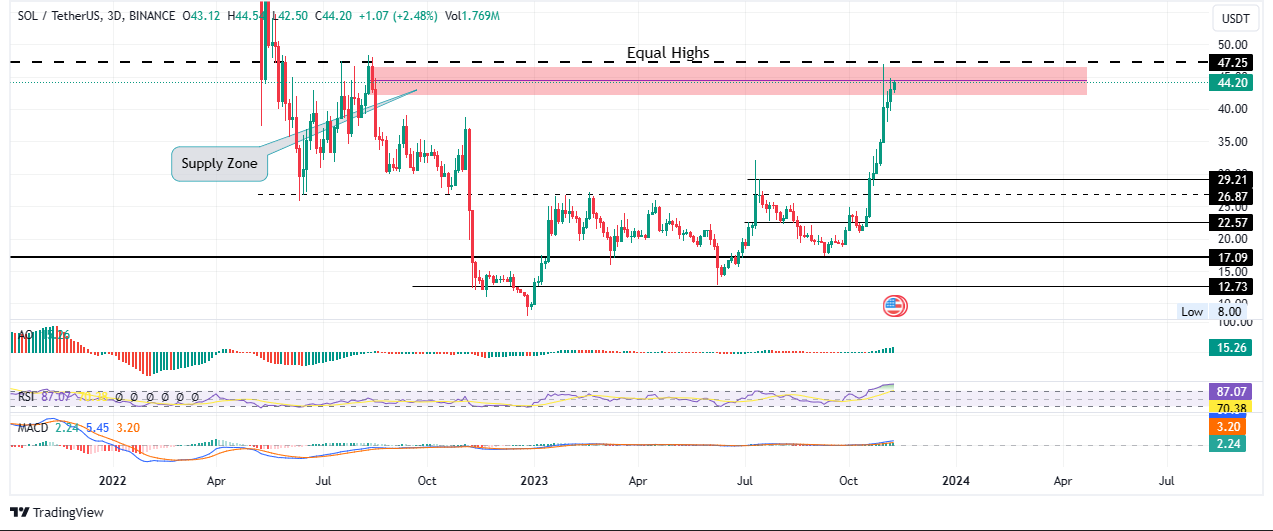 Conversely, a rejection from the supply zone could send Solana's price south, slipping past the $40.00 and $35.00 psychological levels, respectively, before testing the $29.21 support level. A break and close below $26.87 would invalidate the bullish thesis.
Promising Alternative To Solana
Meanwhile, investors are looking at BTCMTX, the ticker for the Bitcoin Minetrix. A cloud-mining ecosystem has simplified the journey to BTC ownership. All you have to do is stake your BTCMTX tokens for mining credits, then redeem or burn these credits for mining hash power.
Delving into $BTC mining alongside #BitcoinMinetrix! 🔍#Cloudmining opens the door to the world of #Crypto:

💡 Simple start for novices.
💸 Economical without hardware costs.
🌃 No concerns about space, noise, or overheating.
🔧 Hassle-free upgrades. pic.twitter.com/N3zwTDRYjq

— Bitcoinminetrix (@bitcoinminetrix) November 7, 2023
BTCMTX tokens will sell for $0.0115 for the next three days as the sixth stage of the presale continues. With the window closing fast before another price hike, now is the time to join the many traders who are already flocking to the Bitcoin Minetrix website to buy BTCMTX.
#BitcoinMinetrix Stage 6 has started! 🔥 pic.twitter.com/IYuQ7BObqa

— Bitcoinminetrix (@bitcoinminetrix) November 7, 2023
The token features among the top five crypto presales to buy, with the potential for a 10X return for early entrants.
Visit and buy BTCMTX tokens here.
Also Read:
New Crypto Mining Platform – Bitcoin Minetrix
Audited By Coinsult
Decentralized, Secure Cloud Mining
Earn Free Bitcoin Daily
Native Token On Presale Now – BTCMTX
Staking Rewards – Over 100% APY