Solana's performance, which surged from $21 in October to $45 in November, has drawn the interest of investors closely monitoring its developments.
This upward trajectory persisted, resulting in an impressive 120% surge and reaching an all-time high in 2023. In the past week, Solana has shown significant growth, with an impressive increase in value, which holds promise for both current investors and those who are thinking about future investments.
Crypto analyst's bullish outlook on Solana's growth
Over the last four years, Solana has undergone substantial expansion, particularly in sectors like DeFi, NFTs, and Web3. Currently, numerous projects are actively in development on the Solana network, with more in the pipeline.
According to information available on Solana's official website, its primary value proposition is to provide cost-effective and durable transaction solutions. As a blockchain network, Solana competes directly with other leading platforms, most notably Ethereum.
Recently, Solana's price has experienced a remarkable surge, defying expectations and surprising both traders and enthusiasts. Just a few weeks ago, it was trading at a modest $20.95, but since then, it has witnessed explosive growth, surging over 100% to reach a new high for the year.
This impressive rally has been driven by a notable uptick in network activity, indicating increased adoption and usage of the Solana blockchain. Solana's value has increased by an impressive 74.60% in the past month alone, making it an attractive investment opportunity for many.
This outstanding performance has propelled SOL to achieve its value of $45 this month, with its sights firmly set on the coveted $50 milestone. Notably, this recent price surge marks the first time since July that Solana has displayed such resilience, underscoring its potential for continued growth and success. For promising altcoins to buy, check out our guide here.
Solana's remarkable growth linked to network activity upsurge
Solana's recent price increase is a result of heightened network activity, particularly in the realm of liquid-staking token protocols like Jito, which is the second such protocol on Solana. Jito has managed to secure $12 million in funding and has around $224 million in total value locked in.
Solana, as an alternative Layer 1 blockchain, is frequently compared to Ethereum, and it has been performing better than ETH in recent months. The ratio of SOL to ETH has climbed from 0.011 in September to roughly 0.025, surpassing levels seen before the FTX crisis.
In the context of the recent cryptocurrency buying frenzy, both Coinbase and Binance have emerged as significant participants. Coinbase has acquired 2.2 million tokens, while Binance has accumulated 1.9 million tokens since the rally began in mid-October.
1/ 7,000 registrants.
907 submissions.
Participants from over 120 countries.

💫The @SolanaFndn is pleased to announce the winners of Hyperdrive, the 8th Solana Hackathon.https://t.co/T06BNFDw78

— Solana (@solana) November 3, 2023
Notably, Solana has outperformed other well-known altcoins in terms of trading volumes on US-based exchanges, establishing itself as the preferred alternative digital asset among traders in 2023.
In just one month, SOL's value has impressively surged, solidifying its position as a strong contender in the world of cryptocurrency. Visit our guide to the best altcoins to buy now for 2023 here.
Solana's price analysis and price predictions
Solana's SOL token has demonstrated impressive performance in recent weeks. It is currently trading at around $41, and during the past week, it even exceeded $45. The cryptocurrency community is closely monitoring whether SOL can maintain its current stability or potentially drop to $33.29.
Analysts are keeping a watchful eye on SOL's future trajectory, which has fueled optimism among investors for a possible upward trend in the near future.
It's important to keep in mind that, despite the rapid increase, the token remains significantly below its all-time high, which was reached about two years ago when SOL was valued at around $260. Currently, it is about 85% less than its November 2021 value.
It's worth noting that Solana's record price was achieved during a broader cryptocurrency bull market. Nonetheless, SOL's recent recovery has renewed hope among investors, suggesting the possibility of reaching new heights.
Cryptocurrency analysts are making predictions for SOL's price in mid-November based on SOL's performance in early 2023. They suggest that during this period, SOL could trade within a price range of $38.56 at its lowest and $46.95 at its highest.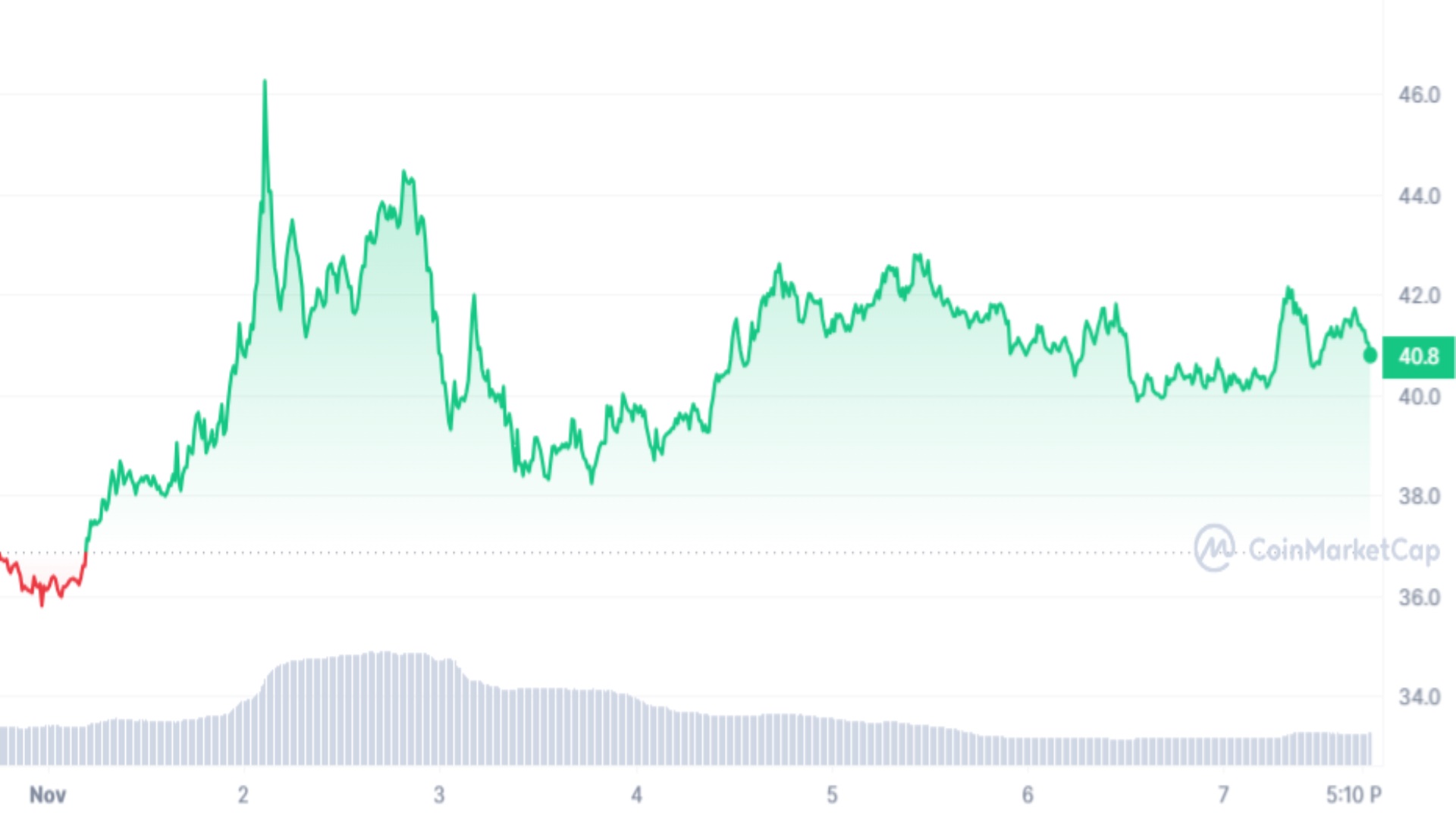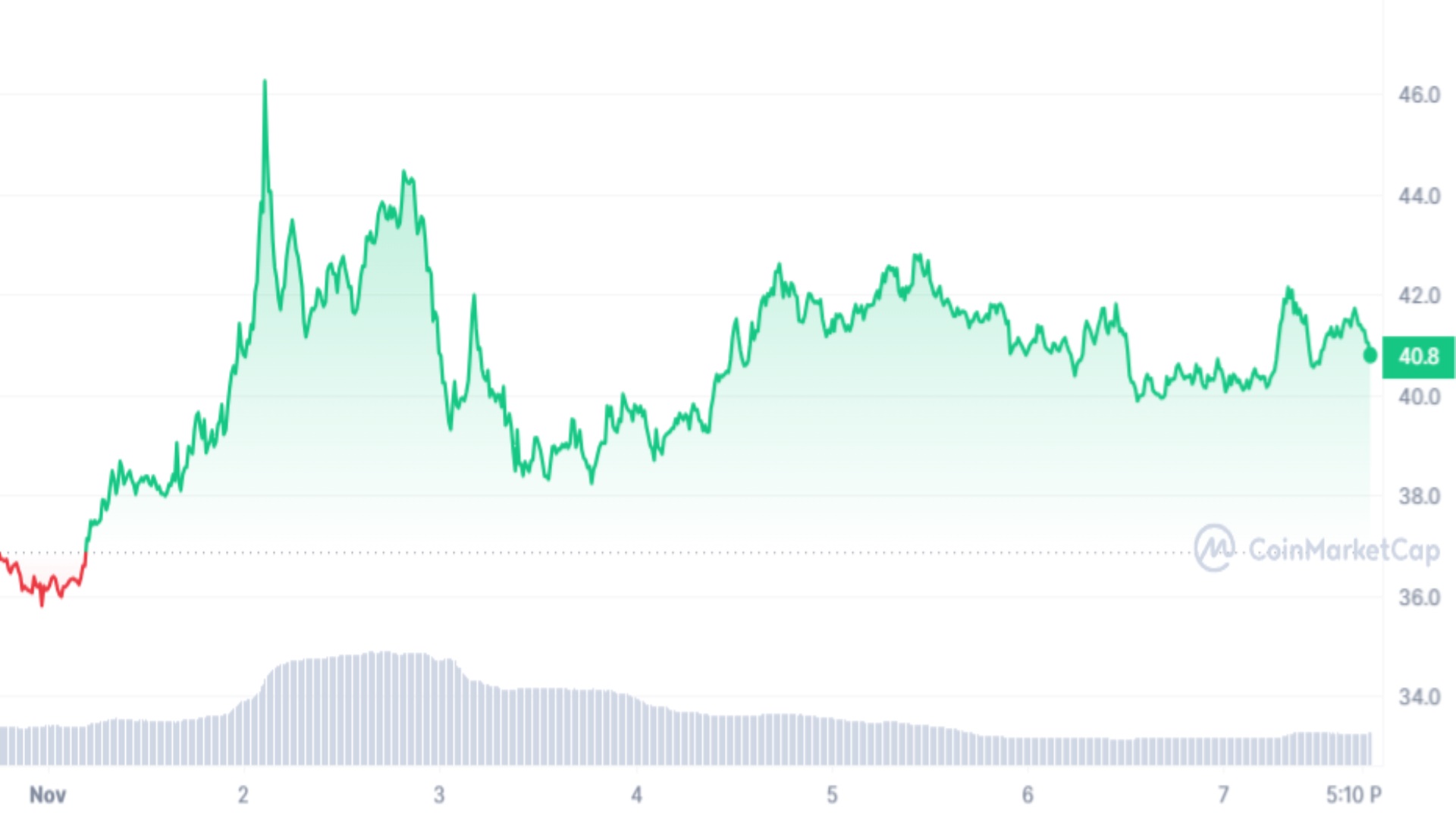 As per the most recent data from CoinMarketCap, Solana's value has seen a 4.02% increase in the last 24 hours and is currently trading at $41.50. Furthermore, the trading volume has reached an impressive $1 billion, indicating a strong performance for this token.
While Solana's recent performance has undeniably been remarkable, it's an exciting time for potential investors who approach it with care. The cryptocurrency market is renowned for its extreme volatility, and periods of consolidation are part of the journey towards long-term growth.
Solana may still hold the potential for further gains, making a patient and informed approach vital for those seeking success in the dynamic world of cryptocurrencies. If you're looking for other investment opportunities, check out our list of the top crypto ICOs to consider.
Related
New Crypto Mining Platform – Bitcoin Minetrix
Audited By Coinsult
Decentralized, Secure Cloud Mining
Earn Free Bitcoin Daily
Native Token On Presale Now – BTCMTX
Staking Rewards – Over 100% APY