BONE, a token based on the Shiba Inu ecosystem, has had quite a dull month in terms of bullish price movement. However, the Shiba Inu ecosystem is currently experiencing an increase in on-chain transactions, and BONE hasn't been left out. 
Some SHIB whales have increased their holdings in anticipation of a new milestone for Shibarium. At the same time, BONE also had an increase in large transactions, and this key on-chain metric suggests the token could be ready for a major price appreciation.
BONE Large Transaction Volume Increases
The daily large transaction volume for BONE, ShibaSwap's governance token, has exploded in the past week. According to recent data from IntoTheBlock's metric of large transactions, each valued at $100,000 or more, spiked from no activity at the end of October to more than 5.17 million BONE tokens over the weekend. This type of large transaction activity can either mean that big money is flowing into or leaving an asset. But more often than not, the former is the case.
At the same time, BONE's biggest whales have been loading up their bags. On-chain data shows whale wallets (more than 1% of the total supply) now hold 44.03%, up from 43.41% reported last month. Investors' wallets holding between 0.1% and 1% of the circulating supply also went up, now holding 16.85%. Inflows into these two sets of addresses increased by +295% in a 7-day timeframe, indicating interest from whales.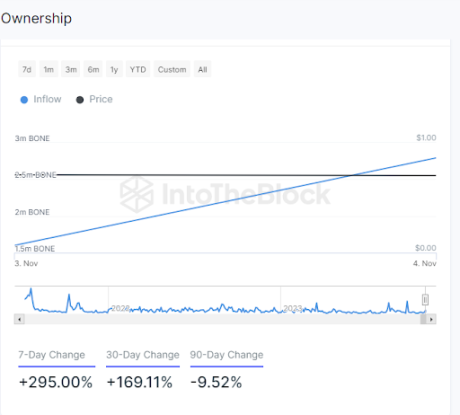 Source: IntoTheBlock
Bearish Sentiment Reversal? Road to $1?
With the large transaction increase, it's clear BONE is gaining major traction and interest from whales. But some on-chain and BONE's price points to a double-edged sword. Despite the inflow into large wallets and increase in large transactions, broader on-chain signals point to bearish sentiment from retail traders. 
This is particularly evident as interest from small investors has dropped in the past month. At the time of writing, BONE is trading at $0.71 and is down by 64% from its yearly high of $2.20 in February.
Bulls push token price toward $1 | Source: BONEUSDT on Tradingview.com
On the other hand, BONE has spiked by 3.6% in the past three hours after recently bouncing off major support at $0.69. A continued surge in on-chain transactions among bulls and whale investors could push the crypto back up to $1.
BONE is used as gas fees on the Shibarium layer-2 blockchain, which has had a steady increase in cumulative gas usage since its launch. Shibarium is now approaching the four million total transactions milestone, which could also push BONE towards $1.
Source: IntoTheBlock
Featured image from CoinMarketCap, chart from Tradingview.com
Source link