Yuri Molchan
Shiba Inu burn rate increases massively as whopping 100 million SHIB gets removed in single transfer
Shibburn platform, which shared the details of SHIB burn transactions with the crypto community, spread the word about an astounding rise of the SHIB burn rate within the span of the last 24 hours, with a huge chunk of SHIB moved to dead-end wallets.
In the meantime, Shibarium Layer-2 solution has reached a new milestone, showing that its utility keeps growing.
115 million SHIB removed from circulation
Per data shared by the above-mentioned source, this time, since Thursday morning, the SHIB community has pushed the burn rate up by 1,359.82% as it disposed of a remarkable 115,759,009 SHIB. Notably, a staggering 100,000,000 Shiba Inu meme coins – nearly all the SHIB removed this time – were burned in a single transfer.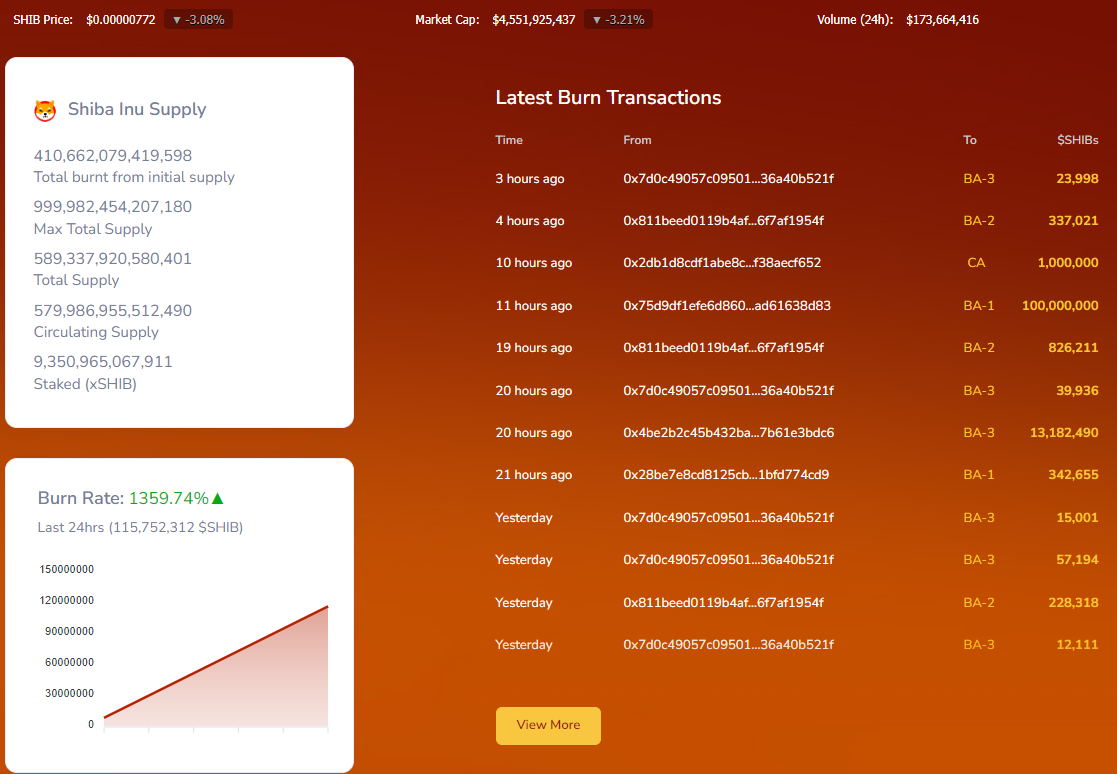 This is the second biggest burn rate jump this week. On Monday, this metric demonstrated a rise of 7,700%, with a whopping 544,958,383 SHIB coins transferred to dead blockchain addresses.
The goal of these constant and regular SHIB burns is to move as many meme coins to dead addresses, from where they will not be withdrawn or spent. Their permanent stay in these unspendable wallets will make the coin more scarce. Providing that demand for SHIB also soars, the second largest meme coin has the potential to show a significant price increase in the future.
Shytoshi Kusama's statement on burns
In a recent message on social media, the lead developer of Shiba Inu, who calls himself Shytoshi Kusama, addressed the Shiba Inu community regarding how burns should work and the SHIB army's expectations regarding them.
He wrote that significant SHIB burn volumes will only come "through utility and use" of Shibarium, while the community simply expects "magic burns." He stressed that there will be no burns without actual use of the Shibarium blockchain.
Kusama then slammed all those who are spreading FUD (a popular acronym within the crypto community standing for "fear, uncertainty, doubt") are pushing away investors, partners and users from Shibarium, and this is basically shooting the SHIB army in the foot.
Shytoshi also stated that Shibarium needs a DAO (decentralized autonomous organization) and SNS – Shiba Name Service. The latter was launched earlier this week, and it allows Shibarium users to set up "human-readable addresses" for themselves, rather than use the traditional sequence of digits and letters for a blockchain address.
Shibarium hits new milestone
In the meantime, Shibarium chain continues to see its key metrics increase. After reaching a 3,500,000 transaction milestone recently, Shibarium has now reached a 3,780,336 transaction milestone, according to the Shibariumscan explorer.
The number of daily transactions remains stably slightly over 13,000 after major surges in September and October.
The total number of connected wallet addresses has grown to the 1,259,795 level, while the number of mined blocks stands at 1,472,727.
About the author

Yuri Molchan
Yuri is interested in technology and technical innovations. He has been writing about DLT and crypto since 2017. Believes that blockchain and cryptocurrencies have a potential to transform the world in the future in many of its aspects. He has written for multiple crypto media outlets.
His articles have been quoted by such crypto influencers as Tyler Winklevoss, John McAfee, CZ Binance, Max Keiser, etc.