According to recent data shared by the popular within the SHIB community Shibburn tracker, over the last 24 hours, the burn rate of these popular meme coins has exploded to reach a 1,351% level.
Over 100 million SHIB burned
Per Shibburn, enthusiastic SHIB-loving individuals and entities have succeeded in removing a massive chunk of Shiba Inu from the circulating supply – 140,090,900 SHIB meme coins.
It took seven transactions to burn that amount of SHIB, with the largest one moving a whopping 100,000,000 Shiba Inu. The second largest carried 17,988,231 SHIB.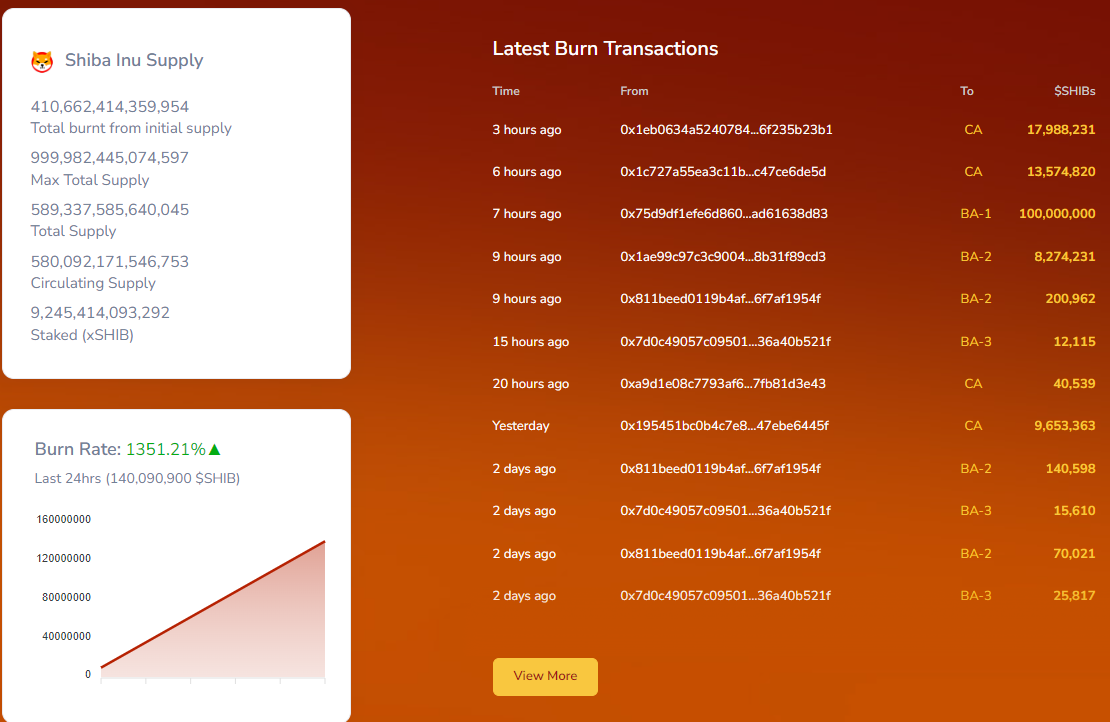 Shibburn website shows that up to the present moment, the SHIB army has managed to dispose of 410,662,414,359,954 Shiba Inu coins, with 410,662,414,359,954 SHIB locked in staking pools.
There are currently 589,337,585,640,045 Shiba Inu circulating on the market.
Here's who stands behind 100 million SHIB burn
As reported by U.Today earlier this week, over the past two weeks, a massive amount of 550,000,000 SHIB has been transferred to an unspendable wallet in several massive transactions.
The initiator of these burn transfers turned out to be the @theshibdream account on the X social media platform. The people behind this account have launched a SHIB Dream collection of non-fungible tokens (NFTs) on Layer-2 blockchain Shibarium and have been burning part of their profits from selling them.
The social media marketing specialist of the SHIB team, who calls herself Lucie on social media, revealed the burner on the X app a few days ago. The user @theshibdream also launched the SHIB VIP Social Network in December 2022.
SHIB official giving away NFT
The aforementioned Lucie took to the X app to announce that she is willing to give away a SHIB-themed non-fungible token to one of her followers, setting a competition for that.
Lucie explained that she had gotten those NFTs in a giveaway from the newly launched SHIB Magazine – they were granting the first 1,000 registered readers with NFTs of the magazine covers.
Now, Lucie plans to choose a happy winner from those who leave comments under her post, writing about their favorite project on Shibarium or an idea for an NFT on Shibarium. Then, users need to make retweets of her root post and follow two SHIB-themed accounts named by Lucie.
She will announce the winner on Nov. 24 – users have two weeks to try and win a SHIB-themed NFT from her.
About the author

Yuri Molchan
Yuri is interested in technology and technical innovations. He has been writing about DLT and crypto since 2017. Believes that blockchain and cryptocurrencies have a potential to transform the world in the future in many of its aspects. He has written for multiple crypto media outlets.
His articles have been quoted by such crypto influencers as Tyler Winklevoss, John McAfee, CZ Binance, Max Keiser, etc.