The Real Smurf Cat price is up 17% over the last day to auction for $0.0001943 as of 9:25 PM November 3 EST. Over the same duration, trading volume has dwindled by 15%, largely due to the weekend setting in as retail traders take a break.
With this surge, Real Smurf Cat price is attempting a recovery rally after a 56% slump from the intra-day high of $0.0004039. This was recorded on October 27, before the $0.00001717 support level broke the fall on November 3. Some analysts had anticipated the move, predicting a pivot by шайлушай after the slide.
Do not fear.

The smurf bottom is near.#шайлушай pic.twitter.com/45puxroKaP

— Eric Cryptoman (@EricCryptoman) November 2, 2023
Among the possible drivers for the Real Smurf Cat price is the recent audit. It was performed using AI on the шайлушай ecosystem. Based on the results, the reliability score for the network is 60%, which is not a mean feat. This is considering the place of this ecosystem in the broader market as well as the fact that it remains in its nascent stages. It shows significant promise.
🔥 $шайлушай is on fire 🔥

We did an automated AI audit on the token and here's what we've found. Not everything is great,

— Synergy AI (@synergyai_io) November 3, 2023
Regardless, Real Smurf Cat is among the altcoins that smart money is leveraging to catch unsuspecting longs and shorts off guard. This explains the sharp and unprecedented turnarounds that the price of this cryptocurrency keeps making. Massive long and short positions are liquidated at every turn.
𝐒𝐦𝐚𝐫𝐭 𝐦𝐨𝐧𝐞𝐲 𝐢𝐬 𝐛𝐮𝐲𝐢𝐧𝐠 𝐭𝐡𝐞𝐬𝐞 𝐜𝐨𝐢𝐧𝐬 + 𝐠𝐞𝐦𝐬:
03/11/23, watchlist:

– $MEME
– $GRAIL
– $JOE
– $JPEG
– $Шайлушай
– $BITCOIN
– $OTACON
– $LBR
– $ARB

𝐆𝐞𝐦𝐬:… pic.twitter.com/lh7b5oXoS6

— hoeem (@crypthoem) November 3, 2023
Real Smurf Cat Price Outlook With Smart Money Moves
Real Smurf Cat price is pivoting around the $0.0001717 support level to nurture a recovery rally. With the Relative Strength Index (RSI) above the 50 level, the upside potential for шайлушай could be realized soon.
Nevertheless, the odds favour the bears. The RSI tilting south to show momentum is falling. Unless the bulls bring in their best fight, the bears could take over. Signs are already evident as the Awesome Oscillator (AO) has already flipped negative.
Also, the Parabolic SAR is above the price of Real Smurf Cat. This makes it an additional layer of resistance that шайлушай must overcome at b$0.0003609. With such an outlook, coupled with the low trading volume that is characteristic of the weekend, the crypto's price may dwindle further, losing the critical support at $0.0001717.
Such a downpour could send Real Smurf cat price to the depths of the $0.0001207 support. In the dire case, it could extend a leg south to test the support floor at $0.00001889. Such a move would constitute a 90% fall below current levels.
Conservative shorts should place their take profits at around $0.0001207. This is 30% below the current level as this is the more logical turnaround point given current market optimism.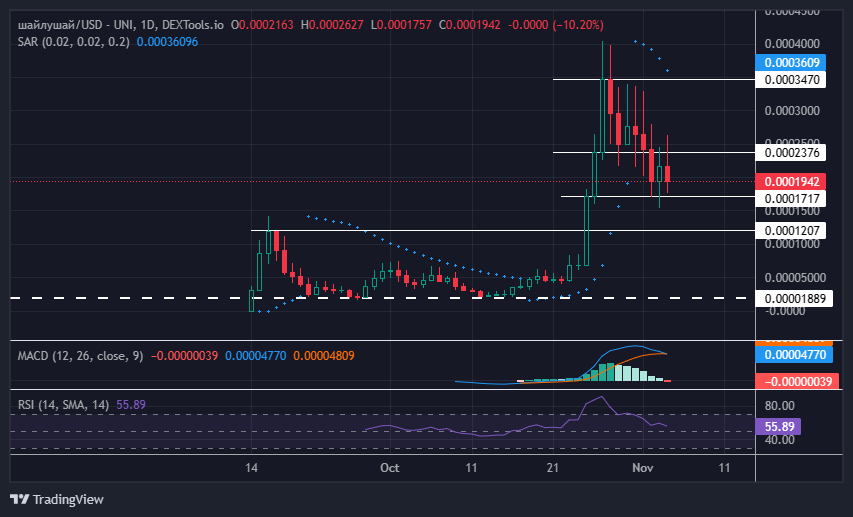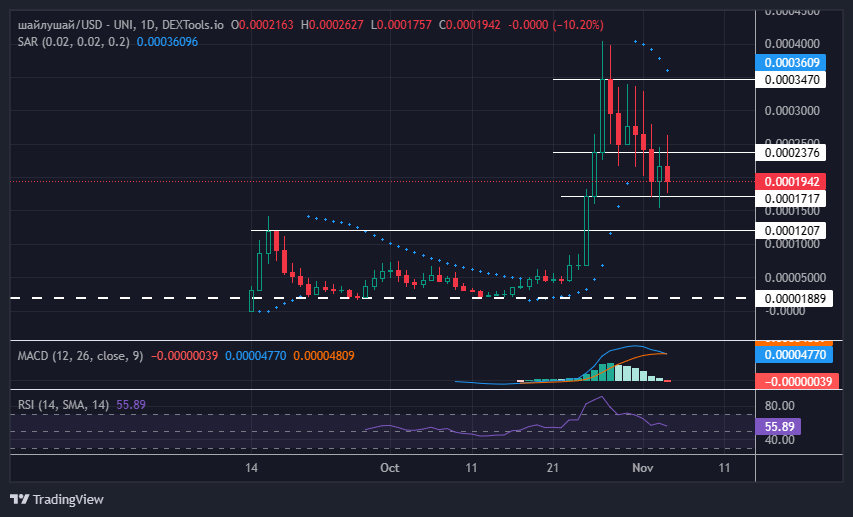 On the other hand, if sidelined investors approach the scene, Real Smurf Cat price could recover all the ground lost during the November 3 fall. Increased buyer momentum above the $0.0002376 level, or higher, drawing towards the Parabolic SAR at $0.0003609 by tagging the $0.0003470 level.
A break and close above the aforementioned level could set the tone for Real Smurf Cat price to collect the sell-side liquidity residing above the aforementioned level. In highly ambitious cases, the gains could extend for a test of the $0.0004000 psychological level, 112% above the current price.
Promising Alternative To Real Smurf Cat
Traders looking for more promising alternatives should give MK a chance, gaining an entry into a fun-filled battle arena with memes of your choice for fighting characters.
You see $WOJAK lining you up… what do you do? pic.twitter.com/iVHsSBnkOO

— Meme Kombat (@Meme_Kombat) November 1, 2023
MK is the native cryptocurrency for the Meme Kombat ecosystem, a stake-to-earn project showcasing an innovative new gaming platform. It is designed for gaming enthusiasts with rewards for every participant.
Let's get some love from all the memebers down below👇 pic.twitter.com/1nHBZdWPOp

— Meme Kombat (@Meme_Kombat) November 2, 2023
The project has a lot of opportunities for players, ranging from staking to betting. For stakers, you get annual percentage yields (APY) or returns as high as 112%. Meanwhile, the project's presale is still ongoing, boasting a stark $1.154 million in the bag so far out of the $1.5 million target. Investors can buy MK tokens in the presale for a meager $0.183 in the current stage. However, take note that the price will increase in five days as the next stage kicks off.
MK Presale price is now $0.183!

Learn more about our staged approach to presale in this brilliant breakdown from @BuryCrypto 👏

Full video here👉 https://t.co/onldqUtDsD pic.twitter.com/kGBwBC16VN

— Meme Kombat (@Meme_Kombat) November 2, 2023
Featuring among the top three initial coin offerings (ICOs) in the market today, Meme Kombat is here to stay, making big moves set atop the ecosystem's strong tokenomics. It stands alongside other presale outperformers that include Bitcoin Minetrix (BTCMTX) and TG.Casino (TGC).
WE ARE HERE TO STAY

We're making moves. And big moves require big wind ups.

Catch the latest video from @CryptoZeusYT here👇 https://t.co/B83kvLVH6W pic.twitter.com/Fpj30n2AKd

— Meme Kombat (@Meme_Kombat) November 3, 2023
Experts say Meme Kombat could explode 20X once it goes live on exchanges, especially now that meme coins are making a comeback. Following on the heels of Bitcoin, Dogecoin (DOGE), Shiba Inu (SHIB) and Floki Inu (FLOKI) are already showing traction in their prices.
The world of #memecoins can be a rough place, but #MemeKombat is coming in hot 👊 pic.twitter.com/EotbPRQMyh

— Meme Kombat (@Meme_Kombat) October 4, 2023
Nevertheless, MK is outperforming them with significant presale collections.
🤩 MK Kontest 🤩 5000 USDT up for grabs💸 Any purchase of $100 worth of $MK from November 2nd at 12:01 UTC until we reach $1.5 million will stand a chance to qualify for the giveaway.

Multiple entries allowed! Further details are in Telegram⚔️ pic.twitter.com/4f1KXRM4wr

— Meme Kombat (@Meme_Kombat) November 1, 2023
Visit Meme Kombat to buy MK in the presale here.
Also Read:
New Crypto Mining Platform – Bitcoin Minetrix
Audited By Coinsult
Decentralized, Secure Cloud Mining
Earn Free Bitcoin Daily
Native Token On Presale Now – BTCMTX
Staking Rewards – Over 100% APY