The Pepe price has plunged 8% within 24 hours to now trade at $0.000001049 as of 5:30 a.m. EST.
This comes after Pepe gained significant interest over the month and with the king of meme coins now trading 40% up on a month ago.
Looking at 2-hour PEPE/USDT charts, volatility levels on Pepe price are high as the Bollinger Bands now appear to be diverging. The RSI is on a downward trajectory towards the oversold region. T
he MACD is also moving in the red zone. Both indicate bearish momentum on Pepe price as it sets for a further price drop.
The 30-day moving average has now exceeded the 15-day moving average, forming a death cross. This also indicates accumulating bearish momentum on Pepe price.
Pepe Price Technical Analysis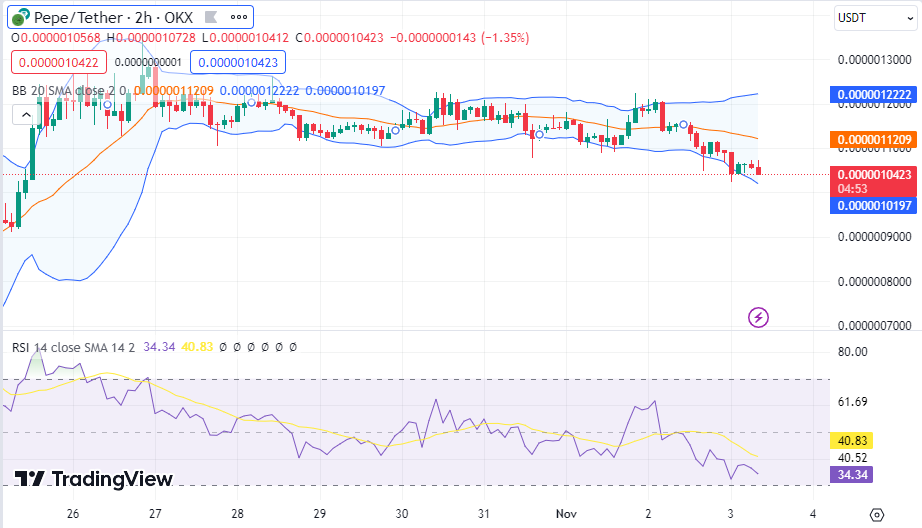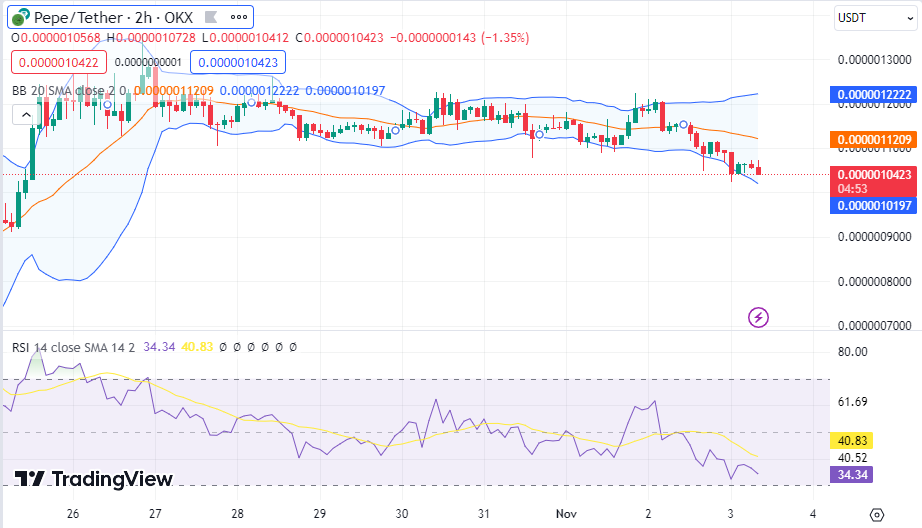 Can Pepe Price Recover?
Despite several vital indicators pointing towards a bearish run on Pepe price, recent whale activity might suggest otherwise. One particular whale activity is noteworthy, with the whale spending 617 $ETH($1.11M) in the past 2 days to buy 996B PEPE. 
A whale spent 617 $ETH($1.11M) in the past 2 days to buy 996B $PEPE.

This whale has also traded 2 tokens this year.

Lost 456 $ETH ($1.3M) on $ARB and made 269 $ETH ($423K) on $MKR.https://t.co/H1UddPZlGe pic.twitter.com/oZgDZYScSH

— Lookonchain (@lookonchain) November 3, 2023
Buying pressure on Pepe could go up, with the meme coins holder count also going up despite the price decline. Pepe holders stood at 144,474, representing a slight increase over 24 hours.
Meanwhile, as the future for Pepe price remains uncertain, Launchpad XYZ's current pre-sale could be your go-to investment plan as it holds promises of massive gains amid launch.

Launchpad XYZ, dedicated to the fusion of cryptocurrency and artificial intelligence, emerges as a beacon of interest. Its recent achievements have the industry buzzing with curiosity.
The LPX Token Odyssey
Venturing into the ethereal realm of cryptocurrencies, one encounters the LPX token, an integral asset in the Launchpad XYZ ecosystem. It currently resides in a cryptocurrency pre-sale, an endeavor brimming with incentives.
The launch was marked by a 20% bonus on the LPX token price, diminishing by 1% each week. At present, investors are enticed with a 10% bonus. But there's a twist: token holders must commit to a 90-day staking period before unlocking its potential.
What sets this crypto startup apart is its commitment to utility. Launchpad XYZ intends to grant its users access to a multifaceted crypto experience. The decentralized exchange promises token trading, NFT trading, and a unique opportunity to dabble in fractional ownership of high-value assets such as real estate and opulent automobiles.
At the heart of this crypto endeavour lies the Launchpad XYZ Quotient, a cutting-edge creation propelled by the magic of artificial intelligence. Whether you're a crypto connoisseur or a neophyte, this application beckons with its data amalgamation from over 400 sources, weaving a tapestry of wisdom for your ideal crypto investments.
The platform even deploys AI to sculpt a cryptocurrency search bar, an intuitive tool on the homepage to help users distill their choices. All these features poise LPX as a contender amid the Pepe price uncertainty. 
AI-Driven Waters in the Cryptosphere
Launchpad XYZ's unique allure stems from its marriage of AI and the LPX token pre-sale, providing a glimmer of distinction within the bustling cryptocurrency market. The trailblazing journey is peppered with substantial funding of $1.96 million and an unwavering focus on AI technologies.
🎉 Milestone Alert! 🎉

$1.9 million raised and still climbing! Thank you for being part of our incredible journey 🚀

Curious about #Web3 and crypto? Join our community and discover the possibilities 💡

👉 https://t.co/ZUZaIKh5XC#LaunchpadXYZ #Crypto #Presale #Web3 pic.twitter.com/rnW2vf94sf

— Launchpad.xyz (@launchpadlpx) October 17, 2023
Within Launchpad XYZ's arsenal lies an array of AI-powered trading tools catering to both the tyros and the old hands in the crypto realm. The Launchpad Quotient beckons the seasoned investors, guiding them through the labyrinth of cryptocurrencies with data-driven insights.
On the flip side, AI adds a touch of personalization to the search bar, which handholds novices in their quest for the perfect crypto companion.
What propels the LPX token to a prime position is Launchpad XYZ's unwavering focus on utility. The real-world value underpinned by the AI analytics tools positions it as an appealing investment option, poised to beckon a broader audience into its fold.
With the possibilities of both a bull and bear run on Pepe price, Launchpad XYZ's LPX tokens possess an excellent investment alternative. 
Visit here to take part in the pre-sale.
Related news
New Crypto Mining Platform – Bitcoin Minetrix
Audited By Coinsult
Decentralized, Secure Cloud Mining
Earn Free Bitcoin Daily
Native Token On Presale Now – BTCMTX
Staking Rewards – Over 100% APY