The crypto market capitalization has experienced a slight dip, falling by 1.92% over the last 24 hours to reach $1.28 trillion. During this period, the total trading volume across all cryptocurrencies amounted to $47.87 billion, marking a significant 18.61% decrease. 
Notably, the decentralized finance sector contributed $4.7 billion, accounting for 9.83% of the 24-hour crypto market volume. Meanwhile, stablecoins maintained their stronghold, representing $42.94 billion or 89.70% of the total 24-hour crypto market volume.
Bitcoin saw a slight decline in dominance, standing at 52.70%, down 0.13% over the day.
As the week drew close, stocks were on track to register their most significant weekly gains in a year. Simultaneously, bond markets experienced a rally, and the US Dollar found itself on weaker ground as investors welcomed a temporary halt in US interest rate hikes.
Next Cryptocurrency To Explode
The upcoming release of US jobs data later in the day is now the primary point of interest for market participants.
In the wake of the US Federal Reserve's decision to maintain interest rates on Wednesday, coupled with Chair Jerome Powell's statement about a balanced outlook for rate adjustments, benchmark 10-year Treasury yields have receded by more than 20 basis points throughout just two trading sessions.
1. Trust Wallet Token (TWT)
Today, Trust Wallet (TWT) is priced at $1.28, with a 24-hour trading volume of $161.90 million. This reflects an impressive 18.12% surge in price over the past day and a remarkable 21.87% increase over the last week. With a circulating supply of 420 million TWT tokens, Trust Wallet boasts a market capitalization of $537.21 million.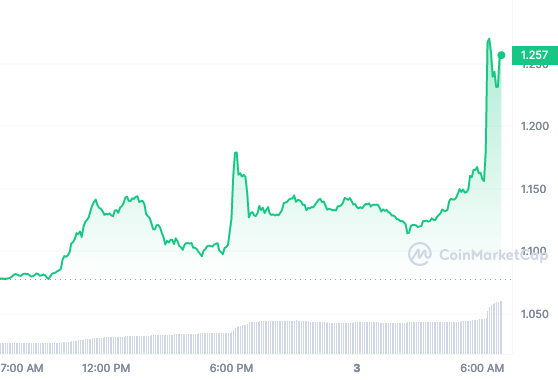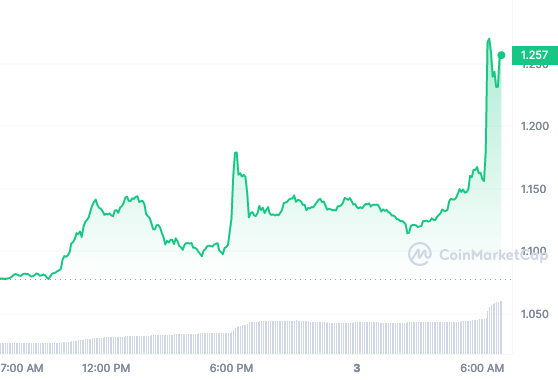 The all-time high ever recorded for TWT was $2.72, a milestone achieved on December 11, 2022, approximately 11 months ago. Currently, the price stands at 52.46% lower than this historical high.
Conversely, the all-time low for Trust Wallet (TWT) harks back to a mere $0.00277641, dated June 9, 2020, spanning over three years. In comparison, the current price is a staggering 46,485.77% higher than this all-time low point.
Join us for another live session with @1inch as we explore topics such as swaps, community and our partnership.

Submit your questions below for a chance to share 1,000 $USDC 👇https://t.co/zdKCFs7kmF

— Trust Wallet (@TrustWallet) November 2, 2023
When assessing the price performance of Trust Wallet relative to its peers, it's evident that it has outperformed the broader global cryptocurrency market, registering a 23.20% increase in the past seven days compared to the worldwide market's 2.70% growth. Furthermore, compared to other cryptocurrencies within the BNB Chain Ecosystem, Trust Wallet has also outperformed, while those peers have seen no change.
As for the market sentiment surrounding Trust Wallet today, it's overwhelmingly positive, with more than 78% of users expressing confidence and optimism in Trust Wallet (TWT).
2. PancakeSwap (CAKE)
PancakeSwap (CAKE), the leading decentralized exchange (DEX) platform operating on the Binance Smart Chain, has regained momentum, experiencing a remarkable surge in its price. As of the latest update, the altcoin has surged by 28%, reaching $1.55. This trajectory marks a parabolic ascent to its highest price point in the past month. It, thus, secures its place as the next cryptocurrency to explode.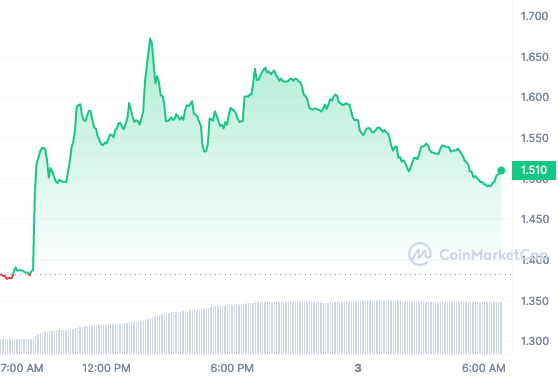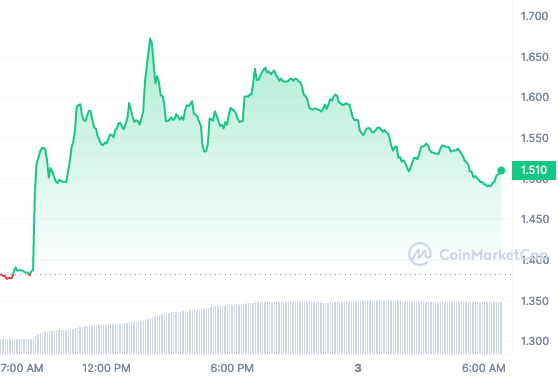 This surge in value can be attributed to three noteworthy announcements that have sparked a frenzy of buying activity. First, the DEX protocol proudly revealed the successful completion of its most recent revenue distribution to participants in its staking program. Despite the relatively modest distribution of 13,977 CAKE units, it highlights PancakeSwap's capacity to attract active involvement from the wider community.
Secondly, PancakeSwap made waves by announcing the listing of the USDⓈ-M CAKE Perpetual Contract on the Binance Exchange. This listing is of significant importance due to the substantial size of the Binance community and the exposure it promises for CAKE's prospects.
⚡️Proposal for Adjustments to Farm Rewards

We propose to adjust CAKE rewards across our v3 deployments on all 8 chains to lower the overall CAKE emission and increase CAKE burn while maintaining sufficient liquidity to facilitate a smooth trading experience.

🗳Vote for free… pic.twitter.com/jyDxZWtw1J

— PancakeSwap🥞Everyone's Favorite DEX (@PancakeSwap) November 2, 2023
In addition to these developments, PancakeSwap also confirmed a remarkable milestone that its DEX spanning across the V1, V2, and V3 protocols has generated a staggering trading volume of $600 billion. This achievement underscores the vibrancy of retail trading activities and is complemented by a remarkable 799.16% surge in daily trading volume, now at $127.35 million.
3. Cronos (CRO)
Cronos has been a standout performer in the crypto market and, indeed, the next cryptocurrency to explode this week. The token soared to a peak of $0.070, marking its highest point since May 8th. Impressively, CRO has witnessed an almost 40% surge from its lowest point this year, firmly establishing a significant support level at $0.050.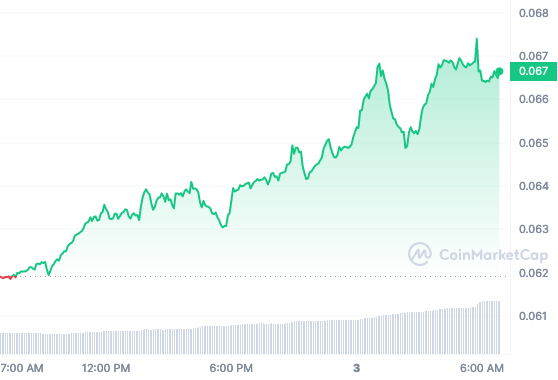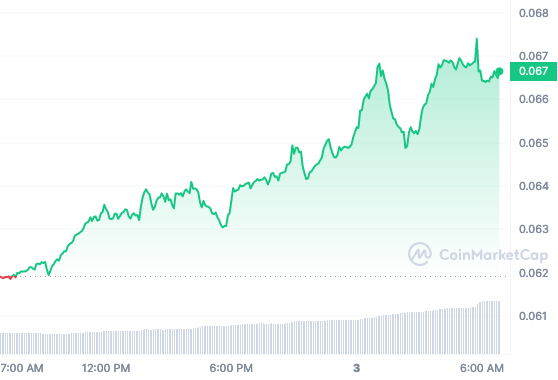 Cronos has not only breached but also moved above the 50-day and 25-day Exponential Moving Averages (EMA), underlining its bullish momentum. Simultaneously, the Relative Strength Index (RSI) has ventured into the extreme overbought territory.
Upcoming Cronos AMA Announcement📢

Join us for an eventful Twitter Space to talk about everything relating to Liquid Staking Derivatives on @cronos_chain!

📅Date: 7th November, 1PM UTC
📍Location: Cronos Spaces

Set your reminder #CROFam! pic.twitter.com/imUDJFKXcV

— Cronos (@cronos_chain) November 1, 2023
As a result, the outlook for Cronos remains decidedly optimistic, with the following critical level of interest residing at $0.081, representing the highest swing point observed on April 28th. Alternatively, in a different scenario, the coin may revisit the support level at $0.060.
4. Bitcoin Minetrix (BTCMTX)
Bitcoin Minetrix (BTCMTX) is one of the most promising ventures in the current market landscape. It has become the next cryptocurrency to explode, just waiting for its launch.
#BitcoinMinetrix versus Traditional Cloud Mining

Entry Cost Comparison: 💵#BTCMTX = Low-cost entry with a fixed commitment period.#ConventionalCloudMining = Demands substantial initial deposits. pic.twitter.com/rptO3i0BlH

— Bitcoinminetrix (@bitcoinminetrix) November 2, 2023
Distinguishing itself with an innovative "Stake-to-Mine" concept, Bitcoin Minetrix invites regular cryptocurrency enthusiasts to participate in the Bitcoin mining process actively. This novel approach involves staking BTCMTX, the native token of Bitcoin Minetrix, in exchange for non-tradable cloud mining credits. As a result, it democratically opens up the realm of Bitcoin mining to the broader public, eliminating the need for complex computing equipment or specialized expertise.
What sets BTCMTX apart is not only its facilitation of Bitcoin mining but also its remarkable Annual Percentage Yield (APY) of over 185% at the time of this report. This high APY not only promises substantial cloud mining profits but also generous rewards for token holders.
Furthermore, Bitcoin Minetrix is conducting a presale event, providing an opportunity to acquire BTCMTX tokens at a discounted rate of $0.0114. The project has already amassed over $3.1 million in funds, and the development team is set on launching BTCMTX on exchanges after the presale concludes.
Considering the significant traction witnessed during the presale and the notable surge in the Bitcoin Minetrix Telegram community, BTCMTX emerges as a compelling altcoin that investors may want to explore for their portfolios.
Visit Bitcoin Minetrix.
Read More
New Crypto Mining Platform – Bitcoin Minetrix
Audited By Coinsult
Decentralized, Secure Cloud Mining
Earn Free Bitcoin Daily
Native Token On Presale Now – BTCMTX
Staking Rewards – Over 100% APY