We explore some of the newest cryptocurrency releases, recently listed on exchanges and featured on CoinMarketCap.
Binance, the cryptocurrency exchange, has introduced a Web3 wallet designed for seamless interaction with the decentralized finance (DeFi) landscape.
This innovative product, which boasts compatibility with 30 different blockchain networks, was unveiled during the Binance Blockchain Week conference held in Istanbul.
New Cryptocurrency Releases, Listings and Presales Today
Binance CEO Changpeng 'CZ' Zhao emphasized the significance of Web3 wallets, highlighting their role in not just safeguarding digital assets but also enabling individuals to exercise self-sovereign financial control.
Binance's web3 wallet is set to compete with established players such as MetaMask and Trust Wallet, the latter of which Binance acquired in 2018.
As a testament to this, Binance recently listed a futures market for Trust Wallet's native token (TWT), resulting in a 7% drop in TWT's price within 24 hours following the announcement.
1. SafeLunar (SAFELUNAR)
SafeLunar, an Ethereum-based decentralized meme token, positions itself as a cryptocurrency with a solid commitment to security and accessibility. Their user-friendly code and renunciation of ownership underscore their dedication to decentralization and project security.
Notably, they've locked liquidity for a year, enhancing transparency and reliability for investors. Partnering with established crypto auditing entities like SolidProof, BlockSAFU, and Revoluzion ensures thorough scrutiny and verification for maximum security.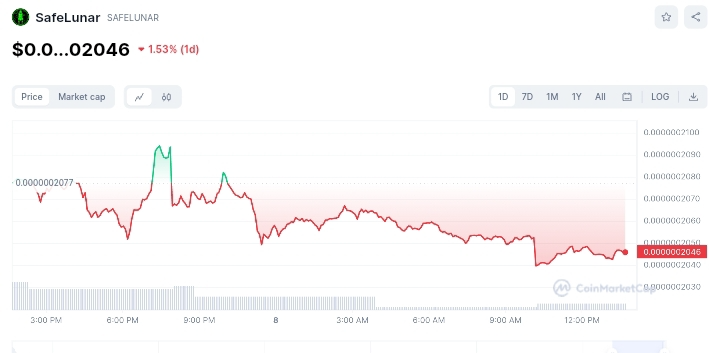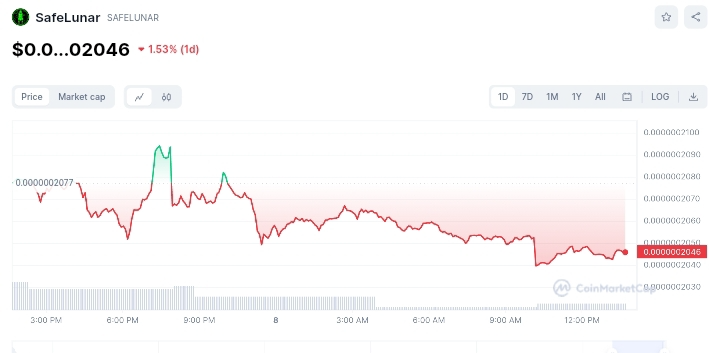 Additionally, their collaboration with PinkSale for Know Your Customer (KYC) verification adds an extra layer of safety. While these aspects reflect a commendable focus on security and transparency, potential investors should exercise due diligence, recognizing its inherent risks and speculative nature characterize the meme coin market.
SafeLunar's appeal rests on its commitment to a secure and trustworthy crypto experience, aligning with the broader industry's move toward more excellent safety and reliability.
Live on CoinMarketCap! https://t.co/8IMWAsdVr0

— SafeLunar.com (@SafeLunarcom) October 27, 2023
SafeLunar is a decentralized meme token on the Ethereum Blockchain, committed to providing a secure and trustworthy lunar journey in the cryptocurrency space.
Today's live SafeLunar price is $0.000000204, with a 24-hour trading volume of $84.41. SafeLunar is down 1.47% in the last 24 hours. The current CoinMarketCap ranking is #6315, with a live market cap of unavailable. The circulating supply is unavailable, and there is a maximum supply of 100,000,000,000 SAFELUNAR coins.
2. Elonium (

ELONIUM)
$Elonium, billed as the universe's newest digital asset, emerges as a token inspired by the visionary Elon Musk, landing on the Ethereum blockchain. While its concept holds intrigue, it's crucial to approach it with a critical eye.
$Elonium aims to differentiate itself by harnessing the power of an element named Elonium, positioning itself as more than just a cryptocurrency but a symbol of interstellar ambitions.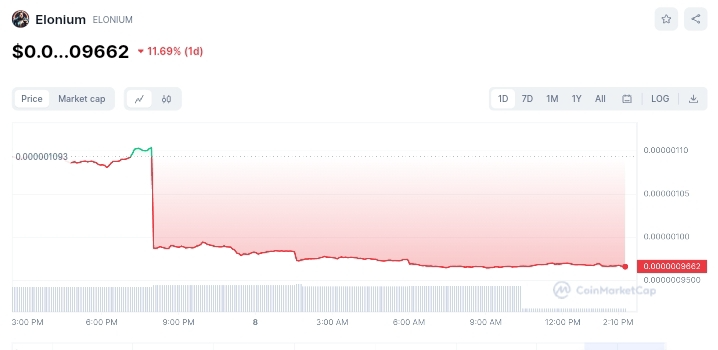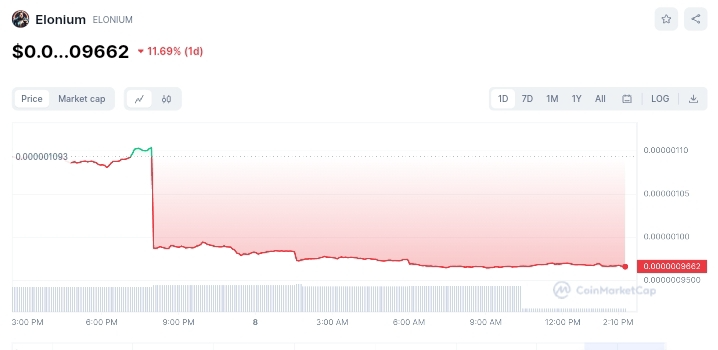 However, the appeal of this token relies heavily on its carefully crafted tokenomics, which promise equitable distribution, growth, and sustainability. This includes the potential for staking rewards fostering a community incentivized to hold and participate in its ecosystem.
Nevertheless, prospective investors need to exercise prudence and scrutiny in light of the speculative and competitive nature of the cryptocurrency market.
The appeal of $Elonium lies in its mission to channel the vision of Elon Musk and offer unique benefits. Still, it should be approached with the understanding that innovation in the crypto space comes with inherent risks.
⚡️ Elonium – Launching on Uniswap today 14.00 UTC 🦄

💵 Presale finished in Just 3 Minutes
💵 Starting Mcap – 135k

🆒 Previous Project
🪙 Babydoge BSC – 62K to 4.5 Million Mcap (84x)
🪙 Bqbydoge ETH – 750K to 3 Million Mcap (4x)

🔥 AVE Hot Booked
🔥 Dexview Top Booked
🔥…

— Elonium (@eloniumeth) October 30, 2023
Harnessing the power of Elonium, an element more potent than uranium and inspired by space visionary Elon Musk, our token is not just a cryptocurrency but a beacon for tomorrow's interstellar ambitions. $Elonium offers holders unique benefits from transaction taxes. Dive into a universe of possibilities, from staking rewards to galactic partnerships and beyond. Stake, trade, and engage with $Elonium on Ethereum's expansive ecosystem, and be part of a community that's set to make cosmic history.
Today's live Elonium price is $0.000000.967, with a 24-hour trading volume of $394.68. Elonium is down 11.33% in the last 24 hours. The current CoinMarketCap ranking is #5730, with a live market cap of unavailable. The circulating supply is unavailable, and there is a maximum supply of 100,000,000,000 ELONIUM coins.
3. IPVERSE (ETH) (IPV)
The IPVERSE ecosystem envisions a blockchain-based platform that aims to encompass every facet of Intellectual Property (IP) across various fields, including art, culture, and technology. They aim to foster a world where IP trading becomes accessible and secure, protecting creators' content and data.
At its core, IPVERSE focuses on collecting, managing, and utilizing creator-centered data within its ecosystem. The project seeks to address longstanding issues related to fees and participation methods in IP transactions, thus ensuring the rights of both creators and users to enjoy content safely.


While the concept of IPVERSE is noteworthy in its commitment to revolutionizing the IP industry, potential investors should carefully assess the project's execution, competitive landscape, and ability to deliver on its mission.
The appeal of IPVERSE lies in its ambition to create a more accessible and secure environment for IP trading, a mission aligned with the broader trend of blockchain technology in revolutionizing traditional industries.
IPVERSE creates an ecosystem where creator-centered data is collected, managed, and utilized. Problems with fees and participation methods experienced in IP transactions will be resolved through IPVERSE and will ensure that creators and users have the right to enjoy content safely.
IPXHOP Unveils New Game At 2023 Global Blockchain Incheon Conference (GBIC)#IPXHOP #GBIC #Game

– Participating as an official sponsor & The Final Match, and introducing two games…

[POSTING]https://t.co/g9Ewme0X9g pic.twitter.com/IzYRHaEKqX

— IPVERSE_ News (@ipverse) October 26, 2023
Today's live IPVERSE (ETH) price is $11.71, with a 24-hour trading volume of $146,031. IPVERSE (ETH) is down 5.28% in the last 24 hours. The current CoinMarketCap ranking is #2988, with a live market cap of unavailable. The circulating supply is unavailable, and there is a maximum supply of 3,000,000,000 IPV coins.
4. Bitcoin Minetrix (BTCMTX)
Bitcoin Minetrix (BTCMTX) is a novel cryptocurrency project that aims to make Bitcoin mining accessible to a broader audience by enabling users to mine Bitcoin through staking BTCMTX tokens on its Ethereum-based protocol.
This approach eliminates the need for specialized expertise, hardware, or upfront costs, as users only require a MetaMask wallet and BTCMTX tokens to participate.
Celebrating another achievement at #BitcoinMinetrix!

Surpassing the $2,400,000 mark! 🎉 pic.twitter.com/zDmc7wlKAs

— Bitcoinminetrix (@bitcoinminetrix) October 27, 2023
The platform allows users to stake BTCMTX tokens in exchange for Bitcoin mining credits, which can be used for cloud mining, earning them free BTC.
This innovative model democratizes and simplifies Bitcoin mining, potentially driving mainstream adoption. Notably, the project's design minimizes sales pressure by rewarding users with credits, not the native token.
Bitcoin Minetrix has secured $3 million in funding as Stage 4 comes to a close, positioning itself as an attractive investment opportunity.
Users who stake $BTCMTX tokens now earn additional tokens at a 195% current APY. These extra tokens will grant holders a larger share of mining power when staking for mining credits is enabled.
Mining credits, which are ERC-20 tokens, offer a unique utility. They can be exchanged for designated BTC cloud mining time slots, allowing retail investors to access fresh Bitcoin rewards.
Once this feature is fully operational, stakers can expect to earn actual BTC rewards through cloud mining, creating an additional revenue stream.
Bitcoin Minetrix has gained recognition from crypto influencers, including analyst Jacob Bury, who highlighted the presale's rapid rise to $3 million in a recent video.
With so much promise, Bitcoin Minetrix has unlocked star status amongst leading crypto influencers, such as top crypto analyst Jacob Bury – who has highlighted the presale's rapid ascent to $3 million in his latest video.
Read More
New Crypto Mining Platform – Bitcoin Minetrix
Audited By Coinsult
Decentralized, Secure Cloud Mining
Earn Free Bitcoin Daily
Native Token On Presale Now – BTCMTX
Staking Rewards – Over 100% APY