Former OpenAI CEO Sam Altman is joining Microsoft to lead a new advanced AI research team, according to an X post by Microsoft CEO Satya Nadella.
The former President of OpenAI, Greg Brockman, and other former OpenAI employees will also be part of the new research team.
The OpenAI board abruptly fired Altman from his CEO position on November 17. Brockman announced his resignation shortly after.
Nadella said Microsoft would remain committed to its partnership with OpenAI. Microsoft announced a $10 billion investment in the AI company in January this year.
We look forward to getting to know Emmet Shear and OAI's [Open AI's] new leadership team and working with them.
We remain committed to our partnership with OpenAI and have confidence in our product roadmap, our ability to continue to innovate with everything we announced at Microsoft Ignite, and in continuing to support our customers and partners. We look forward to getting to know Emmett…

— Satya Nadella (@satyanadella) November 20, 2023
Sam Altman's Ouster from OpenAI
OpenAI published a blog post on November 17 announcing Altman's removal as CEO. The post said Altman "was not consistently candid in his communications with the board, hindering its ability to exercise its responsibilities."
The announcement sent shock waves across the tech industry, with Brockman saying he was quitting shortly after. Three other senior researchers also announced their departure.
Altman likened his ouster from OpenAI to "reading your own eulogy while you're still alive." Altman was the public face of OpenAI after the release of ChatGPT.
On Sunday, a Verge report claimed the OpenAI board was in talks with Altman to reinstate him as CEO. However, the board instead appointed Twitch co-founder Emmett Shear as the new CEO.
So, here's what happened at OpenAI tonight. Mira planned to hire Sam and Greg back. She turned Team Sam over past couple of days. Idea was to force board to fire everyone, which they figured the board would not do. Board went into total silence. Found their own CEO Emmett Shear

— Ashlee Vance (@ashleevance) November 20, 2023
Altman retweeted Nadella's X post, and said, "The mission continues."
the mission continues https://t.co/d1pHiFxcSe

— Sam Altman (@sama) November 20, 2023
Worldcoin Price Volatility Spikes On OpenAI Saga
Worldcoin, a token issued by a crypto project that Altman also co-founded, has seen a significant increase in volatility over the past few days.
On November 17, after news of Altman's ouster from OpenAI, Worldcoin tanked by around 17% to $1.84.
The token spiked to $2.54 on November 19 amid news of Altman's possible reinstatement before losing the gains again after the rumours faded.
WLD is down by over 5% to trade at $2.30 at 06:59 EST after Altman's new role at Microsoft was announced.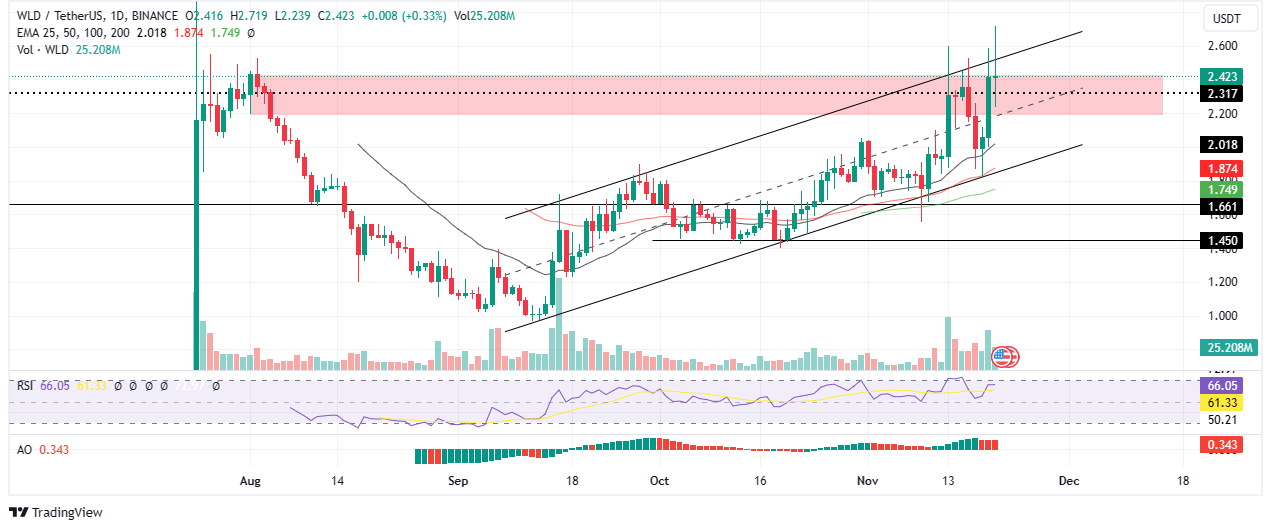 Also Read
New Crypto Mining Platform – Bitcoin Minetrix
Audited By Coinsult
Decentralized, Secure Cloud Mining
Earn Free Bitcoin Daily
Native Token On Presale Now – BTCMTX
Staking Rewards – Over 100% APY