The Kaspa price is up almost 17% in the last 24 hours, powered by a 54% increase in trading volume to auction for $0.09858 as of 1:45 AM EST.
It comes after a 90% breakout that began in early November, vindicating KAS from the grasp of a consolidation zone between $0.033 and $0.053. It has outperformed even Bitcoin with a massive 105% surge to hit an all-time high.
Kaspa (KAS) Price Shatters Records, Outshining Bitcoin With A Massive 105% Surge via @newsbtc@KaspaCurrency #KASPA $KAS #POW
https://t.co/naueQuoXS3

— MonsCrypto (@Mons_Crypto) November 9, 2023
With the breakout, KAS joins the broader market in the ongoing rally, with some saying it may be a bull market in the works.
$KAS
Just amazing..

0.1$ seemed far away just weeks ago and now we are there. #Kaspa will enter Top 10 sooner than later and a cardano type run looks more possible by the day.

Not selling any $KAS right now, that's for sure.

We are just getting started 🚀 https://t.co/AHSBpqwuRz pic.twitter.com/dVTquBy4F3

— Dan τ𐤊 (@cryptokin7) November 10, 2023
The surge has elevated Kaspa to the list of cryptocurrencies with a market capitalization of more than $2 billion.  Now KAS boasts position 32 on the CoinMarketCap list, between Filecoin (FIL) and Hedera (HBAR).
#Kaspa has just reached a market capitalization of over 2 billion US dollars!!!

This puts #kas in 34rd place of all #cryptocurrencies in terms of market cap.

Congratulations to all $kas holders! pic.twitter.com/RJJgu56xwb

— KASPA Enthusiast 𐤊 (@KASPAEnthusiast) November 10, 2023

The head of research at Uphold Institutional, Dr. Martin Hiesboeck, has lauded the Kaspa network for offering the perfect infrastructure and technology that can be adapted to the world economy system.
#Kaspa offers the most perfect infrastructure and technology that can be adapted to the world economy system.@MHiesboeck @UpholdInc$KAS #Bitcoin #Ethereum pic.twitter.com/q3RTnIBSzd

— Kaspa News ⚜️ (@kaspanews) November 9, 2023
The network scales up transaction throughput and scales down transaction settlement times on Layer 1 (L1).
#Kaspa scales up transaction throughput and scales down transaction settlement times on layer-1.

Using GHOSTDAG—a Nakamoto-like consensus algorithm on a 1 BPS DAG of blocks (10 BPS TestNet), it achieves 10sec transaction settlement.

Fair launched, no pre-mine, no-company.$KAS pic.twitter.com/e3aIx7QWXn

— Kaspa News ⚜️ (@kaspanews) November 9, 2023
KAS is gaining attention, with the price surge playing a big role.
We are amazed as the speed of which #Kaspa is gaining attention. Not many can say they played a role in helping their client reach a $2Billion market cap! Humbled and having fun! https://t.co/76YuqqRg2p pic.twitter.com/Qnxbj8hTjc

— Rhubarb Media (@rhubarbmedia) November 10, 2023
Kaspa Price Prognosis As KAS Gains Massive Attention
The KAS token is massively overbought, with a Relative Strength Index (RSI) recording a reading of 90. As such, it may be prudent for perpetual traders not to add to their longs. This is because a pullback could be underway.
The potential pullback could send Kaspa's price south, potentially losing some ground covered to test the $0.080 psychological level. In the dire case, the gains could spiral down past the $0.070 and $0.060 psychological resistance levels, with the likelihood of falling below the 50-day Exponential Moving Average (EMA) at $0.054.
A flip of the 50-day EMA to resistance would plunge Kaspa's price back into the consolidation phase between the $0.033 and $0.053 range. In the dire case, the load-shedding exercise could extend for the altcoin to cross below the 100-day EMA at $0.047 and ultimately $0.038. Such a move would invalidate the bullish thesis. The RSI is already deviating from the move north, suggesting that momentum is falling.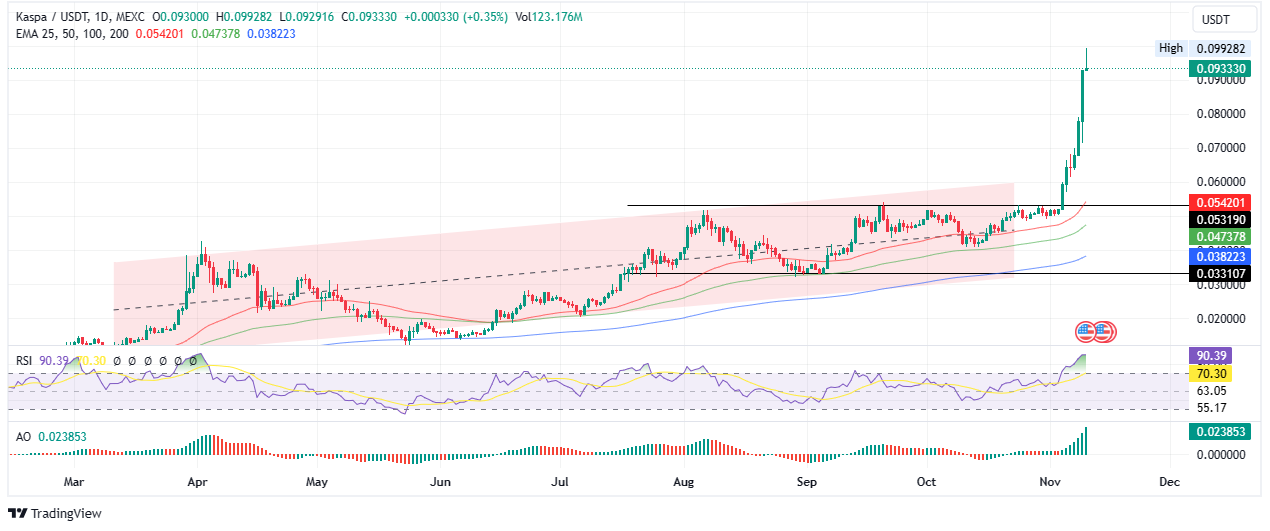 On the flip side, if buying pressure increases, Kaspa price could extend the gains, potentially recording a new range high above the $0.099 level.
Meanwhile, investors are considering MK, the powering token for the Meme Kombat ecosystem. The token changes hands for $0.189 as traders buy using ETH and USDT while others use their bank cards. Owing to the project's remarkable success, analysts say it could be the next Pepe after the frog-themed token exploded upon launch.
Promising Alternative To Kaspa
Meme Kombat project's native crypto, MK, is a worthy consideration for anyone looking for an alternative to Kaspa. The token is still in the presale stage, with sales reaching $1.435 million out of the $1.5 million target.
Do not miss out on the current stage, where MK tokens sell for just $0.189. In the next stage, the token will be sold for $0.205. This represents an 8.5% difference.
The $MK presale price is now at $0.189!

LFG memers🚀 pic.twitter.com/clLidmJoKF

— Meme Kombat (@Meme_Kombat) November 9, 2023
With the Meme Kombat project, you can battle your favourite meme tokens. There are epic daily battles; you can choose the meme character representing you in the battle arena.
If $GROK had to fight in Kombat, who would beat it?

Also, what form would Grok take when fighting? pic.twitter.com/Rsi9h8eoRD

— Meme Kombat (@Meme_Kombat) November 8, 2023
Join the community of fighters like you for a chance to win big rewards. Moreover, token holders reserve the right to stake their tokens for huge rewards. Meme Kombat is easily the hottest stake-to-earn project with Annual Percentage Yields (APY) as high as 2,124%.
We're going places fighters!

The arena is places⚔️ 🏟️ $MK pic.twitter.com/Q7eSIo8e5s

— Meme Kombat (@Meme_Kombat) November 9, 2023
Notably, the staking dashboard is already live, and open for token holders to begin making passive income from their holdings.
📣 Major Update 📣

The Meme Kombat Staking Dashboard is officially live and ready to be used by you!

Take a break from Kombat and visit the staking dashboard here: https://t.co/nNFEYESjPs pic.twitter.com/yswl0esb4G

— Meme Kombat (@Meme_Kombat) November 9, 2023
So far, up to 1.855 million MK tokens have been staked, constituting 21% of the circulating supply. The total rewards are now approaching 23,000 with 448 stakers benefitting as of press time.
The project will go live on exchanges soon, with enlightened investors already signed in. Get in on the action by buying MK tokens now here.
Also Read:
New Crypto Mining Platform – Bitcoin Minetrix
Audited By Coinsult
Decentralized, Secure Cloud Mining
Earn Free Bitcoin Daily
Native Token On Presale Now – BTCMTX
Staking Rewards – Over 100% APY