The Hex price plunged 6% in the past 24 hours to trade at $0.00626 as of 4:40 a.m. EST as trading volume surged 68% to $1.1 million.
The recent drop in Hex's value follows Richard Heart's dramatic and desperate attempt to bolster his struggling projects. Heart, the controversial founder of the HEX cryptocurrency, made grand claims about the success of HEX, PulseChain, and PulseX.
Haters. I have extremely bad news for you. HEX is never going away. Ever. It launched completely decentralized 1,434 days ago. It can't be shut off, by anyone, ever. Sorry for your loss haters. But wait, there's more. HEX's price on #Ethereum is still up 14,853% since Jan 5,… pic.twitter.com/WVpFiRdDIO

— Richard Heart (@RichardHeartWin) November 6, 2023
But the SEC has charged Heart with illegal securities offerings and misappropriating $12 million of investor money for personal luxury and extravagance while artificially inflating HEX's demand with dubious methods. 
HEX is also facing allegations of being a potential Ponzi scheme based in part on its unrealistic annual return promises of 38%, and poor market performance. 
HEX Price: Can Bulls Break $0.01215 Resistance?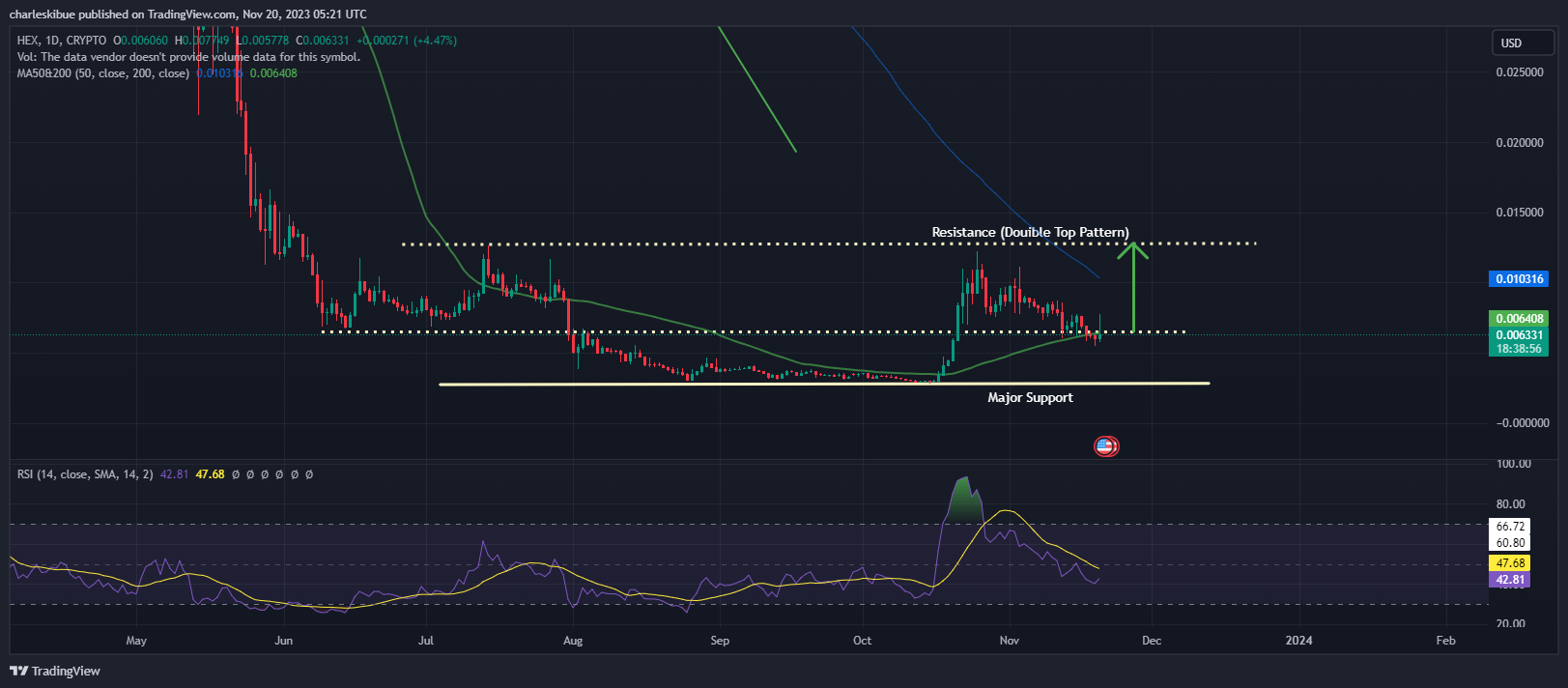 Despite the turbulent journey Hex is experiencing, its price is recovering, attempting to regain the 35% lost ground in its recent decline. 
Based on technical analysis, the current rebound appears feasible, except for the challenge presented by a supply barrier (or supply zone) ranging from $0.0109 to $0.01215.  
The presence of this zone has led to the creation of a double-top pattern in the price, indicating a possible transition in the trend toward the downside. This area is defined by significant selling pressure, marked by a noteworthy concentration of sellers in that particular region.
The bears have taken advantage of the supply zone, driving down the price, but the bulls seem adamant about seeking to recover their losses.
To validate an upward trend, Hex's price must exceed this zone, securing a definitive daily candlestick close above its average threshold of $0.01277. 
If this is accomplished, breaking and closing above the upper limit of the order block could turn it into a bullish breaker, potentially driving HEX to higher levels and accumulating sell-side liquidity at $0.01657
Hex Price: Can The Bulls Turn The Tables?
In an exceptionally bullish scenario, the upward trend might stretch towards the psychological range of $0.02159, with the potential of reaching the 200-day Simple Moving Average, providing immediate support for HEX.
The Relative Strength Index (RSI) also rebounds at 44, below the 50 neutral mark. However, it has shifted course from its downward trajectory, indicating a renewed upward momentum as bulls regain confidence.
Amidst these developments, investors looking for an alternative to HEX have a final opportunity to participate in the yPred presale, which is nearing its $5 million target.
yPredict Approaches $5 Million Milestone, Selling Out Fast
yPredict (YPRED) is a disruptive project that combines artificial intelligence (AI) and crypto. With how volatile the crypto market usually is, yPredict uses advanced artificial intelligence to predict various market trends to help investors make smarter investment choices. 
🚀 Dive into the exciting world of crypto trading with #yPredict! 🤖

Our cutting-edge AI and machine learning tech empowers traders with invaluable insights for better-informed decisions and increased profit potential. Plus, we open doors for AI enthusiasts to monetize their… pic.twitter.com/ZtWFZVxJV6

— yPredict.ai (@yPredict_ai) October 17, 2023
In the eighth stage of its presale, yPredict has successfully raised $4.8 million towards its $6.5 million goal. Presently, YPRED tokens are available at a discounted rate of $0.11 each. 
However, this price is set to increase to $0.12 upon listing on major exchanges, representing a substantial 202%+ gain for early investors from the first stage of the presale. 
Purchasing now still assures a 10% return on investment.
WriteMingle: AI Writing Assistant, 
To enhance its utility, yPredict has developed a new tool to address the expanding needs of the content creation industry, positioning itself to compete with established brands like Grammarly and SurferSEO. Currently in its beta stage, WriteMingle emerges as a cost-effective, self-hosted content platform specifically designed for mid-sized to large content teams. 
🚀 Exciting News! Introducing #WriteMingle, brought to you by #yPredict! 📝

Tired of searching for the perfect writers and managing your content creation process? Your search ends here with WriteMingle! 🌐

Say goodbye to the content chaos and hello to an efficient, high-quality… pic.twitter.com/7hVsiK7wp4

— yPredict.ai (@yPredict_ai) November 1, 2023
Stake to Earn, Last Chance to Buy
Additionally, you can stake your tokens to generate passive income. The token holders are eligible for up to 45% in quarterly staking rewards, derived from 10% of the tokens allocated for each new subscription on the platform. 
🚀 Ready to boost your crypto portfolio? 📈 Check out yPredict, the altcoin with the potential for 20x gains! 💰

🔥 Earn up to 45% quarterly rewards with yPredict's staking platform.
🛍️ Get discounts on yPredict features and lifetime access to prediction tools.
📊 A one-stop… pic.twitter.com/rrwDnDUw9d

— yPredict.ai (@yPredict_ai) November 9, 2023
In a recent YouTube video, the well-known crypto channel Cryptonews joined a growing band of supporters in highlighting the potential advantages of the yPredict project.
You can purchase YPRED tokens by linking your preferred Web3 wallet to the official yPredict website. You can swap ETH, MATIC, BNB, or USDT for the tokens there. Alternatively, you can directly buy the tokens using your bank card.
Related News
New Crypto Mining Platform – Bitcoin Minetrix
Audited By Coinsult
Decentralized, Secure Cloud Mining
Earn Free Bitcoin Daily
Native Token On Presale Now – BTCMTX
Staking Rewards – Over 100% APY