The Ethereum price surged 10% in 24 hours, trading at $2,121 as of 1 a.m. EST to reclaim its 6-month high.
The pump can be attributed to BlackRock, the world's largest asset manager, deepening its involvement in the cryptocurrency space with a proposal to launch an ETF centered on Ethereum's ether (ETH).
This development was unveiled following a Nasdaq filing that revealed BlackRock's aspirations to list the Ethereum-focused ETF pending regulatory approval.
The move into Ethereum is a significant step for BlackRock, expanding beyond traditional investment sectors.
This marks a notable commitment to cryptocurrency by a leading financial institution, potentially signaling broader institutional acceptance of digital assets.
Ethereum Price Prediction
Looking at 4-hour ETH/USD charts, the Relative Strength Indicator (RSI) is currently overbought as the MACD moves in the green zone. Both of these indicate strong bull dominance on the Ethereum price. Bulls are now facing new resistance at the $2,130 level. 
The 5-day moving average has also exceeded the 15-day moving average to form a golden cross. This shows increasing buying pressure, posing the Ethereum price for a continuous bull run.
Looking at volatility, the Bollinger Bands have diverged, indicating high volatility levels on the Ethereum price. These volatile conditions will likely hang around as buying pressure increases in anticipation of the Ethereum ETF approvals. ETH's trading volume will likely contribute to this as it surged 197% in 24 hours.
Ethereum Price Also Boosted By Whales
Ethereum whales are also increasing as the number of addresses with a balance greater than $1 million in Ethereum records a notable uptick to stand at 11,764 as of November 9 from 10,13 on November 2. This show's whale accumulation in anticipation of a break out with the looming ETF approval decisions.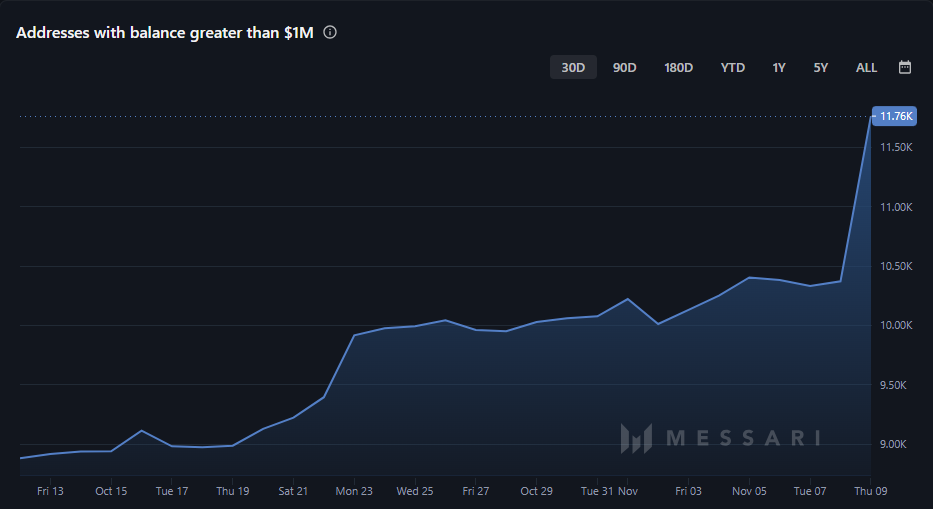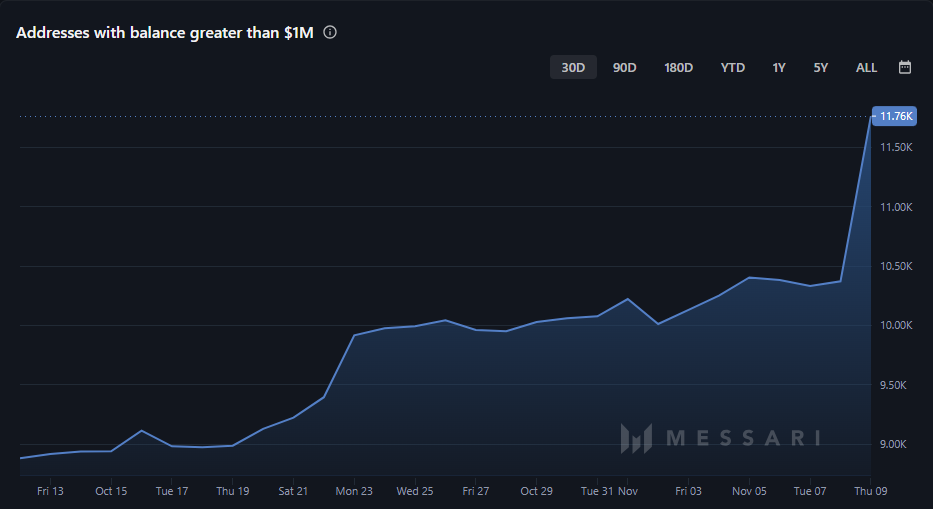 Meanwhile, as the Ethereum price looks to explode, Bitcoin Minetrix is still hitting waves with its ongoing BTCMTX token presale, surpassing expectations.
Bitcoin Minetrix's BTCMTX Presale Surpasses $3.7 Million 
As more investors board, Bitcoin Minetrix's BTCMTX pre-sale has now exceeded $3.7 million. 


Bitcoin Minetrix introduces a groundbreaking concept in Bitcoin mining through its BTCMTX token. Users can stake BTCMTX tokens in exchange for cloud mining credits. This approach eliminates the need for specialized mining equipment or technical expertise, making BTC mining accessible to a broader audience. As people use their cloud mining credits, mining power is instantly made. 
Unprecedented Interest and Engagement
Bitcoin Minetrix's presale has ignited interest within the community. One contributing factor is the project's thrilling $30,000 "Minedrop" contest, offering ten lucky winners the chance to receive $3,000 worth of BTCMTX each. This initiative has further boosted the project's appeal and engagement levels.
🎉 #BitcoinMinetrix $30,000 Minedrop Is Now Live! 🎉

Get ready for your chance to win a share of $30,000 in $BTCMTX!https://t.co/AFOeBjal0s

Follow the steps in the link below for the chance to win one of ten $3,000 $BTCMTX Prizes! 💰 pic.twitter.com/4ZVoNxX5m6

— Bitcoinminetrix (@bitcoinmnetrx) October 21, 2023
The early success of Bitcoin Minetrix may also be partly due to the support of notable players in the BTC field, such as Michael Wrubel. The project's reputation and potential are both enhanced by these endorsements.
Positioned for Future Growth
As the demand for cryptocurrency mining continues to rise, especially in anticipation of the next BTC halving event, Bitcoin Minetrix is well-positioned to deliver exceptional returns on investment. With its innovative approach to mining and the support it has garnered, Bitcoin Minetrix aims to become a key player in the mining world.
As the project attracts attention, it remains a player to watch. As the Ethereum price looks to explode, remember to take advantage of this opportunity, as time is fading quickly.

Visit Bitcoin Minetrix here.
Related News
New Crypto Mining Platform – Bitcoin Minetrix
Audited By Coinsult
Decentralized, Secure Cloud Mining
Earn Free Bitcoin Daily
Native Token On Presale Now – BTCMTX
Staking Rewards – Over 100% APY