AI coins surged amid a bout of FOMO after Elon Musk told shareholders of X Corp. at the weekend that they would have a 25% stake in his new AI venture xAI
AI coins rallying include Injective (INJ), The Graph (GRT), Worldcoin (WLD), Render token (RNDR), Oasis Network (ROSE), and Fetch.AI (FET).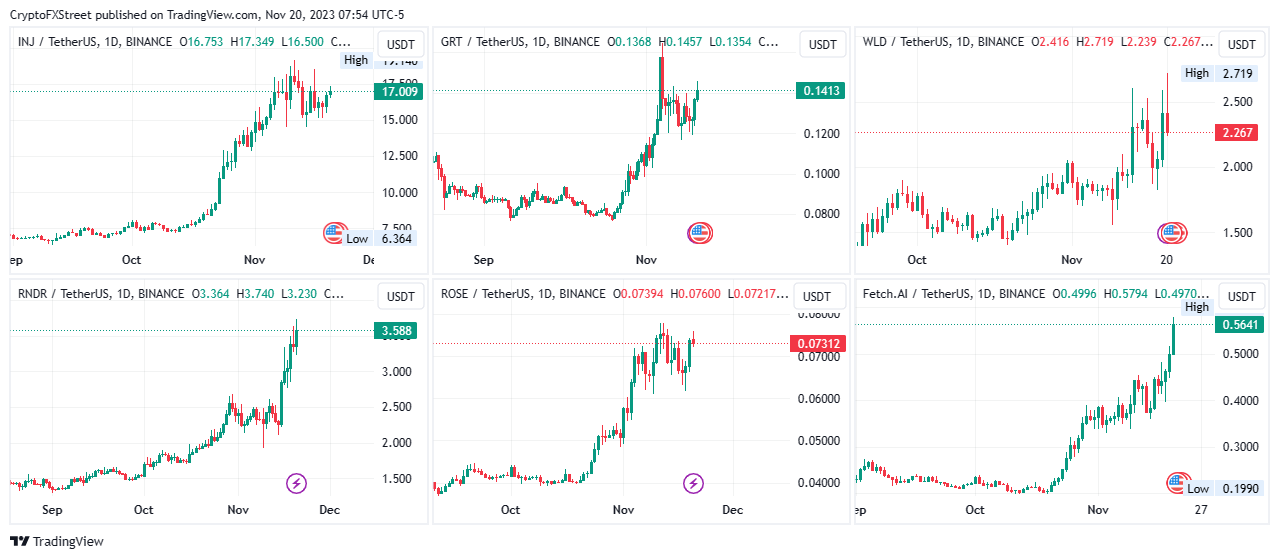 𝕏 Corp investors will own 25% of xAI

— Elon Musk (@elonmusk) November 19, 2023
xAI products that are already on the market include the Grok chatbot, whose debut inspired hundreds of tokens looking to ride the euphoria.
HOLY $GROK 🤯🔥 157 MILLION & CLIMBING!! pic.twitter.com/NjW6A2XR5c

— JAKE (@JakeGagain) November 13, 2023
Elon Musk Inspired Grok Token
Grok, an initiative inspired by Elon Musk's xAI, stirred significant interest in the Grok token previously, driving its value up by over 1,200% at launch. This was despite it being in its beta stage.
Over 12,000% gains in the last 24H!#Grok #XAI #X #AI pic.twitter.com/fJvp0vWY7G

— Grok Build (@Grokbuild) November 6, 2023
Grok Chatbot is popular for its humour and uncensored nature. It comes into the space to compete against sector peers such as AI chatbots like OpenAI's ChatGPT.
Sam Altman Exits OpenAI As AI Crypto Coins Trend
The hullaballoo around the ousting of Sam Altman as CEO of OpenAI also added to the focus on the AI sector in the past few days.
With Altman likening his ouster from the technology firm to "reading your own eulogy while you're still alive," the community displayed an uprising, calling for the reinstatement of the public face of OpenAI.
The news of Altman's exit from OpenAI also affected the price of his Worldcoin WLD token, which has dropped 4.6% in the past 24 hours.
Affected by the news of #OpenAI ex-CEO Sam Altman(@sama), the price of $WLD experienced huge fluctuations and reached an all-time high.

The market maker #GSR deposited a total of 1.83M $WLD ($4.47M) to exchanges in the past 7 hours.https://t.co/YN7DSxxWoO pic.twitter.com/qKxLE9DLhU

— Lookonchain (@lookonchain) November 20, 2023
Altman has subsequently joined Microsoft Corporation to lead a new advanced AI research team even as OpenAI employees threaten to resign if he is not reinstated..
Amid hype around AI crypto coins one AI toke worth investigating is yPredict. Its presale is selling out fast, with its ticker, YPRED, selling for $0.11 in stage 8 of the presale.
yPredict Takes Centre Stage As AI Crypto Coins Pump Hard
yPredict, an all-in-one AI ecosystem, is designed for developers, traders, quants, and analysts. It is the go-to place for real-time trading signals from innovative predictive models by tier-one AI experts. The project is in the presale stage, with upwards of $4.9 million already in the bag out of the $6.507 million target.
With the AI coin featuring among the five best crypto ICOs to buy in 2023, this is the last call for willing investors. Do not miss the bus as investors continue reaping big from real-time sentiment analysis on all popular crypto coins.
Visit yPredict website to buy YPRED in the presale here.
Also Read:
New Crypto Mining Platform – Bitcoin Minetrix
Audited By Coinsult
Decentralized, Secure Cloud Mining
Earn Free Bitcoin Daily
Native Token On Presale Now – BTCMTX
Staking Rewards – Over 100% APY