The Dogecoin price has experienced a 3.2% increase in the last 24 hours to trade at $0.071622 as of 10:21 p.m. EST, bringing its weekly gain to a 4.1% increase.
This increase is driven by a trading volume that has reached $656.42 million, marking a 134.60% increase within the past 24 hours. 
✴️ Dogecoin Update

After October 23, overall volume starts rising… We are looking at #Dogecoin on the daily timeframe.

The fact that we have almost two weeks of consolidation yet Doge continues trading above EMA10 and all other moving averages is a major bullish signal.… pic.twitter.com/Tgqpd6wCRb

— Alan Santana (@lamatrades1111) November 5, 2023
Dogecoin Price: Bulls Break from the Year-Long Downtrend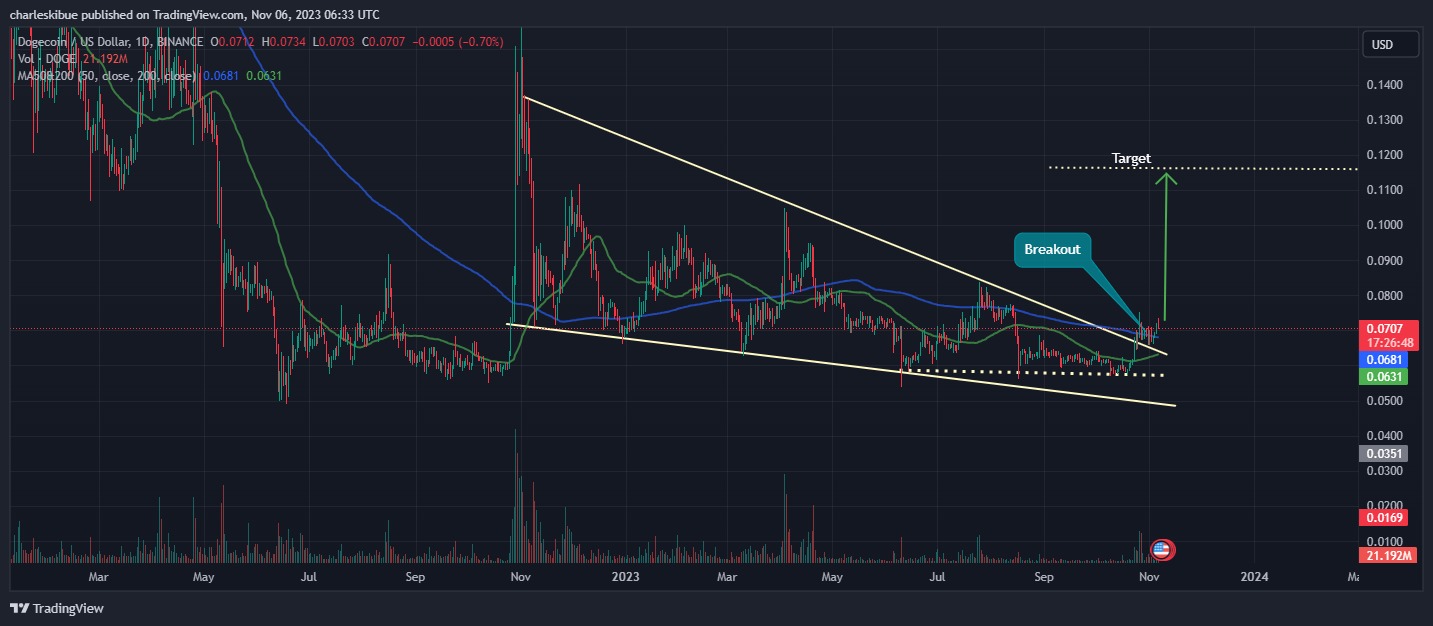 The DOGE daily chart indicates a resurgence in price from the support zone at $0.0576, signaling that the bulls have gained control and pushed the price above the $0.066 resistance barrier. Despite facing some resistance at the $0.0753 level, the bulls have shown resilience and recovered, with the $0.066 level now acting as a support.
The price crossing over the 50-day and 200-day simple moving averages (SMA) is a well-established bullish signal in trading. Currently, these moving averages are unequivocally offering support to the price, with particular emphasis on the 200-day SMA.
Additionally, the relative strength index (RSI) has been on an upward trajectory, indicating a shift from the oversold region at the 30-level mark to the 70-level mark. This suggests a significant surge in strength and momentum for DOGE. If the bulls sustain the bullish momentum, it could propel the RSI to trade above the overbought region.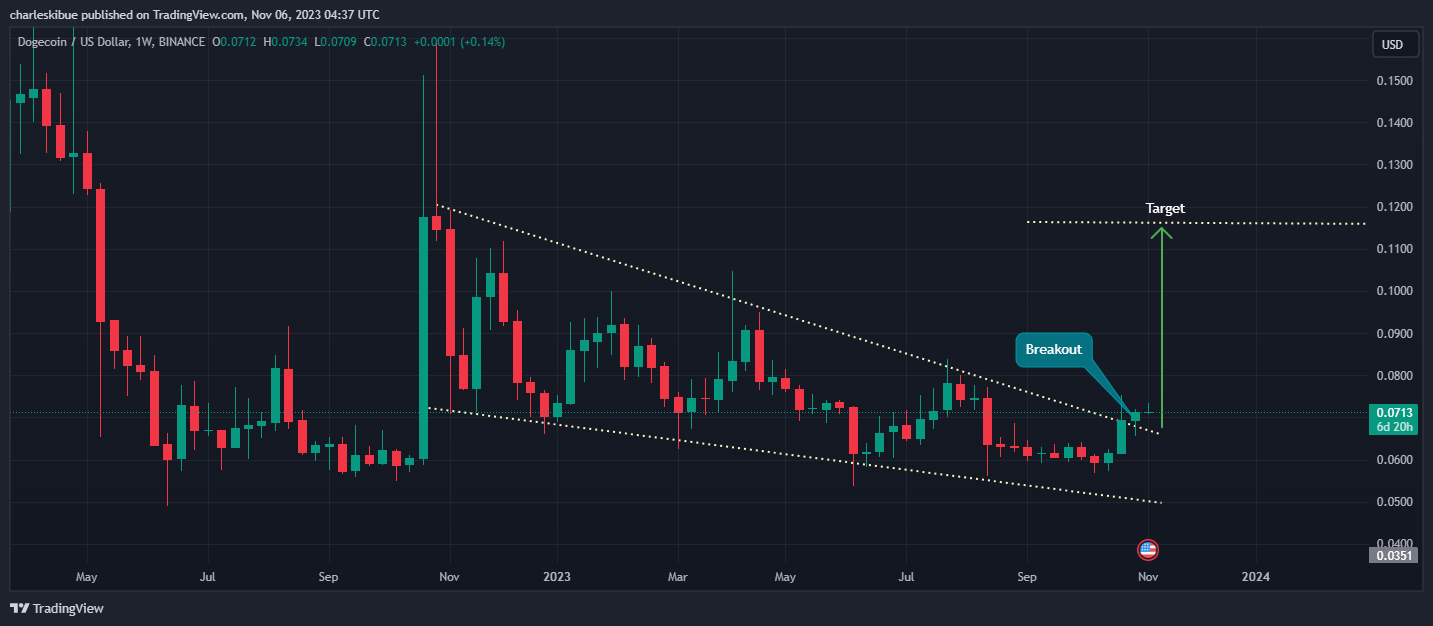 On the weekly chart, DOGE's price has broken free from a year-long downtrend, forming a falling wedge pattern, thus validating the ongoing bullish trend. If the current bullish momentum continues, the bulls could drive the price up to reach the $0.11 level.
Dogecoin Price Prediction
The daily RSI and simple moving averages support the bullish sentiment that DOGE is currently displaying. 
Furthermore, the weekly analysis reinforces this positive outlook as the bulls set their sights on the $0.11 level, which implies a potential 7-day gain of 69%.
Nevertheless, there remains a possibility of a downtrend, as the bears are relentless in their efforts to recoup their losses. Should such a reversal occur, it could compel the bulls to retreat toward the $0.068 support level.
Meanwhile, Meme Kombat has demonstrated a significant surge in its presale, offering a unique opportunity for investors looking to capitalize on this promising venture that some experts say is poised for a 20X gain.
Meme Kombat (MK): Price Increase In Three Days 
Meme Kombat sets itself apart by combining memes and artificial intelligence (AI) on the Ethereum Network, resulting in a distinctively competitive environment. Its unique features include opportunities for staking to earn and playing to earn.
WE DID IT FIGHTERS!

We reached $1 MILLION in our presale raise🔥⚔️ pic.twitter.com/SvCu1zoj36

— Meme Kombat (@Meme_Kombat) November 1, 2023
Meme Kombat has surpassed the $1 million target in its presale funding. With under three days left, it's now pushing towards the goal of $1.5 million.
The presale has collected $1,243,417.02 to date. With the presale ending in about three days, investors have a short time left to buy tokens at the current rate of $0.1833 each before it increases to $0.189. The price will increase progressively with each subsequent presale round, leading up to the final listing price of $0.274, slated for January 2024.
MK Presale price is now $0.183!

Learn more about our staged approach to presale in this brilliant breakdown from @BuryCrypto 👏

Full video here👉 https://t.co/onldqUtDsD pic.twitter.com/kGBwBC16VN

— Meme Kombat (@Meme_Kombat) November 2, 2023
In the presale phase, Meme Kombat provides automatic staking options, a wide range of betting choices, and a robust tokenomics model designed to secure its sustainability over the long run.
Investing in MK tokens at this point presents an opportunity to enjoy a substantial Annual Percentage Yield (APY) of 112%. Furthermore, 30% of the token supply has been reserved for staking and as rewards for participants in meme battles.
Win Big With Memes and MK Tokens
Meme Kombat empowers users to compete with fellow meme enthusiasts, allowing them to place bets on their favourite memes. Participating in these contests not only provides the thrill of competition but also rewards users for their expertise in popular memes.
It's gonna be a GOOD week memers🌅 pic.twitter.com/LFDCsEWDzc

— Meme Kombat (@Meme_Kombat) November 5, 2023
Should the meme they select emerge as the winner, users can stake a portion of the prize pool and share their winnings with other participants who wagered alongside them. Meme Kombat thus offers users an avenue to showcase their meme knowledge, enjoy themselves, and earn substantial rewards.
In his YouTube video titled "Should You Still Buy $MK?🔥," Cilinix Crypto breaks down the mechanics of the Meme Kombat project for his audience of over 35,000 subscribers. He discusses the potential he sees in the investment, suggesting that serious investors could significantly profit from early investment.
To be a part of the Meme Kombat community and acquire exclusive MK tokens, users can seamlessly link their Web3 wallet to its official website and purchase MK tokens.
Related News
New Crypto Mining Platform – Bitcoin Minetrix
Audited By Coinsult
Decentralized, Secure Cloud Mining
Earn Free Bitcoin Daily
Native Token On Presale Now – BTCMTX
Staking Rewards – Over 100% APY