The Bitcoin price is massively bullish, trading at $35,265 as of 11:28 p,m. EST, recording a 40% increase in trading volume over the last 24 hours.
The bullishness comes as excitement over spot Bitcoin exchange-traded funds (ETFs) continues to grow. It underlines the massive potential gains for two BTC alternatives, BTCMTX and BTCETF, still in their presale and offering traders easy entry.
Besides the ETF, investors' eyes are also trained on the Bitcoin halving slated for April 2024. For traders and investors, a fresh start to a new bull mark seems likely.
#Bitcoin  HALVING RALLY 🚀📈

Make no mistake about it, the halving rally is going to happen. #BTC  is in the last straight line, FOMO will kick in hard very soon.

Be ready. pic.twitter.com/eFfVWL6VVg

— Titan of Crypto (@WashIgorria) November 8, 2023
For miners, however, their mining rewards will be cut in half, moving from 6.125 to 3.125 block rewards. This means a 50% revenue slash.
You are right, the miner's revenue is slashed (unless they double up on their production capacity). But miners selling less has zero impact on Bitcoin supply when there is already a sea of 19.5M bitcoins floating around.

After the last halving event, Bitcoin supply went from… pic.twitter.com/EAYhzyp00v

— Alby (@albyva) November 6, 2023
While a 50% deduction seems like a worthwhile trade considering Bitcoin price will increase significantly, miners have a different view on the matter. This comes as the operating expenses needed for mining Bitcoin have increased over time. These include mining infrastructure costing more, electricity rates skyrocketing, and the plans for a 30% mining tax imposed on US miners.
Bitcoin Price Is Giga Bullish, Analysts Says, As BTC Price Holds Above $34,000
With Bitcoin price holding steady above the $35,000 psychological level, one trader, renowned for predicting the early 2023 rally, says BTC is giga bullish. In a post to his 507.7K followers on Crypto X, DonAlt noted that the market range for the king of crypto is wide, spanning from $32,000 to $60,000.
According to DonAlt, the mere fact that Bitcoin price is holding above $32,000 means bulls are in the driver's seat of the BTC market.
"Firm acceptance above range low. Doesn't get much better than that," he said. "As long as $32,200 holds, I don't see why anyone could be anything but giga bullish. If we should lose the range low, we can start talking about being bearish." DonAlt holds that the next timeframe resistance for Bitcoin is at $60,000.
Bitcoin Price Prognosis As Expert Points To The Desirable $60,000
Bitcoin price is hovering below the $36,000 psychological level, a barrier that has held since October 22. This is a risk considering the markets tend not to wait so long. Unless bulls take charge again the bears could easily swoop in.
Technically speaking, the bulls still show dominance, with the Relative Strength Index (RSI) inclined to the north. This shows momentum is still rising. Coupled with the Awesome Oscillator (AO), which is still positive with large volumes of green histogram bars, the odds favor the bulls.
Increased buying pressure could see Bitcoin price break past the $36,000 barrier in the three-day timeframe, with eyes set on the $40,000 psychological level.
In a highly bullish case, the gains could extend for Bitcoin price to test the supply zone extending from $44,070 to $47,122. To confirm the continuation of the primary trend, BTC must break and close above the midline of the order block at $45,550. A decisive move above this supply barrier will bring DonAlt's $60,000 target within reach.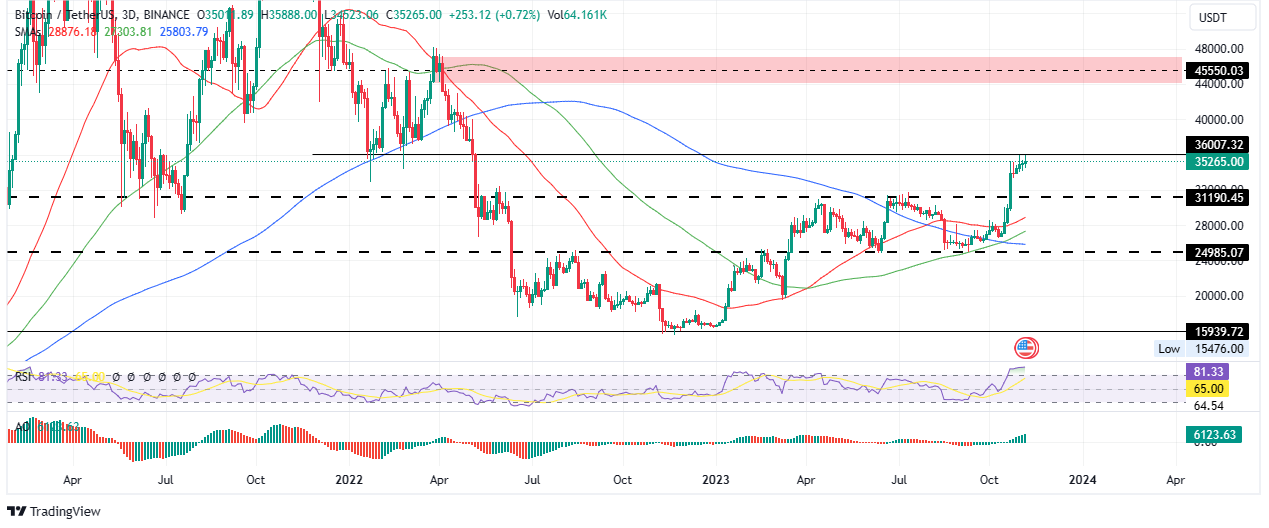 On the other hand, a rejection from the $36,007 resistance level could see Bitcoin price correct south first dropping below the $31,190 support. The 50-, 100-, and 200-day Simple Moving Averages (SMAs) provide possible turnaround points for BTC and could hold as support levels or entry points for late investors at $28,876, 27,303, and $25,803 levels respectively.
However if the SMAs fail to hold, Bitcoin price could slide further to the $24,985 support, levels last tested in September.
Meanwhile, enlightened investors are looking at BTCMTX and BTCETF as promising alternatives to BTC.
Promising Alternatives To Bitcoin
BTCMTX
Starting with BTCMTX, the token that powers the Bitcoin Minetrix project. It is a cloud-mining ecosystem where the whole process of mining has been decentralized and tokenized.
There are no third parties, thereby reducing the chances of scams. Simply put, the token holder has all the control. Opening the door so anyone can own Bitcoin, the Bitcoin Minetrix project has low entry bars, including not requiring any technical knowledge or expertise to understand or operate. Space, noise, and heat are also not a concern, with the added advantage that you will not need any hardware.
Delving into $BTC mining alongside #BitcoinMinetrix! 🔍#Cloudmining opens the door to the world of #Crypto:

💡 Simple start for novices.
💸 Economical without hardware costs.
🌃 No concerns about space, noise, or overheating.
🔧 Hassle-free upgrades. pic.twitter.com/N3zwTDRYjq

— Bitcoinminetrix (@bitcoinminetrix) November 7, 2023
The stake-to-mine project, which has the potential for high returns, is in the sixth stage, lasting five days, with BTCMTX tokens selling for $0.0115.
#BitcoinMinetrix Stage 6 is ending in 5 days! ⌛ pic.twitter.com/hKVthtJdI4

— Bitcoinminetrix (@bitcoinminetrix) November 7, 2023
Interested traders have a small window of less than four days to capitalize on the current low price. So far, presale collections have reached $3.652 million, with a target objective of $4.407 million. Do not miss out. Buy BTCMTX now.
BTCETF
BTCETF is the native crypto for the Bitcoin ETF Token, a project that is preparing investors for when the US Securities and Exchange Commission (SEC) finally approves a spot Bitcoin ETF. The project rides on the promise that a flood of new ETFs will open the crypto market to billions or even trillions of inflows once they launch.
Introducing #BitcoinETF, the visionary project poised to revolutionise the #Crypto realm by anticipating the arrival of #Bitcoin ETFs. 🚀

Stay tuned for the unveiling of the distinctive mechanics and strategies that set #BTCETF apart in the world of digital assets. 📄💡 pic.twitter.com/7CBWhJlErg

— BTCETF_Token (@BTCETF_Token) November 1, 2023
To be ahead of this wave, be sure to hold a BTCETF token now before institutional capital floods in to spark a new market cycle.
The token is very affordable, selling for $0.005 in the current stage. Thus far, collections have reached $61,645, with a target objective of $420,000. The tokens are selling fast, available for purchase using ETH, USDT, or a bankcard, just like Bitcoin Minetrix.
Visit Bitcoin ETF Token here and Bitcoin Minetrix here to buy BTCETF and BTCMTX crypto presales now.
Also Read:
New Crypto Mining Platform – Bitcoin Minetrix
Audited By Coinsult
Decentralized, Secure Cloud Mining
Earn Free Bitcoin Daily
Native Token On Presale Now – BTCMTX
Staking Rewards – Over 100% APY