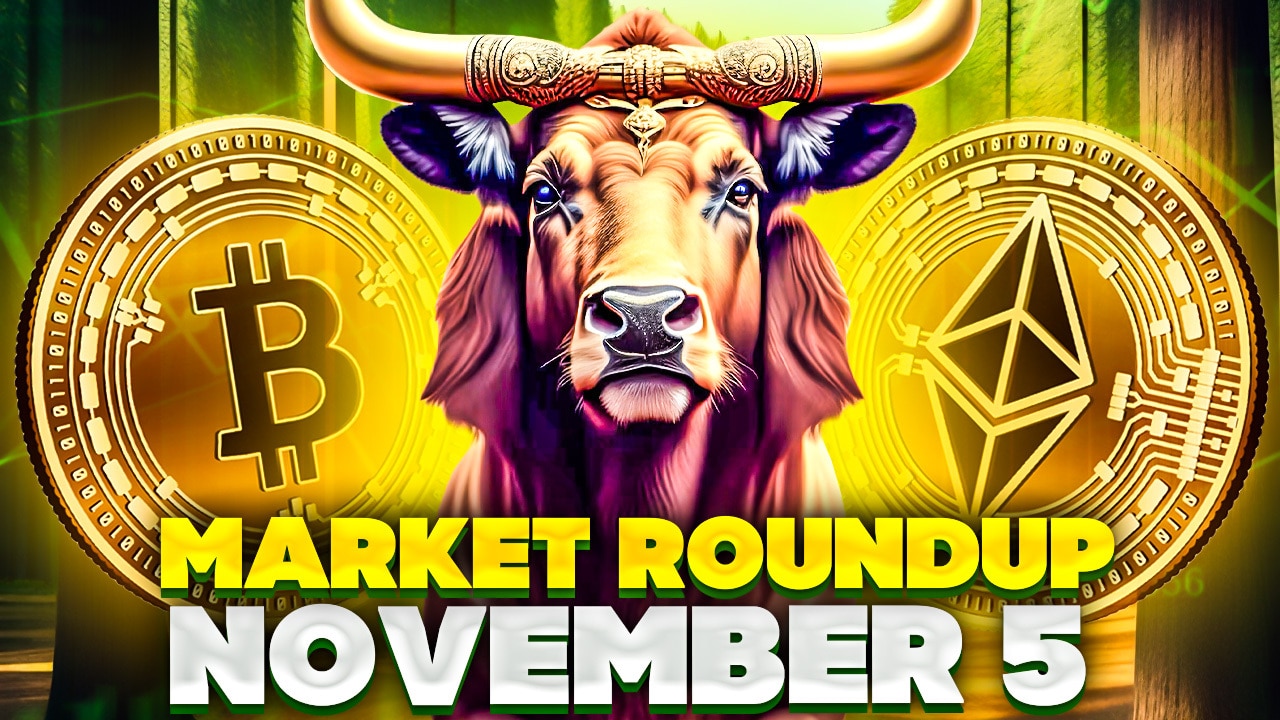 Over the weekend, Bitcoin's trading volume surpassed $10 billion, reflecting its robust activity in the market. The cryptocurrency experienced a modest gain of nearly 1.50% on Sunday, with its price reaching $35,228.
The rise in Bitcoin's value accompanies positive endorsements from industry leaders. Fidelity's director praised Bitcoin as a modern equivalent of gold with exponential growth potential, while personal finance author Robert Kiyosaki highlighted Bitcoin's promise for sustained financial security.
These optimistic views come at a time when gold demand from central banks has seen a dip, amid global tensions, casting Bitcoin as a preferable option for investors looking for both stability and potential returns. As the market continues to shift, investors and traders are closely monitoring key Bitcoin price levels.
Fidelity's Financial Director Coins Bitcoin "Exponential Gold"
Jurrien Timmer, Director of Global Macro at Fidelity, has likened Bitcoin to "exponential gold," highlighting the cryptocurrency's status as a commodity with the potential to act as a hedge against monetary depreciation and a store of wealth.
He pointed out that historically, times like the 1970s and 2000s, when real rates are negative, there is a lot of inflation, and the money supply is growing at an unsustainable rate, are when gold tends to shine.
Although gold is regarded as money, Timmer noted that it is mostly used as a store of wealth since it is too laborious and deflationary to be used as a means of trade.
One of the reasons that Bitcoin and gold are frequently compared is because they both have this quality.
NEW – $4.5 trillion Fidelity Director of Global Macro says #Bitcoin is "exponential gold." 🐂

— Bitcoin Magazine (@BitcoinMagazine) November 2, 2023
According to Timmer, Bitcoin has the potential to be a digital store of value. The fact that Fidelity, a major player in the financial services industry, is endorsing Bitcoin might also have a beneficial effect on the price of the cryptocurrency by solidifying its position as a hedge against economic uncertainty.
Robert Kiyosaki's Verdict: Bitcoin Equals Lifelong Financial Security
Robert Kiyosaki, the best-selling author of "Rich Dad Poor Dad," explained Rich Dad's first lesson on why the affluent get richer.
He underlined that wealthier people recognize the value of holding onto real things like bitcoin, silver, and gold as they provide long-term financial independence and stability.
According to Kiyosaki, the wealthy concentrate on obtaining assets like real estate, oil, and food production that provide revenue free from taxes.
RICH DAD's Lesson #1 "The rich don't work for $." WHY? Because our Wealth is designed to be stolen from our fake money via taxes and inflation and the stock market. Instead the Rich work for assets that puts tax free money in their pocket…cash flow assets such as rental…

— Robert Kiyosaki (@theRealKiyosaki) November 2, 2023
They also stay away from conventional employment and fictitious assets that are vulnerable to depreciation due to market volatility, inflation, and taxation.
Rather, they preserve their money in physical assets like gold, silver, and bitcoin and give priority to items that provide actual, tax-free income. The fact that Kiyosaki supports Bitcoin as a source of financial stability might have been behind the positive market mood today.
Q3 Reports: Central Bank Gold Demand Dips Amidst Global Turmoil
As to the World Gold Council report, central banks throughout the globe have been adding to their gold reserves, with an acquisition of 337 metric tonnes during the third quarter of 2023. Despite not breaking the record from the same quarter last year, this helped push the total for the year to a high of 800 metric tonnes.
Central banks' continued interest in gold is an indication of the precious metal's solid and continuous demand, which might result in a high year-end total in 2023.
Gold demand down with lower central bank buying in Q3, WGC says https://t.co/xdpBAD68Uc pic.twitter.com/EjXNLOawkm

— Reuters (@Reuters) October 31, 2023
Gold has increased by 9.4% over the past month as concerns about the state of the world economy grow, while Bitcoin (BTC) has increased by 25%.
As demand for gold by central banks dropped in Q3, people are speculating that it is time for bitcoin now, which might also be the reason behind the rising prices of BTC today.
Bitcoin Price Prediction
In the current financial landscape, Bitcoin continues to maintain its prominence, oscillating with minor variances within the past 24 hours. The cryptocurrency, ever volatile, has witnessed a slight decrement of 0.51%, positioning its current price at approximately $35,120.
The four-hour chart presents an intricate narrative. The pivot point for the session stands at around $34,990, a nodal point for intraday traders.
Immediate resistance forms a ceiling at approximately $35,360, an area that has seen some congestion in recent sessions.
A breakthrough could target the next resistance levels etched at around $36,051 and potentially at $37,018. On the flip side, immediate support gravitates around the $34,693 level, with further cushions at $33,281 and deeper at $32,481 if bearish momentum intensifies.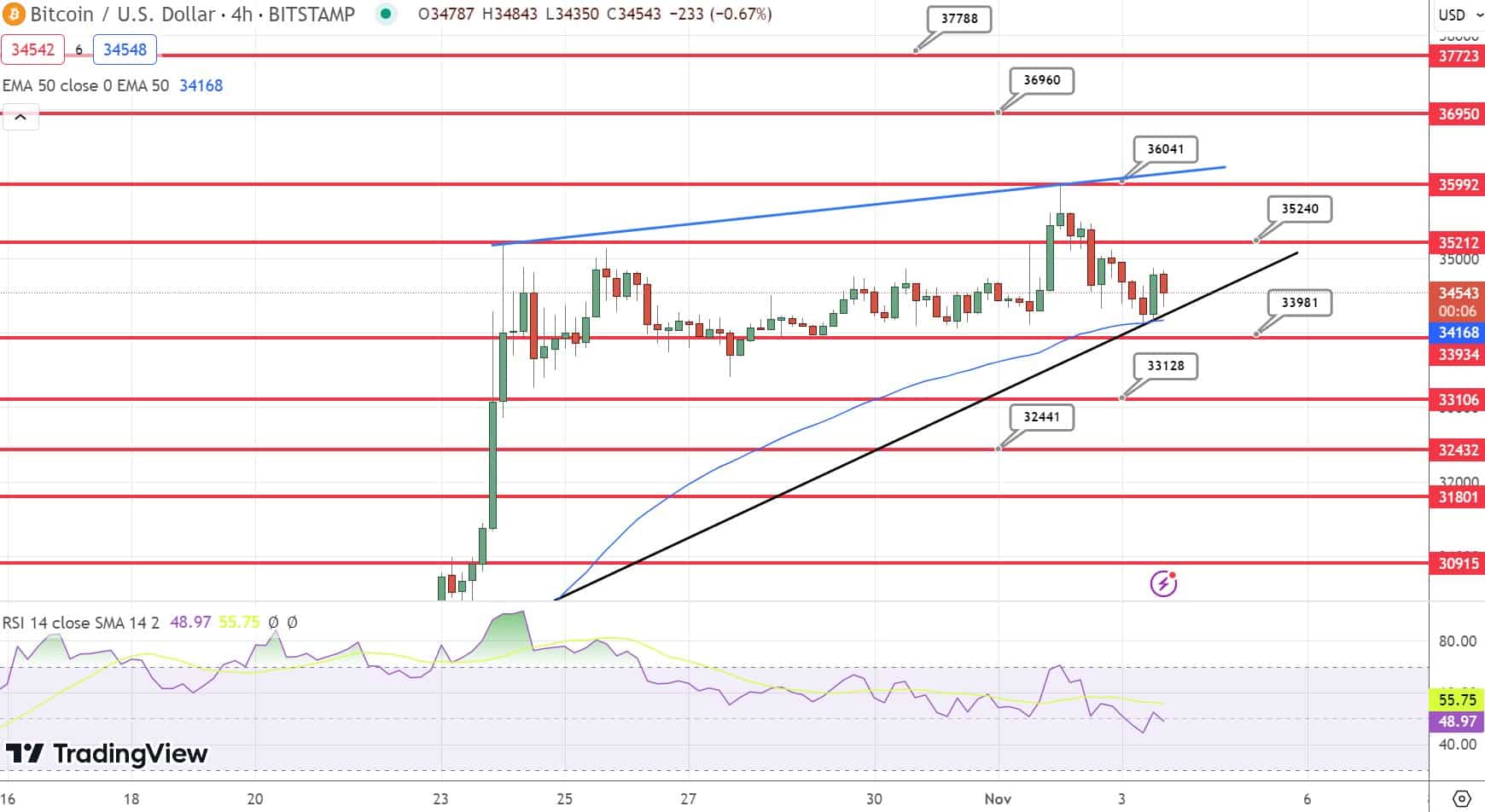 Bitcoin Chart – Source: Tradingview
The Relative Strength Index (RSI) hovers at 57, a notch above the midline, signaling a tepid bullish sentiment but not indicative of overbought conditions that would necessitate immediate caution.
Meanwhile, the 50-Day Exponential Moving Average (EMA) at $34,390 is just below the current price, hinting at a short-term bullish trend.
Short-Term Forecast: Assuming the supportive narrative holds true, we may anticipate Bitcoin to challenge the $35,360 resistance in the short term.
Conversely, a break below the immediate support at $34,693 could open the gates to lower levels, underscoring the importance of set stop losses for risk management in these uncertain times.
Top 15 Cryptocurrencies to Watch in 2023
Stay up-to-date with the world of digital assets by exploring our handpicked collection of the best 15 alternative cryptocurrencies and ICO projects to keep an eye on in 2023. Our list has been curated by professionals from Industry Talk and Cryptonews, ensuring expert advice and critical insights for your cryptocurrency investments.
Take advantage of this opportunity to discover the potential of these digital assets and keep yourself informed.
Disclaimer: Cryptocurrency projects endorsed in this article are not the financial advice of the publishing author or publication – cryptocurrencies are highly volatile investments with considerable risk, always do your own research.