The Bitcoin price is trading with a bullish bias, despite the 3% value drop over the last day to the current price of $34,384 as of Friday at 1:16 AM EST.
Trading volume has also reduced as the weekend approaches, down 20% over the last day.
But the lapse has nothing to dissuade BTC diehards like Michael Saylor from seeing a rosy future for the king of cryptocurrencies. He said yesterday that he still anticipates 10X growth potential for BTC while other experts are also looking at BTCMTX, a promising alternative set to premiere on exchanges soon.
The founder and executive chairman of MicroStrategy says the imminent exit of "crypto cowboys" such as Sam Bankman-Fried (SBF) from the crypto scene is among the expected drivers that could catapult BTC to 10X its current price. The Bitcoin halving in April and the likely approval of spot Bitcoin ETFs are among other key factors behind his optimism.
MicroStrategy added up to 155 BTC worth around $5.3 million to its portfolio last month, bringing the total holdings to 158,400 BTC tokens.
JUST IN – Michael Saylor on live TV: The halving will cut selling pressure by half as spot #Bitcoin ETFs increase the demand for #BTC

"Demand is going to increase, supply is going to contract" 🚀 pic.twitter.com/ZYsFoKN94h

— Bitcoin Magazine (@BitcoinMagazine) November 2, 2023
Bitcoin Price Outlook
Bitcoin price has been consolidating below the $35,984 range high for almost two weeks, which is dangerous considering the markets tend not to wait for too long. With this outlook, a fall seems likely for BTC in the near term before a solid move north.
The anticipated fall thesis is backed by the fact that there remains to be no decision from the US Securities and Exchange Commission (SEC) concerning spot BTC ETFs. In fact, chatter about ETFs continues to dwindle on Crypto X after a period of euphoria.
The speculative BTC trading mania will metamorphose to a new level come January 2024, as this is the next key deadline for the ETF decision. Till then, however, investors should not be surprised if a retracement happens retracement, particularly given the multiple sell signals on the BTC chart.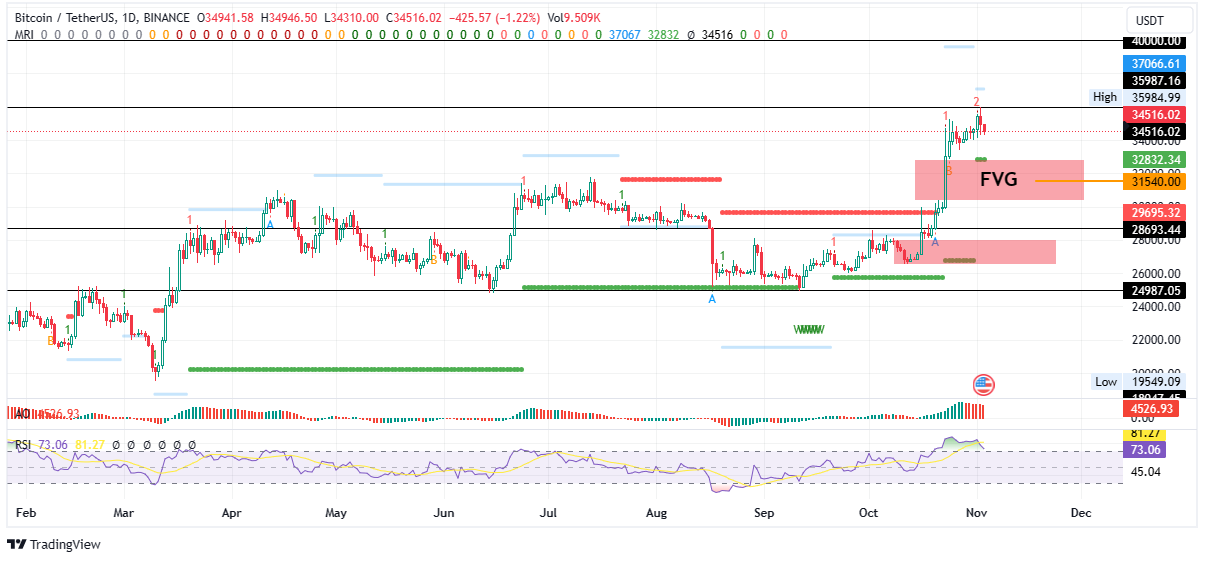 First, the Relative Strength Index (RSI) is above 70, showing BTC is massively overbought. Its inclination to the south could soon mutate to a sell signal after it crosses below 70, triggering a pullback in Bitcoin price.
Secondly, Bitcoin price action is recording higher highs since October 25. Meanwhile, the RSI is sloping downwards. The lack of parity is termed bearish divergence, preceding a pullback.
The Momentum Reversal Indicator (MRI) also supports the bearish signs, giving two sell signals. One came after the October 23 close shown as a red down arrow. On November 1, the MRI printed another red down arrow, forecasting a one-to-four down candlesticks.
With these sell signals, Bitcoin price could drop, with the imbalance represented by the Fair Value Gap (FVG) area, and its midpoint of $31,540 being critical support levels that investors must watch.
Bitcoin Alternative
Meanwhile, investors are looking at BTCMTX, the powering token for the Bitcoin Minetrix ecosystem as a promising alternative to BTC. It is a stake-to-mine project with low entry barriers, giving everyone a fair chance of owning Bitcoin.
#BitcoinMinetrix versus Traditional Cloud Mining

Entry Cost Comparison: 💵#BTCMTX = Low-cost entry with a fixed commitment period.#ConventionalCloudMining = Demands substantial initial deposits. pic.twitter.com/rptO3i0BlH

— Bitcoinminetrix (@bitcoinminetrix) November 2, 2023
Bitcoin Minetrix is a cloud-mining platform that allows everyday people to mine Bitcoin in a decentralized way. It has tokenized the whole process, so the token holder has full control without the need to involve third parties. This reduces the chances of swindles.
Introducing #BitcoinMinetrix, the revolutionary cloud mining solution empowering individuals to engage in #Decentralised $BTC mining with ease. 💠

With the elimination of third-party cloud mining risks, users enjoy total control over their mining activities.#BitcoinMining pic.twitter.com/BV7BE7AfKs

— Bitcoinminetrix (@bitcoinminetrix) November 1, 2023
Join the many traders flocking to this cloud-mining project even as stage 5 of the presale commences. Each BTCMTX token is selling for $0.0114 with presale sales recording $3.183 million out of the $3.904 million target.
#BitcoinMinetrix Stage 5 is Live! 🔥 pic.twitter.com/OIZcFFIUeX

— Bitcoinminetrix (@bitcoinminetrix) November 2, 2023
With experts predicting 10X growth potential for Bitcoin Minetrix, now is the ideal time to buy BTCMTX.
Visit Bitcoin Minetrix to buy BTCMTX here
Also Read:
New Crypto Mining Platform – Bitcoin Minetrix
Audited By Coinsult
Decentralized, Secure Cloud Mining
Earn Free Bitcoin Daily
Native Token On Presale Now – BTCMTX
Staking Rewards – Over 100% APY