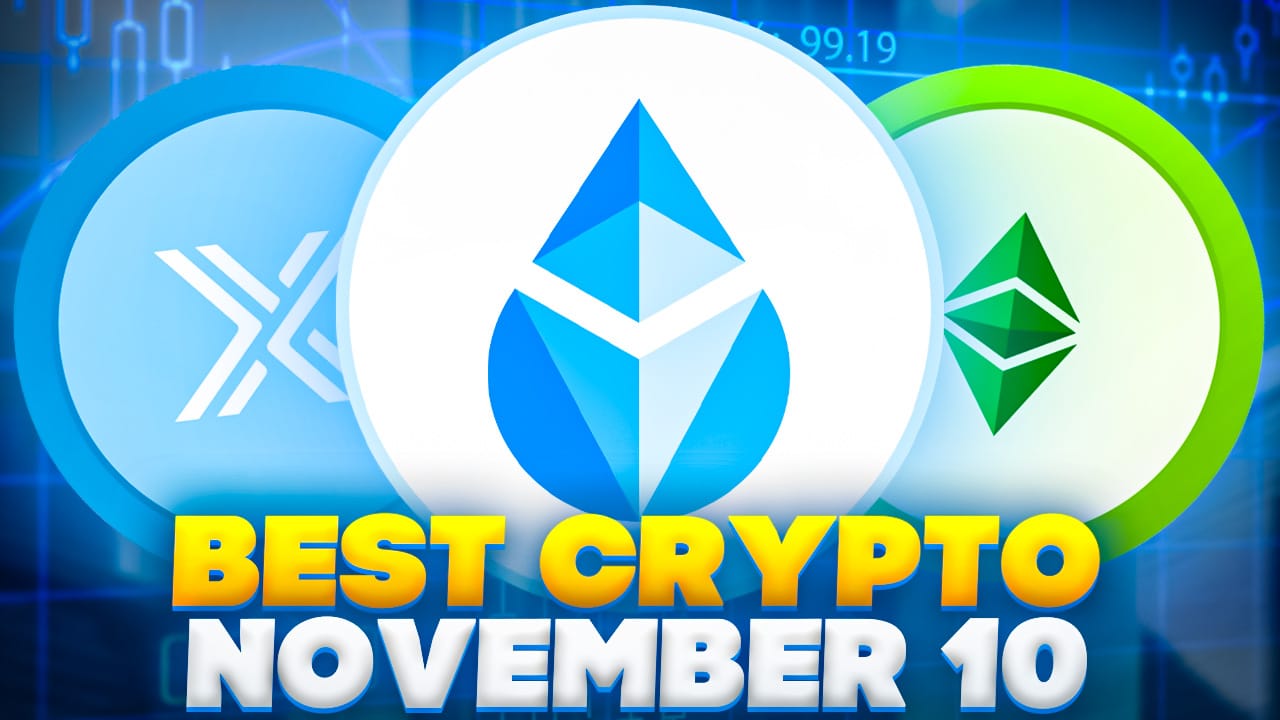 Lido DAO's LDO price has jumped over 22% in the past week, positioning it as potentially one of the best crypto to buy now.
Likewise, Ethereum Classic's ETC price also jumped 12% at yesterday's close to reach a new multi-month high, exhibiting similarly strong upside price momentum.
In related news, Immutable gained widespread attention after unveiling a collaboration with leading game publisher Ubisoft to pursue blockchain integration.
Among crypto presales, Bitcoin ETF Token and Meme Kombat also present themselves as noteworthy Bitcoin alternatives.
Best Crypto to Buy on The News

Lido DAO (LDO) has exhibited impressive growth this month, with its price jumping over 22% over the past week.
The token reached a resistance level of $2.5, close to its July high of $2.523.
This performance builds on Lido DAO's 16% recovery for the past two months and underscores its strong upside potential.
The Lido community also demonstrated its active involvement recently, as 92% of token holders voted to shut down the Solana project after determining insufficient funds.
This decision and the overwhelming support for an unspecified recent proposal highlight Lido users' influence in driving the project forward.
📁 Blackrock files for a spot Ethereum ETF. Ethereum price broke through $2000.https://t.co/Pz3PprUETk

— EasyDEX (@EasyDEXorg) November 10, 2023
External factors are also affecting Lido's price as major asset manager BlackRock moves to file for spot Ether ETF. Ethereum's price has reached over $2,100 – its highest price since April.
This is also driving Lido's governance tokens up, showcasing the project's responsiveness to market conditions.
With staking capabilities across Ethereum, Solana, Polygon, and other chains, Lido DAO remains well-positioned as a leading staking platform.
Ethereum Classic (ETC) has also seen bullish momentum this month. Its price spiked 12.88% to a four-month high of $21.84.
This aligns with Ethereum's price rise following the ETF news. The potential for an Ethereum investment product has boosted sentiment around ETC.
With the Fear & Greed Index at 70, the market mood remains positive. As more users interact with Ethereum, Ethereum Classic stands to benefit from its connected roots.
Immutable (IMX) achieved a nearly 17% price recovery yesterday after bouncing off its 20-day EMA. It is up by an additional 19.85% so far today as it currently trades at $1.0837.
Immutable 🤝 Ubisoft's Strategic Innovation Lab

Immutable, the leading web3 gaming platform, is joining forces with Ubisoft's Strategic Innovation Lab to create a new gaming experience to further unlock benefits for players through the power of web3.

This is another significant… pic.twitter.com/x3XvHwP0Zd

— Immutable (@Immutable) November 9, 2023
Bullish news came when Immutable and Ubisoft announced a collaboration to pursue blockchain-based gaming.
Blending Web3 with a top studio like Ubisoft signals a milestone for mainstream crypto adoption.
Among established cryptocurrencies, crypto presales Bitcoin ETF Token and Meme Kombat are introducing Bitcoin alternatives into the cryptocurrency market.
While still evolving, these projects are drawing attention thanks to their potential in the cryptocurrency sector.
With their impressive price jumps, proactive communities, and mainstream adoption, Lido DAO, Ethereum Classic, Immutable, Bitcoin ETF Token, and Meme Kombat are cementing their status as some of the best crypto to buy now.
Lido DAO (LDO) Price Retracement: What Lies Ahead?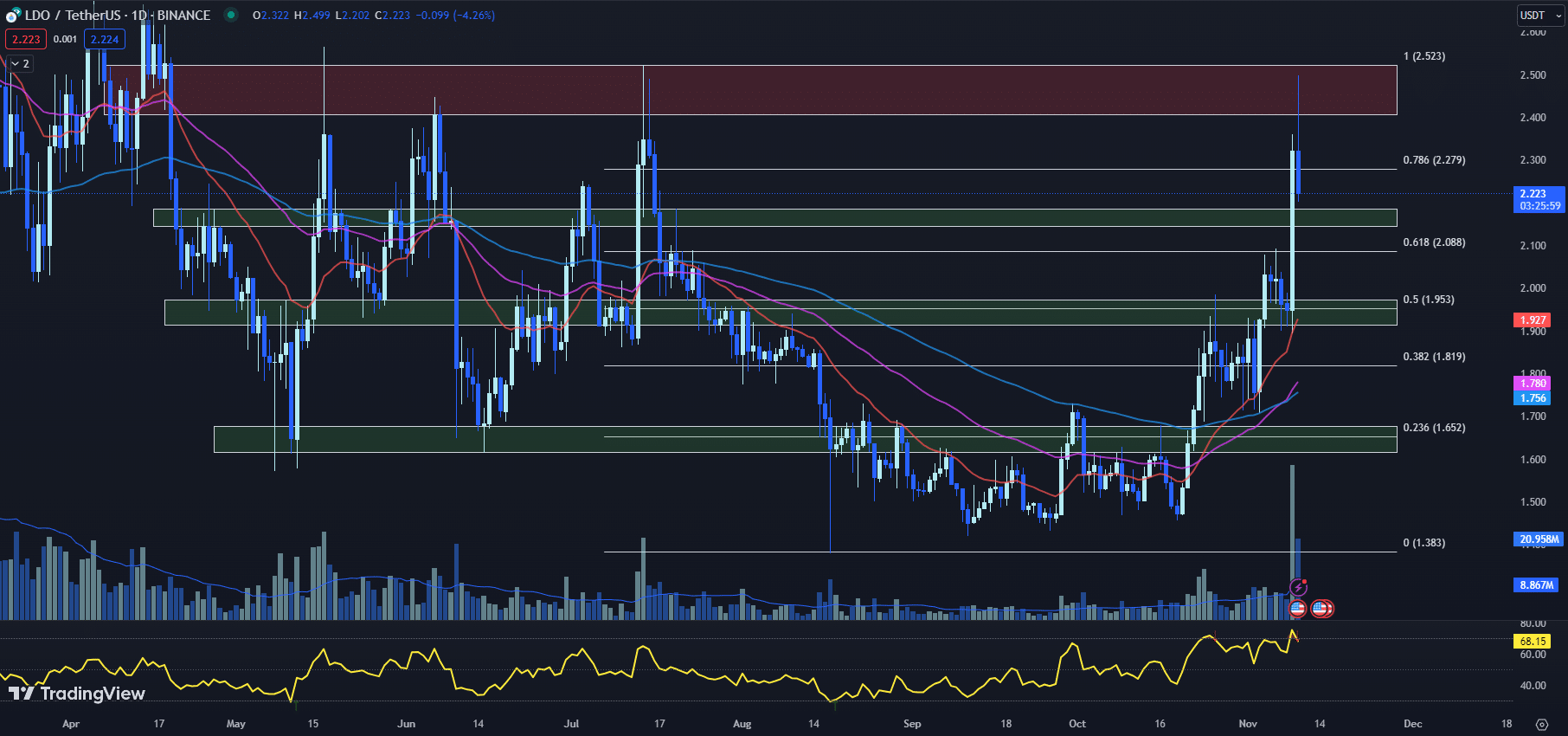 After posting strong gains over the past month, Lido DAO (LDO) price is showing signs of potential weakness, declining over 4% so far today.
With the LDO price hovering precariously near crucial support levels, traders are debating whether this selloff will mark a local bottom or if the crypto still has room to fall further in the coming days.
The 20-day EMA for the LDO price currently stands at $1.927, marginally above the 50-day EMA of $1.780.
While the crossing of these short and long-term EMAs is typically seen as a bullish indicator, the minimal difference here suggests uncertainty around the LDO price.
Investors should be cautious about relying solely on this EMA crossover signal.
The RSI dropped from 75.34 yesterday to 68.15 today. While not yet in oversold territory, this downward momentum indicates fading upside strength that could foreshadow additional LDO price declines.
Meanwhile, MACD continues trending upwards but its histogram narrowed from 0.028 to 0.031, highlighting slowing bullish momentum.
The LDO price has immediate support at the Fib 0.786 level of $2.279, a break below this level could turn it into resistance and open the door for a steeper drop towards the zone between $2.145 to $2.187.
However, if the $2.279 support holds, LDO could stabilize and potentially retest upside resistance between $2.407 to $2.523.
Overall, Lido DAO sits at a pivotal juncture between key support and resistance.
Prudent risk management is recommended while awaiting confirmation of the next major price trend.
A decisive breakout past $2.523 resistance or breakdown under $2.145 support should set the tone for LDO's near-term outlook.
ETC Price Prediction: Will Ethereum Classic's Rally Withstand the Weakness?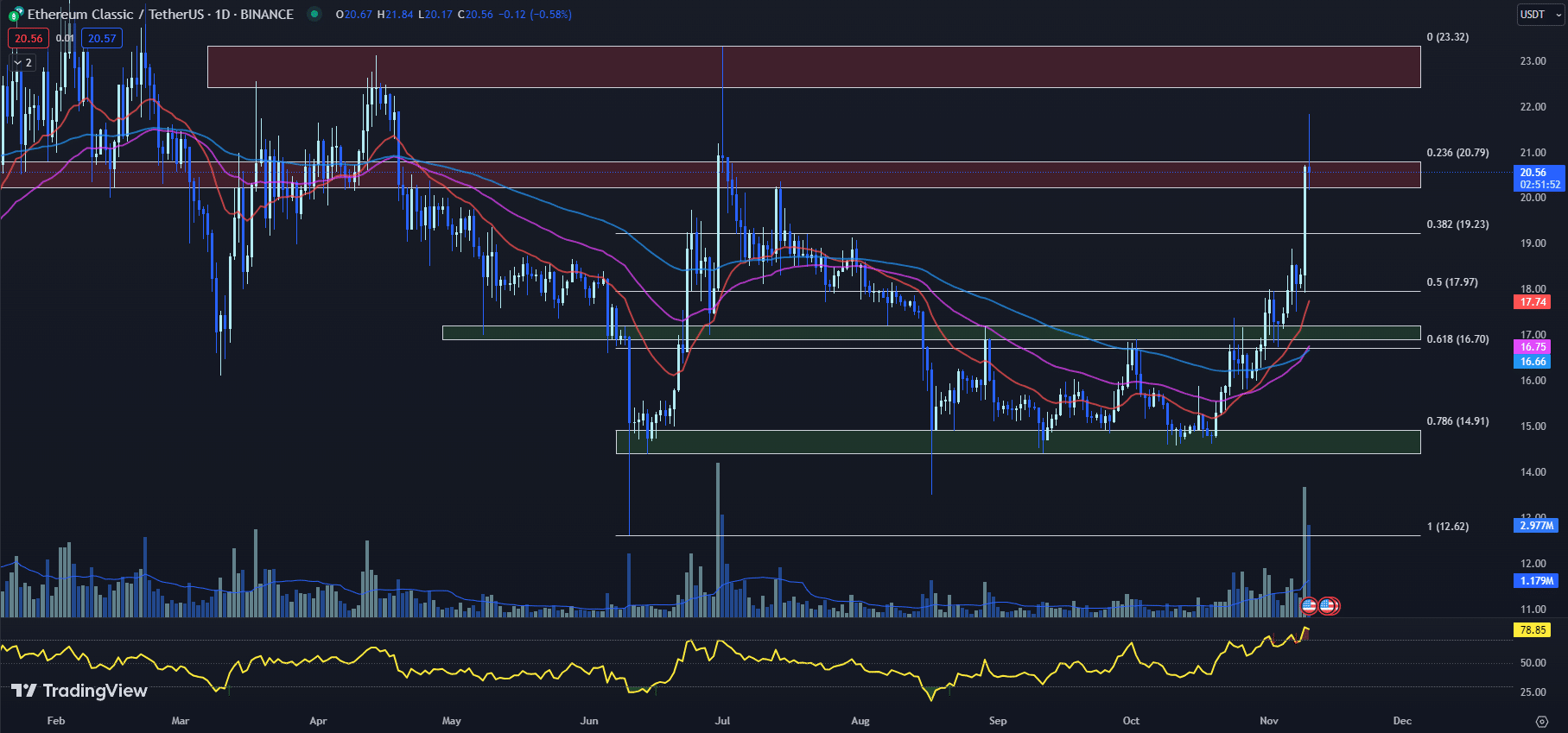 After posting a strong rally over the past few weeks, Ethereum Classic (ETC) experienced its first signs of weakness today, with the ETC price pulling back from multi-month highs amidst declining momentum.
With ETC stabilizing above key support levels, technical indicators remain at a crossroads, leaving traders to ponder if this is just a temporary blip or the start of a deeper correction.
The 20-day EMA for the ETC price currently stands at $17.74, crossing above the 50-day EMA of $16.75 for the first time this year.
Typically, this golden cross is seen as a strongly bullish signal. However, with the crossover occurring so recently and the ETC price already extended, caution may be warranted.
The RSI has pulled back from yesterday's overbought reading of 80.46 down to 78.85. While still in overbought territory, this shows bullish momentum is slowing.
The MACD histogram has risen to 0.33, up from 0.27 yesterday. However, the slowing trajectory suggests upside drive may be fading.
ETC is currently trading at $20.56, down 0.58% so far today.
This places ETC just below horizontal resistance between $20.23 and $20.79, which aligns with the Fib 0.236 level at $20.79. Getting rejected in this area could signal a temporary top is in place.
On the downside, initial support comes in at the Fib 0.382 level of $19.23. If this fails to hold, ETC could quickly descend towards the 20-day EMA around $17.74 which would equate to a 14% drop from current levels.
While the multi-week uptrend remains intact for now, early signs of exhaustion suggest Ethereum Classic may be due for a pullback.
Key levels to watch will be the initial support around $19.23 and resistance at $20.79.
A break above resistance could resume the uptrend, while a drop below the $19.23 support warns of a deeper correction ahead.
Trading within defined risk limits is advised over the near term until ETC's next move becomes apparent.
IMX Price Skyrockets by 19.85% on Ubisoft Collaboration
The IMX price has seen a dramatic surge today, jumping 19.85% amidst news of a major collaboration with video game publisher Ubisoft.
This has propelled the price to attempt to break through multiple resistance levels as bullish momentum accelerates.
The 20-day EMA for the IMX price stands at $0.7763, now well below the 50-day EMA of $0.6784.
With the faster moving average crossing above the slower moving average, this golden cross is a decidedly bullish sign for the IMX price going forward.
Meanwhile, the RSI has skyrocketed to 81.87, up strongly from yesterday's 73.79 reading.
This shows IMX is heavily overbought right now after the huge single-day gain, but still has room to climb before hitting extremely overbought territory.
The MACD histogram is printing at 0.0298, a sizable increase from the previous day's 0.0207 value.
This expanding positive momentum points to building bullish sentiment that could continue pushing the IMX price higher in the very near term.
In terms of key price levels, IMX faced resistance between $0.9841 to $1.0210, near the Fib 0.382 level at $0.9836.
After breaking through this zone, it now faces resistance between $1.0606 to $1.0975, close to the Fib 0.236 level at $1.0969.
On support, IMX has backing between $0.8925 to $0.9308, aligning with the Fib 0.5 level at $0.8921. As long as the IMX price holds above this zone, the path of least resistance remains up.
With today's IMX price surge on big news volume, bulls are clearly in control. However, the big one-day jump also means IMX is overextended on the shorter timeframes.
This signals traders should wait for a pullback or consolidation before looking for additional entries on the long side.
Any retracement that holds the $0.89 support area could offer a buying opportunity.
Otherwise, remaining patient for IMX to establish a new trading range seems prudent.
As seasoned cryptocurrencies capture the spotlight, new presale tokens like Bitcoin ETF and Meme Kombat look to make a name for themselves among investors seeking the next moonshot.
Checking Crypto Presales as Bitcoin Alternatives

Bitcoin has dominated the crypto market for years, but investors are starting to look beyond it to find other potential breakout cryptocurrencies.
While Bitcoin will likely remain the pillar of the crypto space, its reign may slowly give way to upstart competitors.
By diversifying your cryptocurrency portfolio beyond Bitcoin, you open yourself to higher reward possibilities, albeit with higher risk.
Bitcoin's relatively stagnant price action recently has spurred interest in finding the next big crypto before it takes off.
One way to gain early exposure is through presales of new cryptocurrencies.
Also known as presales, these early bird offers allow you to buy tokens at discounted rates compared to their eventual listing price.
Two presale tokens aspiring to reach Bitcoin-like adoption one day are Bitcoin ETF Token and Meme Kombat.
Bitcoin ETF Token: Capitalizing on the Growing Interest in Bitcoin ETFs – Is This the Best Crypto to Buy Now?
The cryptocurrency market has seen a resurgence in recent months, with the price of Bitcoin rising above $37,000 on Thursday.
This recovery has sparked renewed interest in crypto-assets, including a new token called Bitcoin ETF Token.
The initial coin offering for Bitcoin ETF Token launched just days ago but has already raised over $280,000 so far.
The token intends to provide exposure to the potential approval of a bitcoin exchange-traded fund (ETF) by the U.S. Securities and Exchange Commission.
Uncovering the secrets behind #BTCETF, as it not only readies itself for the #Bitcoin #ETF surge but also introduces staking incentives, fostering network resilience and steadfastness. ✨ pic.twitter.com/9UDNGsOOud

— BTCETF_Token (@BTCETF_Token) November 10, 2023
Bitcoin ETF Token incorporates features common in decentralized finance (DeFi), including staking rewards.
Nearly 33 million tokens have already been staked, earning staking yields of up to 873% APY.
The staking rewards are dynamic based on the percentage of the staking pool held by each user.
The possibility of a bitcoin ETF has gained traction recently amid evolving sentiment at the SEC.
While firm deadlines are set for proposals by ARK Invest and others, a parallel process for Grayscale Bitcoin Trust has reportedly opened conversations with the SEC.
The difference between a closed-end fund like Grayscale and an ETF is substantial.
The potential conversion to an open-ended structure has stoked further speculation of an imminent approval.
The introduction of a bitcoin ETF would allow mainstream investors easier access to gain exposure to the cryptocurrency.
This could significantly impact trading volumes and prices given the trillions currently invested in the ETF market.
Bitcoin ETF Token provides targeted exposure to a potential ETF approval, while its staking rewards and deflationary token burn offer additional incentives.
The presale pricing at $0.005 per token has fueled interest in getting in early on one of the best crypto to buy now before its next price increase.
Meme Kombat: The Best Crypto to Buy Now for Memes, Gaming, and Gains
Meme Kombat ($MK) seeks to shake up the meme coin market with a one-of-a-kind gaming and betting platform.
The project has raised over $1.45 million so far in its $MK token presale and introduced a staking feature earning yields of up to 1,518% APY.
Meme Kombat offers a unique blend of blockchain technology and off-chain transactions to facilitate efficient, low-cost staking and gaming.
Users only pay network fees when staking and unstaking tokens, with all reward claims and gaming interactions gas-less.
📣 Major Update 📣

The Meme Kombat Staking Dashboard is officially live and ready to be used by you!

Take a break from Kombat and visit the staking dashboard here: https://t.co/nNFEYESjPs pic.twitter.com/yswl0esb4G

— Meme Kombat (@Meme_Kombat) November 9, 2023
The platform plans to launch its first season of battles after the presale sells out, featuring popular meme coins like Doge, Shiba Inu, and Pepe facing off against each other.
Players can bet on the outcome using staked $MK tokens, with winners earning more.
Meme Kombat comes as investors seek greater utility from meme coins beyond funny characters and social media hype.
With its seamless integration of staking, gaming, and wagering, the project offers real-world use cases in the hot crypto sectors of GameFi and GambleFi.
The presale price of $MK currently sits at $0.189, rising 10% on November 16.
With 50% of tokens reserved for the presale, Meme Kombat intends to kickstart a community of engaged users.
The project passed a smart contract audit and fully doxxed its founder.
As crypto gaming and gambling surge in popularity, Meme Kombat remains well-positioned to capitalize on this growth with its unique value proposition.
For meme coin enthusiasts and casual gamers alike, $MK represents an engaging new option worth exploring.
Disclaimer: Crypto is a high-risk asset class. This article is provided for informational purposes and does not constitute investment advice. You could lose all of your capital