These tokens are the best budget-friendly cryptocurrencies for under 1 dollar as of November 7. Don't miss out on these affordable investment options in cryptocurrency.
The global cryptocurrency market capitalization has reached $1.33 trillion. Thus reflecting an intraday increase of 0.91%. This signifies a marginal uptick in the overall value of the cryptocurrency market.
6 Best Cheap Crypto to Buy Now Under 1 Dollar
During the same time frame, the total trading volume in the cryptocurrency market amounted to $40.87 billion, demonstrating a more substantial rise of 6.47%. This increased trading activity could indicate heightened interest and participation in the cryptocurrency space.
1. Blur (BLUR)
The recent upswing in BLUR price coincides with a 45% surge in NFT ecosystem activity over the past day, according to data from DappRadar. Total NFT sales volume has now exceeded $18 million within this timeframe.
DappRadar's data reveals that the Blur marketplace has been responsible for most NFT sales, amounting to $10.65 million. Thus outperforming its rival, OpenSea, which recorded a trading volume of $2.83 million during the same period. Moreover, the statistics indicate that there have been approximately 7,530 whale trades on the Blur platform, involving around 4,470 different traders.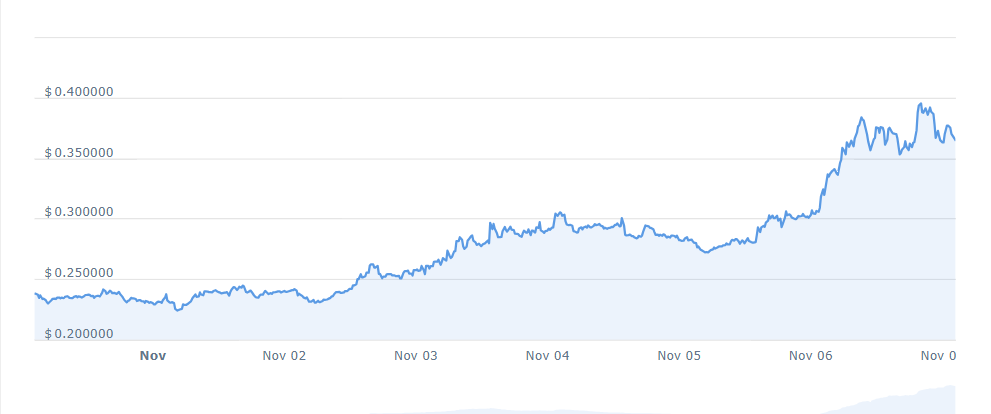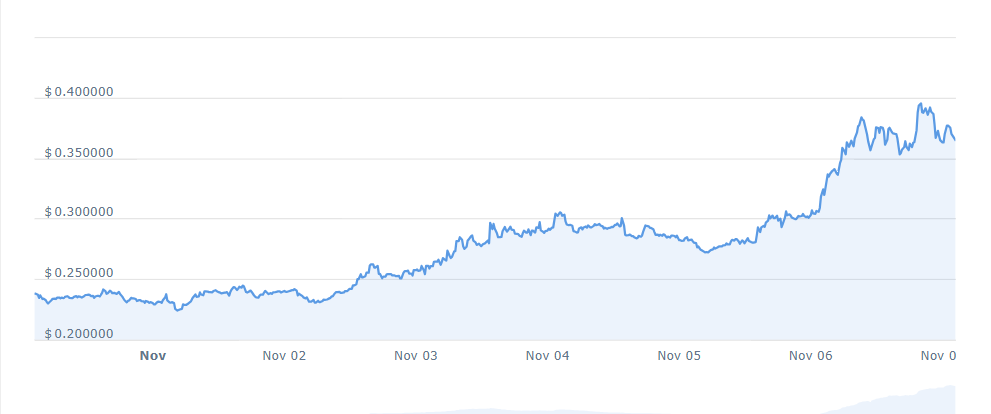 The Blur project has garnered support from various blockchain-focused venture capital firms, including Paradigm. With a well-defined roadmap and a supportive community, Blur Coin shows promise for long-term success. 
Recent listings on major cryptocurrency exchanges and increased community investment have contributed to positive sentiment around Blur Coin. Therefore leading to substantial growth in the coming months.
🚨NEW UPDATES🚨

We recently added support for viewing and searching accounts by ENS, collection social links and custom listing duration. pic.twitter.com/1jAD7DDRrp

— Blur (@blur_io) July 11, 2023
Blur's live price is $0.367349, with a 24-hour trading volume of $525,631,421. Over the past 24 hours, the token has recorded a 15.18% increase. In the CoinMarketCap rankings, Blur currently holds the #98 position, with a live market capitalization of $389,074,214. The circulating supply of BLUR coins is 1,059,141,742, with the maximum supply undisclosed.
2. WOO Network (WOO)
WOO Network is currently priced at $0.243583, with a 24-hour trading volume of $51.01 million. Furthermore, the coin has a market capitalization of $428.74 million while holding a market dominance of 0.03%. Over the past 24 hours, WOO Network's price has increased by 0.25%.


Notably, WOO Network achieved its all-time high price on November 15, 2021, reaching $1.778420. In contrast, its lowest recorded price was on January 3, 2021, at $0.022424. The lowest price since its all-time high was $0.101744, while the highest price since the last cycle low was $0.348383.
At present, the sentiment surrounding WOO Network's price prediction is bullish. Also, the Fear & Greed Index indicates a score of 68, signifying "Greed." WOO Network's circulating supply stands at 1.76 billion WOO tokens out of a maximum supply of 3.00 billion WOO. Notably, the yearly supply inflation rate is 52.59%, resulting in the creation of 606.61 million WOO tokens in the past year.
Epoch 16 is now live on @TraderJoe_xyz which means over 1000 $ARB tokens are rewarding LPs every 24 hours.

APR over 80%. Time to dig under the couch cushions for more WOO and ETH to deploy. pic.twitter.com/HlUx9RwtgS

— WOO (@WOOnetwork) November 4, 2023
Key highlights include a 39% increase in price over the last year, outperforming 78% of the top 100 cryptocurrencies in that same period. Additionally, WOO Network is trading above its 200-day simple moving average. 
Moreover, WOO has shown positive performance compared to its token sale price. Over the last 30 days, it has seen 19 green days, which accounts for 63% of the period, indicating positive price movements. Furthermore, the project is considered to have high liquidity based on its market capitalization.
3. Cronos (CRO)
Cronos' price is pegged at $0.079637, marking a 9.94% intraday increase, with a 24-hour trading volume of $22.40 million. The market capitalization is $2.01 billion, and Cronos maintains a market dominance of 0.15%.


Furthermore, Cronos achieved its all-time high price of $0.959822 on November 24, 2021. Likewise, its lowest price was $0.011508 on December 17, 2018. Since reaching its all-time high, the lowest price observed was $0.048820 (cycle low), while the highest price since the last cycle low was $0.080131 (cycle high).
The current market sentiment for Cronos is bullish, and the Fear & Greed Index stands at 68 (Greed). Furthermore, Cronos is trading above the 200-day simple moving average and has experienced 21 positive trading days in the last 30 days.
🗣 Master the art of pitching to investors with @ZuhailiAsy, Senior Consultant at @Wachsman_!

📺 In this workshop, an integral part of our #Cronos Accelerator Program, Zuhaili discusses the crucial distinction between "story selling" and "story telling."

Watch it now! 👇 pic.twitter.com/VbGAVCoTXq

— Cronos (@cronos_chain) November 6, 2023
Moreover, Cronos boasts a circulating supply of 25.26 billion CRO out of a maximum supply of 30.26 billion CRO. Within the Exchange Tokens sector, Cronos holds the #5 ranking, and in the Ethereum (ERC20) Tokens sector, it is positioned at #11.
To summarize, Cronos has recently exhibited positive price movements and bullish market sentiment. Currently, the project's performance is trading near a cycle high, suggesting potential opportunities for investors.
4. Conflux (CFX)
Conflux has recently announced a strategic partnership with Protofire, aiming to address the issue of scalability and security. This collaboration is specifically geared towards enhancing Conflux's Tree-Graph consensus mechanism. Thus underscoring the project's unwavering commitment to resolving the blockchain trilemma.


In conjunction with this announcement, Conflux Network's native cryptocurrency, CFX, has experienced a notable 5.10% price increase in the past 24 hours. Conflux is valued at $0.173807, with an intraday trading volume of $66.50 million. The project holds a market capitalization of $600.18 million, representing a market dominance of 0.04%.
📣 @OpenNameProject has integrated Conflux eSpace 🤝 Register and manage your #OpenName domains on #Conflux and benefit from the integrated cross-chain stats for easy tracking and management. https://t.co/5IWrP3k461

— Conflux Network Official (@Conflux_Network) November 7, 2023
Presently, the sentiment regarding Conflux Network's price prediction is bullish, and the Fear & Greed Index stands at 68 (Greed). The circulating supply of Conflux Network's native token, CFX, is currently 3.45 billion out of a maximum supply of 5.28 billion CFX. Notably, the project has seen a yearly supply inflation rate of 65.16%, resulting in the creation of 1.36 billion CFX over the past year.
5. Dogecoin (DOGE)
Over the last three weeks, Dogecoin (DOGE) has shown a commendable recovery, with its price climbing from $0.0573 to $0.073, marking a 27.62% increase. This uptick aligns with the formation of a double-bottom pattern on the daily chart. 


Furthermore, the formation is considered a bullish reversal pattern, signifying increased buying pressure and the potential for substantial upward price movements. Investors are now contemplating whether this pattern makes it a favorable time to consider a DOGE investment.
Amid the ongoing uncertainty in the cryptocurrency market, DOGE's price recovery has momentarily stalled at the $0.07 mark. Thus leading to sideways movement. However, the renewed interest in alternative cryptocurrencies has bolstered DOGE's recovery this week, further confirming the formation of the double-bottom pattern.
The dog behind the #Doge meme and #Dogecoin cryptocurrency is named Kabosu and she still lives with her owner Atsuko Sato @kabosumama in Sakura, Japan. Kabosu was a rescue dog and became a meme after Atsuko uploaded photos of Kabosu, including the one below, on her blog in 2010. pic.twitter.com/x5Kliw2DVf

— Dogecoin (@dogecoin) April 3, 2023
The price target suggested by the double-bottom pattern indicates a potential rally that could reach levels as high as $0.11. This target is calculated by mirroring the distance between the pattern's support base and neckline.
6. Bitcoin Minetrix (BTCMTX)
Bitcoin Minetrix has introduced an innovative cloud mining approach, offering retail investors the opportunity to engage in Bitcoin mining with a minimal $10 investment. Their native cryptocurrency, $BTCMTX, operates as a stake-to-mine token. Moreover, it has garnered significant initial interest, with $100,000 invested within the first hour of the presale.
Recognising a significant accomplishment for #BitcoinMinetrix! 🌟

Exceeding the $3,600,000 milestone! pic.twitter.com/jC0RxzqnTu

— Bitcoinminetrix (@bitcoinminetrix) November 7, 2023
The project aims to provide an alternative to traditional cloud mining services, often associated with potential scams and substantial hardware costs. Bitcoin Minetrix's core concept revolves around users staking BTCMTX tokens to earn cloud mining credits, aiming to decentralize control and offer token holders a more secure and transparent mining experience.
The staking pool has attracted substantial participation, with over 400,000 BTCMTX tokens currently locked in staking. At present, the project boasts an annual percentage yield (APY) of 103,225%.
Read More
New Crypto Mining Platform – Bitcoin Minetrix
Audited By Coinsult
Decentralized, Secure Cloud Mining
Earn Free Bitcoin Daily
Native Token On Presale Now – BTCMTX
Staking Rewards – Over 100% APY